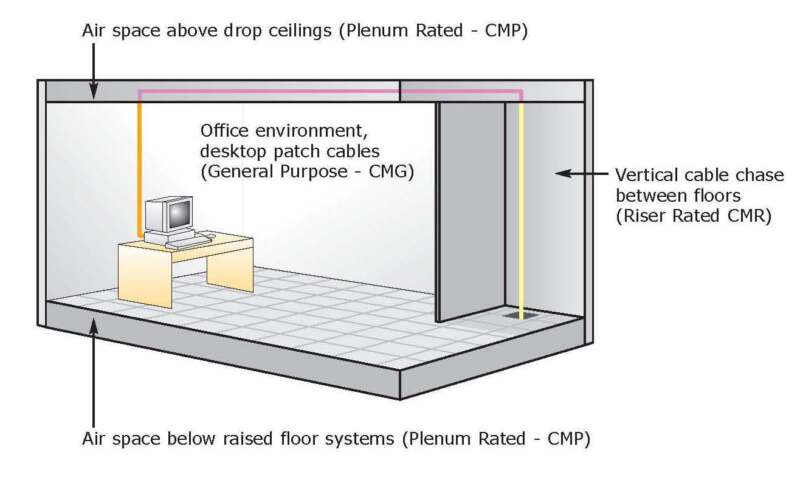 CMP VS CMR
One of the most Important Question for Customers, while making a purchase for Cat5e PLENUM or Cat6 PLENUM or Non-PLENUM cables, is that what is the difference between plenum and Riser Cables?

Before answering this Question we need to know About Plenum and Riser Keywords Meaning, The Area enclosed spaces (in buildings) used for airflow. That's why the Plenum rated cables are used in plenum areas meant for use in commercial and residential spaces. These plenum spaces are located in the space between the ceiling and the floor.

Plenum Cables also known by word CMP. Another thing which is necessary to understand that Plenum is just a Jacket and it has no impact on Connectivity Speed. People Prefer Plenum only because it lasts for a long period of time. Similarly Riser is a Jacket not conductor.

Riser meaning is a length of vertically oriented piping used to deliver fluid, gas, or electrical signals or power upward.

Riser rated cables run between floors through cable risers or in elevator shafts in non-plenum areas. These cables must also self-extinguish and prevent the flame from traveling up the cable in a vertical burn test.

Fire requirements are not as strict on riser cables compared to plenum cables. Plenum Cables can be used where Riser are required but you cannot use Riser Cables if Plenum Rated are needed.

If you would like to view most of our plenum and riser cables you can visit our eBay Store. (1000ftcables)

Thanks for visiting us.