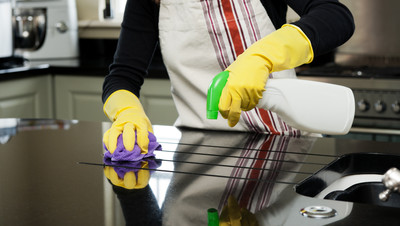 Firstly your new quartz worktops are incredibly hard wearing and at over 7 on the hardness scale and 100 times harder than marble, normal wear and tear shouldn't pose any threat to your quartz worktops and you should enjoy a lifetime of beauty and practicality long after the purchase price of your quartz worktops are forgotten.
1] Do not place hot pans,or allow boiling oil to rest upon your quartz worktops.Although quartz worktops can with stand very high temperatures often in excess of 200 degrees you should never place very hot items directly on to the quartz countertops due to the fact that sudden changes in temperature is dangerous the technical term is "thermal shock" and if this occurs damage can be caused and be permanent.
2] Do not treat quartz worktops as if they are scratch proof like a diamond,Abuse with a sharp knife or chopping directly on to the quartz worktops will result in permanent scratches.Use a purpose made chopping board even if it is made from a matching quartz worktop this can be replaced after time at little expense.However quartz worktops are scratch resistant and with a measure of care they should not scratch at all.
3] Do not use strong acid or alkaline based chemicals to clean the quartz worktops,do not use,bleach based products,drain cleaning chemicals or dish washer rinse aid.all the above can cause permanent damage.Only use a very mild detergent and clean up stain straight away and rinse well with warm water afterwards to remove acid traces.
4] quartz worktops are very tough and hard but so is cast iron,this means quartz worktops don't bend they can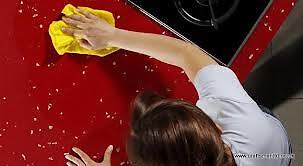 snap or chip if contact is made with a heavy sauce pan or similar.Again normal day to day usage without accidents will not be a problem as the quartz worktops are more than durable for domestic kitchen and even commercial kitchen duties.
We hope this has been of help to you and will ensure you have a lifetime of enjoyment from your quartz worktops if you require any further information please contact the national granite centre wolverhampton,and speak to Mr.David Chell Manager of the Quartz worktops division on 01902 351555.You can also request a free sample to test the hardness for yourself on nationalgranitecentre dot com.