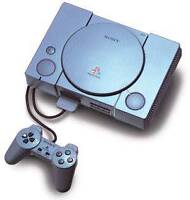 People seem to be confused with the titles of Sony Playstation consoles on their ebay listings, so to clear this up, the console on the left is a Playstation abbreviated simply (PS) then in the middle the new slim version of the Playstation abbreviated (Psone)
Now the console picured at 2 different angles on the right is a Sony console but this is infact the sony PSX an entirely different console from the original Playstation and actually came after the PS2 as a prelude to the PS3 in which it even has the same navigation screen as the PS3 now uses, however it was only sold in Japan possibly because the price tag on the PSX was rediculous.
So to all the people who list their PS as a PSX you are wrong the PSX is not the first Playstation console but the one pictured above.
I know this may be an old subject to some people but people are still making this mistake on their listings, and insisting to me the first was infact the PSX!
One more point on this matter which is quite funny i think, is that people are still selling/buying the PS in 2010 (16 years in exsistence) and they are still working strong yet the ps3 is already failing (YLOD) it just goes to show the future isnt always better!