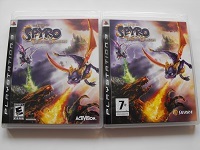 PS3 games are Region Free and will work on any PS3!
Just in case that you didn't know PS3 games are Region Free and will work on any PS3 Console but please read on as it isn't without problems!
You could buy a Region 1 PS3 game from the USA or a PS3 game from Japan and it will work on your PAL Region 2 PS3.
The only problem that I have found with games from different regions is this:
If you buy a Region 1 (NTSC) game,play it for a while and then sell it on but months later decide to buy the same game again but this time buy a Region 2 (PAL) game then the game save unfortunately won't work as the game saves aren't compatible for the different region games!!!
I found this out about region coded games recently after buying Rapala Fishing Frenzy 2009 again for my PS3 and the game was Region 2 (PAL) where the first game I had was Region 1 (NTSC).
This would be a problem if you take a region 1 game round to a friends house and he has a region 2 game save of the same game!
I believe that you also can't play a Region 1 (NTSC) game online if you have a UK PSN (Playstation Network) account and access the dlc (Downloadable Content) and there might also be problems with trophy compatibility too.
American games have an ESRB rating on the game case and UK games have a BBFC rating on the game case.
I thought that I would make you aware of this and if the region of the game isn't on an eBay listing then you will need to ask the seller before bidding or buying.
PS3 Games that are Region 2 (PAL) are much easier to sell on eBay and usually sell for more money so please do bear this in mind if you buy a cheaper Region 1 (NTSC) game that you plan to resell at a later date.
Did you know that PS1 (PAL) games will work on a PS3?
Haven't a clue if PS1 NTSC games will work though.
PAL PS2 games will work on the 60GB PS3 model and PS2 games are region coded so a PAL PS2 game will not work on a NTSC PS2 and vice versa!
I doubt a NTSC PS2 game would work on a PAL 60GB PS2 but I don't know anyone who has a 60GB PS2 to verify this.
I hope that you have found this guide useful and please don't forget to vote as it is free to do so and only takes a moment.
The more votes I receive the more inclined I am to spend my valuable free time writing more eBay Guides and Reviews for you.
Many thanks.
If you have less than 5 feedback unfortunately you won't be able to vote (Sorry eBay rules and not mine!)
In answer to the following questions:
'My son has a region 4 game of Dark Souls. My other son just got the same game in a region 2. For some reason they can not play online together. The character does not come up. Any ideas??? Is it because they are different regions??'
It is because they are different region games and you will need 2 copies of the UK Region 2 version of Dark Souls for your sons to be able to play together online.The Region 4 version won't be compatible with a UK PSN account.
'will we get picture quality difference?'
There is no picture quality difference between the different region games.