If you've made a
PayPal
payment and your My eBay shows the payment status as
Pending
, log into your PayPal account to see what the PayPal status is.
If the PayPal status is
Unclaimed
and there is
not
a
Cancel
button next to the transaction on the
Overview
page, then the payment needs to be manually claimed by the seller.
This might be because the seller is new and has to claim their first payment, or because you've sent them a payment using your debit/credit card and they either have to manually accept the payment, or need to upgrade their PayPal account to accept it.
Note that a seller offering PayPal on their auctions and displaying the PayPal and card logos cannot refuse to accept, or upgrade their account to accept, your debit/credit card payment.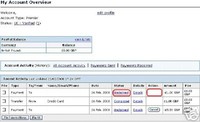 You will also receive a Payment Notification email that looks similar to this:
The payment will be sitting in the seller's PayPal account with two buttons next to it – Accept / Refuse – waiting for the seller to take action.
If your seller does not know how to claim the payment, ask them to look at these Guides here:
About Me: ajcardiac3
If the seller claims the payment, your payment is completed and you don't need to do anything else.
Even when transaction is unclaimed, it will
not
stop the funds being collected from your bank account (if funded by instant bank transfer or eCheque) or from your credit/debit card (if card funded).
If the seller fails to claim the payment, the money will be returned to you after 30 days. If you funded the transaction by credit/debit card, the funds will be returned to the card (can take up to 30 days, but usually about 7). If you funded by any other source, the funds will be returned to your PayPal balance.
Note that you cannot file a PayPal dispute against an Unclaimed payment to get your money back. If the seller won't click either the Accept or Refuse buttons in their PayPal account then you will have to wait the 30 days to get your money back.
_______________________________________________________________________________________________________________________________________
The images posted here are limited in size and resolution by eBay.
If you would like to see the images in a larger, more clear format, please visit my on-line Help Page:
http://myweb.tiscali.co.uk/ajcardiac/Pending With No Cancel Button.htm
_______________________________________________________________________________________________________________________________________
If you have a problem with PayPal that isn't covered in this Guide, then take a look here:
About Me: ajcardiac3
_______________________________________________________________________________________________________________________________________