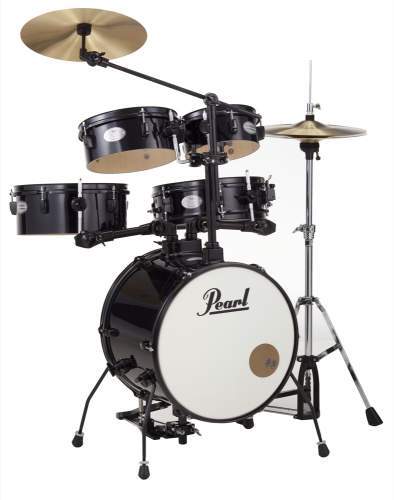 Drum kits are an incredibly popular musical instrument, born from the creation of rock and jazz music. They're suitable for both professional musicians and those just beginning to dabble in the music world, and there are a huge variety of choices when it comes to choosing the perfect drum kit. Many different companies produce good-quality drum kits, but dedicated brands such as Pearl are perhaps the most well known and often offer the most variation in their instruments.
What Is a Pearl Drum Kit?

Pearl is a Japanese company that has been producing high-quality drum kits since the 1950s and has become a world leader in the industry. It's very difficult to define exactly what a Pearl drum kit is as the firm cater to musicians in all stages of their musical careers and interests, ranging from standard drum kits with the usual five drums, three cymbals, and hardware including stands and pedals to state of the art, almost futuristic drum kits designed specifically for seasoned drummers who want to create a fully personalised drum kit from a variety of materials that will help create a truly unique sound. For this reason, Pearl is a brand that everyone should consider, whether wanting to buy a drum kit for home recreational use or for playing professional gigs to thousands of people.
Buying a Pearl Drum Kit

Pearl have over ten different models available at any one time, and when looking to buy a used drum kit, there's even more choice as discontinued and limited edition models are also widely available. It's important to consider what purpose the drum kit will be used for and what sound needs to be produced when buying a Pearl drum kit.
Type of Pearl Drum Kit

Pearl have created a range of drum kit products to meet all requirements, ranging from acoustic drum kits to electronic drum kits, and from kits designed specifically for beginners and amateurs to kits that wouldn't look out of place on stage with the world's biggest rock bands.
| | |
| --- | --- |
| E-Pro Live | This is Pearl's first and only electronic drum kit. While sound is never as realistic as with acoustic drum kits, electronic options are more simple and convenient to use and transport. |
| Masterworks | This is a standard drum kit with a difference. Almost every aspect is fully customisable, right down to the interior materials and exterior finishes. All drum kits are made to order. |
| Reference | This is a drum kit aimed at professional musicians and is one of the highest quality models available. Very similar to the Masterworks, but without customisable features. |
| Reference Pure | This is an upgrade on the original Reference model. Drum shells are thinner and aspects have been condensed, leaving the same quality but with a much lighter overall hardware. |
| Masters Premium | This is a favourite for British buyers as the high-quality wooden kit is only available throughout Europe and Asia, meaning it's not widely seen in the USA and is not hugely mass produced. |
| Masters Custom | This is a more basic version of the Masters Premium. The drum kit has the same high quality wooden materials, but options for finishes are much more restricted. |
| Vision | This is a drum kit for those who value the way a kit looks. There are perhaps the most customisable choices for this kit over all others in the Pearl line, and models are continuously updated. |
| Forum | This drum kit is ideal for beginners or those who are perhaps a little rough. The kit comes complete with an instructional DVD, making learning the ropes a lot simpler. |
| Target | This is a very basic drum kit that is perfect for beginners or children. It's a British favourite, being sold exclusively throughout Europe, and unavailable anywhere else in the world. |
| Rhythm Traveler | This drum kit is ideal for beginners and children, but it's designed specifically for musicians who play gigs. It is lightweight and compact, making it easy to transport. |

Pearl Drum Kit Materials

Pearl drum kit interiors, and sometimes exteriors, are made from wood. It's considered to be a Pearl trademark. Wooden interiors are often more costly than other materials, but it produces the best sound quality imaginable. Pearl use different woods to create different sounds.
| | |
| --- | --- |
| Maple | Maple is perhaps the most expensive wood for drum kits, purely because it's been a favourite since the 1700s. Maple provides a unique sound that is perfectly suited to drumming. |
| Birch | Birch is the go-to material after maple, and many records have been recorded using birch-based drum kits. Birch produces a tell-tale sound that varies between mid and low range beats. |
| African Mahogany | Mahogany is one of the most popular materials for drum kits today and has been since the 1950s. It's often less expensive than maple, and creates a very low booming sound. |
| Composite Shell | A blend of different materials can make a huge difference. Buyers can choose their own combinations, but a mahogany interior for sound and a maple exterior for looks is excellent. |
| Carbon Ply | Wood can be encased in carbon fibre which creates something unlike anything ever heard before. The sound and look can only be described as futuristic and totally unique. |

Pearl Drum Kit Finishes

While the interiors are usually made of wood, snare drums can be finished with different materials to alter both the look and sound of the drum kit as a whole. Some choose to keep the wooden effect, while others prefer a more modern metallic finish.
| | |
| --- | --- |
| Wood | Usually made from a combination of birch and maple, wood finish snare drums are renowned for creating a level of volume unobtainable from other finishes. |
| Cast Steel | Cast steel finish snare drums are considered to be a very modern and advanced addition to the musical world. They are said to create a confident and clear sound. |
| Brass | Brass finish snare drums are known for having a sensitivity that other finishes do not. This reduces unwanted sounds and allows drummers to play with minimal mistakes. |

Why Choose a Pearl Drum Kit?

The standout feature of Pearl drum kits is that snare drums are made with wooden interiors, which really does give the most clear cut sound from the drum kit. This is something that other brands don't always do as a way to reduce both manufacturing and sales costs. Paying out for a wooden interior drum kit really is worth the additional price. Some Pearl drum kits are also fully customisable, meaning drummers can choose the interior materials, exterior materials, number of drums and cymbals, and practically any other feature. Sounds can be personalised exactly depending on the materials used.

Pearl are committed not only to the present but also to the future of drumming and are constantly upgrading their line and creating new groundbreaking products that are paving the path to the future of drum kits. The company have even created their own technique, known as Superior Shell Technology, or SST, which involves high pressure manufacture, which ensures all snare drums are versatile yet strong. Pearl are without a doubt one of the biggest drum kit brands in the world, and are endorsed by the likes of Motley Crue, Bon Jovi, and the Red Hot Chili Peppers.
Find a Pearl Drum Kit on eBay

Pearl drum kits, both new and used, are widely available on eBay and can usually be purchased for much less than the recommended retail price. eBay's dedicated Musical Instruments shop is the place to start. Choose Percussion to see a list of all percussion instruments, followed by Drums & Drum Kits and finally narrow down the results to just Pearl products by choosing Pearl in the brand choice section. From here, results can be filtered even further depending on personal preferences and taste, including filtering by drum size, condition, and location of the drum kit. Due to the size of the item, choosing a local product that can be collected can really save on high postage costs.
Conclusion

Pearl drum kits are some of the highest quality drum kits in the world, and although many of the drums are aimed at seasoned professionals, there are plenty of options suitable to amateurs, dabblers, and even children, making Pearl a very varied and accessible brand for everyone. Pearl drum kits can be purchased in dedicated music stores or online through sites like eBay, which often have a little more variety than brick and mortar stores. When buying a Pearl drum kit, it's important to consider both the look and sound of the product and how different materials can alter these states.