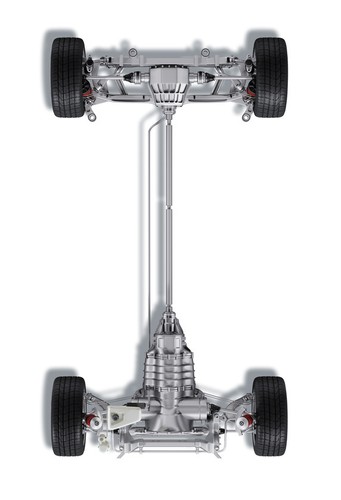 Performance suspension kits are a good way to beef up the suspension on a vehicle that is going to be used for high-performance driving or on-track racing. Performance suspension kits include components that are stronger than original equipment manufacturer (OEM) parts and are designed to withstand the extra abuse that performance driving places on suspension parts. Performance drivers want to know they can depend on the suspension of their vehicle when they take it deep into a turn and that they can rely on the suspension to respond with support instead of washing out or having a part fail. A vehicle can sustain significant damage if a suspension part breaks during performance driving manoeuvres.
Understanding the different components that are included with performance suspension kits and what the individual parts do helps buyers to make sure they purchase a suspension kit that can provide them with the parts they need. One can buy performance suspension kits from a variety of sources, including auto parts stores, specialty performance shops, and at swap meets. Sellers on eBay offer a large selection of performance vehicle parts including performance suspension kits.
Components Included in Performance Suspension Kits
The parts list of performance suspension kits can vary by manufacturer and supplier. Understanding the common parts that are included in performance suspension kits and knowing what parts are essential for improved reliability and safety makes shopping for kits an easier process for the buyer. The following list of suspension parts are items to look for in performance suspension kits. Buyers may want to select a kit that provides a number of the essential components and complete their requirements by purchasing non-included parts individually.
Ball Joints
Ball joints attach upper and lower control arms to the wheel assembly. Wheels receive an incredible amount of force during performance driving and that force is conveyed to the ball joints. Replacing stock OEM ball joints with stronger performance or heavy-duty ball joints is a must for every road racer or serious performance driver.
Coil-Over Shocks
On vehicles equipped with shock absorbers be certain to replace standard OEM shocks with coil-over shocks or dampers to handle the extra abuse the shock endures from performance driving. It is also advisable to purchase a shock that has a gas-filled cylinder.. When shocks cycle up and down frequently, the oil in the shock can thin and begin to foam. The shocks begin to lose efficiency when the oil foams and do not perform as well. Because of the frequent shifts in suspensions during performance driving, this is a common issue for performance drivers to deal with. Nitrogen gas sealed in the shock chamber reduces the amount of foaming, keeps the shock cooler, and maintains the performance of the shock.
Heavy-Duty Coil Springs
Springs act as support for the chassis, holding it up on all four corners of the vehicle. Performance drivers generally prefer a stiffly sprung suspension so that the vehicle suspension does not roll or wash out when thrown into a hard curve. Racing drivers make a science of spring selection for specific tracks depending on the type and radius of curves they face in a circuit of the course. Springs can be adjusted with the use of spring inserts and stiffeners to change some of the characteristics of the spring without having to replace the actual heavy-duty spring itself. Inserts can easily be installed and removed even during a pit stop to change the feel of the spring to the driver.
Heavy-Duty Struts
Struts have the spring and shock combined into one unit, and all the same reasons for adding heavy-duty springs or dampers to a performance suspension apply to struts. Buying coil-over strut assemblies specifically designed for performance or racing driving is a big advantage in the way the vehicle handles on the track. Racing struts often contain gas strut tubes to provide the same advantages that a gas shock offers to non-strut suspensions.
Control Arm Bushings
Most stock control arms are sturdy enough to hold up to the demands of performance driving, but the OEM bushing may be a source of premature failure. Stock control arm bushings have a certain amount of movement and cushion for improved passenger compartment comfort. Non-performance drivers do not want to feel every nuance of the road. The opposite is true for performance drivers, and performance heavy-duty control arm bushings transfer that better road feel directly to the passenger compartment. Some serious performance drivers or sports car racers replace the control arms themselves. Control arms adjust the caster and camber alignment settings. Some racing control arms provide more latitude in alignment adjustment than stock OEM control arms.
Tie Rod Ends and Sleeves
While technically a part of the steering linkage, as opposed to the suspension, tie rod ends and sleeves are often included in performance suspension kits. The tie rod end with its adjustment sleeve attach to the steering linkage and wheel spindle assemblies to push and pull wheels in turns. The sturdier nature of performance parts over their OEM counterparts provide for more safety in vehicle steering. Because tie rods serve to make toe adjustments to alignment specifications, the stronger heavy-duty tie rod ends hold adjustments better under the abuse that performance driving delivers.
Sway Bar Links and Bushings
Sway bars also help to keep the suspension from rolling too far in curves and help to keep both sides of the vehicle in contact with the road surface. Sway bars attach to the frame and suspension to stiffen the control aspects of the vehicle. Heavy duty bushings and links hold up better under performance driving conditions.
Miscellaneous Suspension Components
Some miscellaneous suspension parts that are often included in performance suspension kits include bumpstops to keep suspensions from bottoming out against the frame, adjustable track bars to help fine tune the suspension, polyurethane bushings for replacement of rubber bushings, spring inserts, and spring stiffeners to adjust ride height and spring compression tolerances.
Popular Manufacturers and Brands of Performance Suspension Parts
A number of different manufacturers produce brands of performance suspension parts that are included in performance kits. Buyers benefit from recognising some of the more popular brands and the types of components offered under the brand name when looking for performance kits and parts. Some brands specialise in specific parts, while others offer a broad range of suspension products. The following chart provides a quick reference for performance suspension buyers to consult when looking for specific brands and parts.
| Brand or Manufacturer | Component Parts |
| --- | --- |
| | Shocks, struts, and coil springs |
| | Bushings |
| | Complete kits, shocks, springs, struts, sway bars, coil-overs, and bushings |
| | Shock, struts, and coil-overs |
| | Shocks, struts, springs, and coil-overs |
| | Complete kits, coil-overs, springs, shocks, and struts |
| | Springs, struts, and bumpstops |
| | Springs and coil-overs |
Performance suspension kits are often composed of components from different manufacturers. Kit parts are assembled with the best selections that individual brands have to offer. Choosing the right kit depends on the characteristics the buyer is looking for as well as the types of components that fit the specific vehicle the buyer is trying to outfit.
How to Buy Performance Suspension Kits on eBay
Sellers on eBay offer a large selection of suspension kits and high-performance suspension parts for assorted types of vehicles. Buyers searching for performance suspension parts on eBay can use keywords such as coil-over kits to display a listing of all matching parts. You can narrow the search selection by using specific keywords such as Audi coil-over kits..
Purchasing performance suspension kits on eBay is convenient. There is no need to drive around looking for the exact parts you need when you can accomplish the task with the click of a mouse. Shop from the comfort of your home, order the parts online, and have them delivered to your home or business address. Buyers can deal confidently with eBay sellers by reviewing the seller's feedback rating. Previous buyers rate their seller on the satisfaction of their purchase transaction, and the results are published for future buyers to reference. Buyers can complete their eBay purchase transaction by using PayPal to fund the purchase of the parts they are buying. PayPal provides the safest and most secure means of online money transfer for both buyers and sellers.
Conclusion
For performance and vehicle racing enthusiasts, the suspension of the vehicle they are driving is a key component to how the car performs on the road or racetrack. Performance driving puts a great deal of stress on suspension components and drivers want to know the suspension parts can hold up to the rigours of the extra stress and not break under the demands. Increasing the sturdiness of the suspension is not only important to the manner in which the vehicle handles, but also is important in protecting both the vehicle and the driver by lessening the chances for a component failure. Having a suspension part come apart in the middle of a critical cornering manoeuvre could damage the car or, worse, injure the driver. Buyers want to make sure they are getting the best components for the performance upgrade to the suspension of their vehicle to avoid the potential for critical part failures and to make the vehicle as fun and competitive to drive as possible.