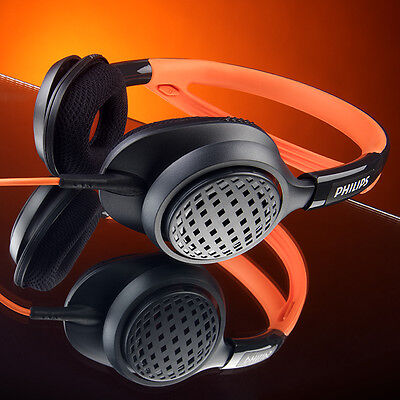 Leading the Philips Actionfit range, these headband-toting cans go a long way to proving that over-head headphones have a place in the gym. Weighing in at just 3.5oz, the SHQ5200s sport a non-slip silicone headband that's flexible and robust. The size can be adjusted to fit little and large heads alike, and you can virtually twist the neckband back on itself without doing any damage. At the same time, the Kevlar-reinforced cable not only splits into two, cleverly protecting your device against any sudden snags on gym equipment, but it also strengthens the cord against wear and tear. That means these sturdy soundmakers will happily survive being dumped into your gym bag with your sweaty shoes.
The ear pads are extremely comfortable too. Although the fabric absorbs a fair amount of sweat - becoming wet during heavier sessions - Philips has cleverly made it possible for you to slip them off and throw them in the washing machine alongside your other gym gear. So it's nice and easy to keep them smelling fresh.
Sound-wise, these cans house 40mm neodymium drivers, which deliver an impressive bass response, ensuring that you get rich sounds with enough weight to tune out the crashing of weights and the pounding of treadmill rubber.