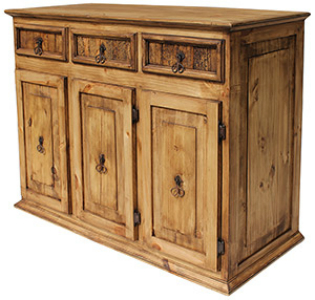 Sideboards have been around from the 17th century, when they were used as a serving table and primarily kept in the dining room. However, from then to now, sideboards have moved on from being just a functional piece of furniture to something more sophisticated. While the credit for popularising sideboards goes to Thomas Chippendale, who came up with the idea to create a table specifically to store serving utensils, cutlery, crockery and alcohol; sideboards of the 21st century have become an integral part of a home. Many materials and different types of wood are used to make sideboards, but it is the lightweight pinewood that has gained more notice in the recent times. A pine sideboard has many advantages and knowing how to buy one is certainly something that should be known.
Functions of a Pine Sideboard
Traditionally, sideboards are kept in the dining room, though they are also placed in any other room of the house as well. However, a pine sideboard is most useful in the dining room, kitchen, hallway, or the living room. There are no fixed rules governing the possible uses of a pine sideboard. It can be used to store glassware, silverware, alcohol bottles, crockery, or wine bottles. However, a pine sideboard can also be used as a display case to display decoration items, ornaments, or personal photographs. It can be used as a place of storage to store items, such as bed linen, quilts, family photographs, books, CDs, DVDs or anything precious. Some people also like to use a sideboard as an accent piece to highlight the decor and design of a room. In this case, a pine sideboard often stands out because it is visually appealing and beautiful.
Why Choose a Pine Sideboard?
There are many advantages to choosing a pine sideboard. One of the best parts about a pine sideboard is that it suits a room, regardless of the style and design. Some of the other reasons to choose a pine sideboard are as follows:
| | |
| --- | --- |
| Affordability | Compared to other types of wood, a pine sideboard is more affordable and offers great value for money. Whether intending to use the sideboard in the dining room, hallway, or the living room, aesthetically pleasing options for every budget can be found. |
| Durability | Pinewood is strong and durable. It can be crafted into a wide range of styles without any problem and can also be made into sideboards using different construction methods. The wood is strong, making pine a fantastic option for long lasting furniture. |
| Compatibility | As pinewood is neutral in colour, a pine sideboard can blend with other furniture in the house or room. A pine sideboard has this unique ability to blend with other wooden furniture without being garish or seeming out of place. It lends style to a room without being obvious. |
| Individuality | Pinewood has a certain dark grain that stands out against the pale-looking wood. In addition, the knots can make the pine sideboard appear unique and different from other sideboards, even if they are made from pine. |
| Investment | When a sideboard is made from high quality pine, it will not depreciate in value. This makes, buying a pine sideboard an investment which can be enjoyed for many number of years. |
A pine sideboard has the unique ability to make the ambience of a room more relaxed and refreshing. It can also function as a centrepiece without being obtrusive, as it comes in a variety of styles and designs.
Choosing a Pine Sideboard
When shopping for a pine sideboard, take into consideration a range of factors to get the best value for the available budget. Some of the factors to consider while choosing a pine sideboard are as follows:
| | |
| --- | --- |
| Craftsmanship | To ensure a high quality pine sideboard is found, make sure to check the craftsmanship. The quality of the build should be no less than excellent and while pinewood is durable and can last for years, if the craftsmanship of the sideboard is not of high quality, the sideboard will not last and begin to show signs of wear and tear very quickly. |
| Stability | The joints of the pine sideboard should be stable enough to hold weight of the items stored in it. Typically, the joints should be invisible, as this increases its aesthetic appeal. The undersurface of the sideboard should also be secured well and should not be glued together, as it will weaken and crack when pressure is applied or heavy weights are being placed on it. |
| Finishing | The finishing of the pine sideboard should be neat and tidy. It will not only increase the aesthetic appeal of the sideboard, but it will also be an assurance that the quality of the sideboard is good and made to last. |
| Style | Pine sideboards are available in a wide variety of styles. It is possible to go for contemporary or traditional style. Some of the pine sideboards can look like vintage pieces, while others may be vintage furniture. Make sure that the sideboard purchased actually appeals. |
| Use | The design of the pine sideboard and the number of cabinets and shelves will depend upon its use. Ensure that it the purpose of the sideboard is clear before making an investment. |
When deciding on the sideboard's size, it is important to factor in the size of the items to be stored here and the space available in the home. Usually, the sideboard will come with a mix of open shelves, cupboards and drawers. Here it really makes sense to review what the sideboard is going to be used to store. Given the amount of potential space and, more importantly, display space, it would seem a shame to have an empty sideboard on display for all to see, or indeed, one which is cluttered. Pine sideboards are also available as painted sideboards. With such sideboards, ensure that the wood is of high quality before investing. Furthermore, the painted pine sideboard should fit in with the other furniture in the house. It is important to note that pinewood is usually stained after it is crafted into a sideboard. On rare occasions, an unfinished pine sideboard can be bought, made possible by a special request.This is a great option for those who are gifted in the art of DIY.
Finding a Pine Sideboard on eBay?
Rather than going to a conventional furniture shop to buy a pine sideboard, buy it online through Bay. In fact, the luxury of sitting at home and browsing through the styles and designs is something that is hard to beat. eBay offers a secure way of buying pine sideboards. Just by typing in the words "pine sideboard" into the search box, a list of the different types of sideboards made from pine will be displayed. There is the option of narrowing down the choices by going to the Advanced search option. Alternatively, make use of eBay's category tree. To find sideboards, go to Home & Garden and Home & Garden again. From here, click the Furniture & Living link and then Furniture. It is best to opt for a local seller, as this will allow open the option of inspecting the pine sideboard before buying it. Also, reverse shipping or returning the item is easier when dealing with a local seller. Having a face-to-face meeting with the seller will also be the ideal place to ask any questions, though the eBay Ask a Question feature also works very efficiently. A responsible seller on eBay will also give instructions on how to care for the pine sideboard so that it lasts for a long time to come. As pine is a soft wood, the pine sideboard should not be kept near radiators or near water. Pine also does not fare well if exposed to heat and humidity.
Conclusion
A pine sideboard is an excellent choice of furniture for a house. It is durable, elegant-looking and offers great value for money. It is a versatile piece of furniture and can beautify any room that it is placed in.