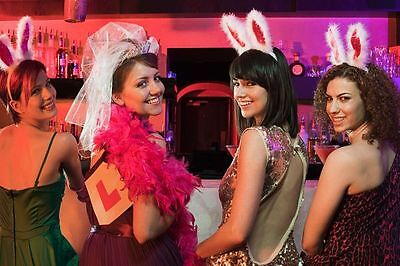 a step by step guide when planning a hen night
organizing your best friends hen do can seem like the hardest task in the world. With different opinions, limited budgets and a fussy bride it can so easily go disastrously wrong. This is where Fancy Pants Store are here to help.

With our useful hints and tips you should be able to easily plan a hen party that keeps everyone happy. Here are our 6 top Dos and Donts to help you on your way.

Do ask the bride what she wants, remember this is her party, not yours. Don't get carried away planning what you'd actually want to do on your hen night.
Don't leave it to the last minute to get a date sorted. With multiple guests you are going to find it difficult to get a date that suits everyone. The more advanced you plan the better
Do get the bride to Okay the guest list. There's nothing worse than a hen party with the future mother in law if the bride does not feel free to let her hair down.
Don't moan to the bride. Planning a hen party is difficult - that's why she's asked you to do it. She's already dealing with the stress of planning her wedding, don't add to this. If guests are being difficult to organize just politely remind them that this is the brides only hen do and your doing your best to incorporate everyones ideas.
Do pay for the Bride. Obviously this is dependent on the activities but as standard the hens should chip in for the Bride. It is her hen do and she should be being spoiled by her nearest and dearest.
Don't get a stripper, unless you know the bride wants one. Strippers can be great fun for the right crowd. However there's no quicker way to offend and upset with the wrong people.
Personalised Sashes
are a great cheap alternative to Hen Party T-Shirts. At only £2.95 each you can have some great fun designing them. Why not give every guest a funny nickname such as "Horny Hannah" and "Naughty Nic"?
Click the image for further details and to purchase.

Fancy Dress
a fancy dress theme is great for hen parties. When do you have a better excuse to dress up in your favourite character and head out into town.
Popular fancy dress themes are :
- Disney
- Army
- Sailors
- Life Guards