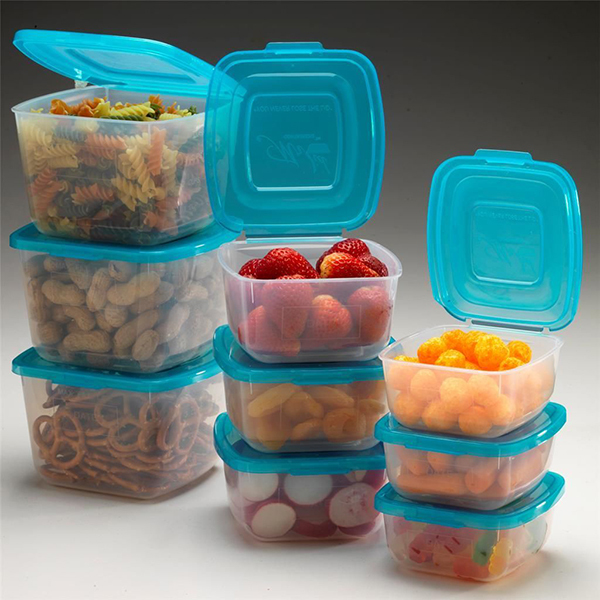 It is almost impossible to imagine a kitchen these days without at least some plastic containers for storing food. Hygienic, safe, and hardwearing, modern kitchen-safe plastic containers are ubiquitous and airtight, protecting foods from spoilage and providing tough containers to store frozen meals in. As the world's largest online auction, eBay continually features a vast range of plastic containers for kitchens in all shapes, sizes, and colours.
About Plastic Containers
Given how commonplace plastic containers are, it is perhaps a little surprising to find that they didn't make an appearance in household kitchens until well into the last century. Storing food was a risky business, with most of the containers available being either breakable or open to contamination through air-borne pathogens. It wasn't until the American tree surgeon Earl Tupper invented a plastic that has become famous the world over as Tupperware that the airtight plastic container revolution began, though his products didn't really take off until 1950. Now plastic containers for kitchens come in a dizzying array of designs, plastics, and sizes. Modern food safety requirements insist that kitchen plastics used for storing food must be free from leach chemicals such as phthalates and lead, which can be found in trace amounts in plastics like vinyl PVC, for example.
Choosing a Plastic Container
Much will depend on the purpose the customer has in mind. Plastic containers destined for the fridge, the freezer, or the microwave come in multiple sizes, from baby pots to boxes capable of holding several meals at once or storing large bundles of vegetables. They keep freshness in, especially when stored in the fridge or the freezer, and air and pests out.
Choose by Colour and Set Number
A good many of the plastic containers sold on eBay come in sets and are classified largely according to colour ( Clear , Blues , Whites , Greens , etc.) and to the number of containers included in a set (e.g., 1-5, 6-10,11-20 and so on). eBay's search tools will help customers streamline their efforts to find the plastic containers that most closely meet their specific food storage needs.
The Silicone Alternative
Although silicone containers aren't strictly classified as plastics, they are included in eBay under the generic heading "Plastic Containers" because they fulfil similar functions and have anti-microbiological properties, making them especially safe for food storage.
Finding Plastic Containers On eBay
Simply typing the words plastic containers into the search box may be too generic, bringing up results more relevant to industrial or office containers or for garden waste. To be sure that kitchen plastics are searched rather than, say, office storage bins or warehouse container racks, a few tips might come in handy. Entering plastic containers in the search box will bring up a generic result, encompassing categories like Business, Office & Industrial as well as Garden & Patio and Crafts in addition to Home furniture & DIY. If that is the route that customers choose, they just need to click the Cookware, Dining & Bar link below Home Furniture and DIY and immediately, domestic kitchen containers only will appear. This can be refined to exclude kitchen containers linked to equipment such as vegetable choppers and peelers by clicking the "Food & Kitchen Storage" link beneath the Cookware, Dining & Bar category on the left.
From here, using the other categories listed on the left, such as Brand, Main Colour, Condition, Price Range and Material, can narrow the search further. Simply tick the little boxes beneath each of these headings, or fill in the price range, to further focus the search. Customers can choose whether they want to buy items from the UK only, from the EU or from worldwide sources, and they can specify the type of seller they'd prefer to deal with (private individual, business or Top rated).
Shopping for Plastic Containers on eBay
All newcomers to eBay will need to sign up for an account - but, thankfully, it's a painless and easy process that takes no more than a few moments. Simply click the "Register" link at the top of the homepage and fill in the boxes on the online form. With that done, let the bidding (or buying) commence.
Customers who need their plastic containers to be microwaveable need simply enter the words "microwaveable plastic containers" in the search box to yield a plethora of suitable products. Customers with very specific requirements in mind can usually find what they are looking for simply by typing the term into the search box (like the example of "microwaveable plastic containers" mentioned earlier). But for others with more general requirements, it is worth pausing for a few minutes to do a little product research using eBay's search technology to help.
Once customers start searching for plastic containers, they will notice a vertical list on the left-hand side of the page beginning with the heading "Main Colour". By working down these criteria and selecting the most appropriate features, customers can target precisely the plastic containers they are really looking for. Once the most suitable listings have been identified, it's a good idea to check the seller's asking price against the going market rate for the item. Sellers on eBay rapidly learn that it makes most sense to ask for reasonable prices, however, or they'll simply fail to make sales.
Ask the Seller for More Details
When customers have found the items they have been looking for, another problem sometimes arises. The product descriptions featured on eBay are of necessity very brief and concise and many customers want to know more (for example, is the plastic really kitchen safe and microwaveable if there's no reference to those features in the description?). Instead of pre-emptively backing away or simply taking a gamble, on eBay customers can put their queries directly to the seller by clicking the "Ask a Question" link near the product description. Potential buyers should not feel shy about asking questions. Sellers on eBay are accustomed to this feature, largely because it's a good means of securing win-win scenarios for bidders and vendors alike. No one wants to be confronted with disgruntled customers, disappointed with their purchase, who are now returning the goods, asking for refunds and posting negative feedback comments about the seller.
Read a Seller's Customer Feedback
Those feedback comments really matter on eBay. Customers can find out about a seller's performance so far by clicking on the bracketed number beside the seller's name in the listings page. The number refers to the total tally of customer feedback comments the seller has accrued so far. These remarks give a good indication of a seller's reliability and they're definitely worth a read through.
Use Top-Rated Sellers
The most prolific and successful sellers on eBay, who are known to resolve customer concerns quickly and efficiently, are awarded the site's equivalent of the quality kite mark: eBay's "Top-rated seller" status. This is easy to see during product searches - just look for the gold rosette icon beside the seller's name. If it is there, customers can rest assured that they are dealing with the most experienced and reliable sellers.
Keeping Bids Realistic on eBay
Bidding on eBay is safe and straightforward, even for novices. eBay ensures that there is no danger to newcomers who may fear getting carried away with the bidding process by making unrealistic bids far in excess of what's needed to win the auction. All that customers need to do is set an upper limit to their bidding, based on careful consideration of reasonable market prices and any possible additional cost factors for the seller, such as postage and packing or special delivery/courier fees. It takes a little extra thought, but it's well worth the effort.
For customers who are really keen to secure an item, it may be advisable to start bidding above the seller's "reserve price" (the minimum value he or she will consider for a product). But this is no guarantee of success. eBay's automated bidding may help considerably, however. Armed with the customer's maximum bidding limit, eBay will automatically increase the bid in increments to maintain the customer's premium position as rival bids come in. Bidding will stop automatically when the auction closes, or if a rival bid supersedes the customer's maximum limit. For those who remain a little wary about bidding, there are two alternatives to consider on eBay: the "Buy it Now" and "Best Offer" options.
Conclusion
Despite the thousands of different kitchen plastic containers on offer every day at eBay, the site's advanced search technology makes finding just the right one simple, straightforward and fast. And with its automated bidding, eBay ensures that novice bidders will never overspend in the heat of the auction.