Taking advantage of the space under the bed is a necessity for those with limited storage space. While shoving bags and suitcases under the bed is one way to do it, plastic storage boxes do the job with more style. Knowing about underbed storage box sizes and features like wheels and locking lids helps consumers choose a box that keeps their possessions in good condition and easily accessible at all times.
Plastic Underbed Storage Box Sizes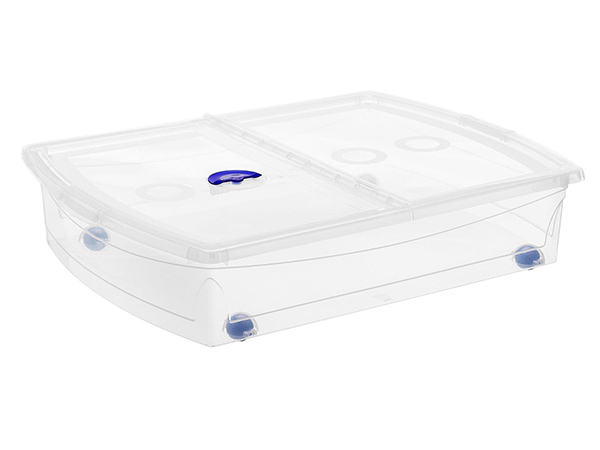 Storage box sizes in litres gives an idea of the volume but does not describe the dimensions of the box. Dimensions are particularly important for underbed storage boxes since the side rails of the bed often interfere when sliding the box under the bed. For this reason, most underbed storage products are around 20 cm in height or less. Measure the height of the space under the bed before buying a box. Lastly, volume ranges from 30 to 55 litres, but other sizes are also available.
Lid Types
It is not enough for a plastic storage box to keep things out of sight. They should also protect items from insects, dust, and humidity. Moreover, it should be easy to access items at a moment's notice. Various lid designs make this possible in high quality boxes. Among lids, locking and folding lids are popular options. Locking lids have plastic mechanisms that close the box securely to keep bugs and dust out. Folding lids are convenient when the box is long, like most large underbed storage boxes are. Users can just pull it out halfway and open half of the folding lid to access items.
Wheeled Storage Boxes
Since pulling an underbed storage box out from under the bed is the only way to access it, it only makes sense that it should have wheels. Wheels prevent unsightly scuffed floors. Most wheeled underbed boxes have four wheels, but some models have six if they are especially long. Look for wheels set into the box so they do not add to height. However, the downside is that they may create an odd interior shape. This is a consideration when storing books or papers, but not an issue for blankets or clothes.
Colour and Design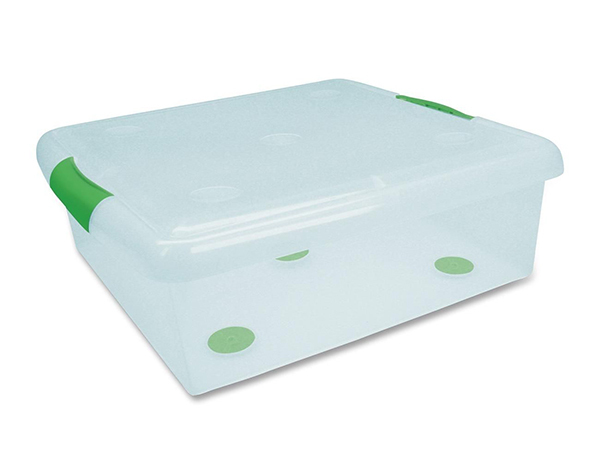 Heavy-duty plastic, like the type used by the Really Useful Box Company, is the longest lasting. In particular, lids, handles, and wheels need to be of good quality plastic, because these are the parts under the most stress. A range of colours, both opaque and semi-transparent, is available. Semi-transparent and clear boxes are useful because it is easy to see the contents without having to open the box.