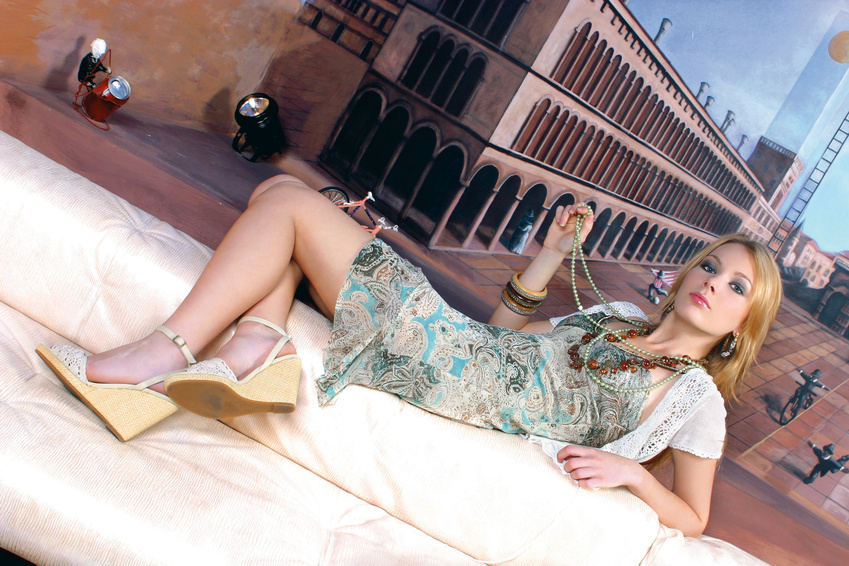 Do you need some extra height but cannot get the hang of walking in skinny stiletto heels? Platform wedges are the stylish, comfortable solution to your problem. Easy to walk in yet still uplifting, platform wedges come in a dazzling array of cute styles, colours, and designs to meet your every need, and they offer you the same leg lengthening benefits as heels, without the pain. Choose from a variety of platform wedges to complete your look, whether you are wearing a dress, shorts, or trousers.
Platform Wedge Sandals

Perfect for spring and summer, and a great addition to dresses, platform wedge sandals come in a huge array of strappy styles. Wedge sandals range from cork heels to block heels, and include espadrilles, peep toe designs, slip-on wedges, and gladiator wedge platforms. Some popular brands include Topshop and French Connection. From dressy, sparkly silver sandals to casual leather designs, platform wedge sandals have cool embellishments like cut-outs, studs, buckles, and bows. Wedges range in height, so choose a platform design you feel comfortable walking in. Some sandals have details on the wedge itself, such as patterns, rope, or embroidery.
Platform Wedge Heels
A more supportive choice than stilettos or pumps, platform wedge heels give you the look of heels with more traction for a comfortable and easy walking experience. Platform wedge heels typically have a shorter wedge in the back, with a separate front wedge which mimics traditional heels. Chunky, blocky, and fun, platform wedges heels have a retro feel to them. With details like ankle straps, cleated soles, and peep toes, platform heels have a lot to offer. Plain platform heels offer a mid-heel design which is low enough to wear to work.
Platform Wedge Boots

Another option when autumn and winter come around is platform wedge boots. Wedge boots up the ante on traditional boots and glam them up with funky platform wedges. These boots are dressy and look pretty with dresses, skirts, and trousers. Platform boots are typically ankle boots, and come in many colours like black, brown, and beige. The hidden wedges in the boots add to the style of the design, though some wedge boots have chunky platform wedge heels. Popular designs include suede and leather wedge boots. New Look makes a wide variety of platform wedge boots.
Platform Wedge Shoes
Platform wedge shoes come in many styles. There are platform mules which slip on, Mary Jane styles, wedge clogs, and closed-toe styles like platform wedge trainers, which are sneakers with added platform wedges to give you more height with sneaker comfort. Popular brands include Converse and Guess.