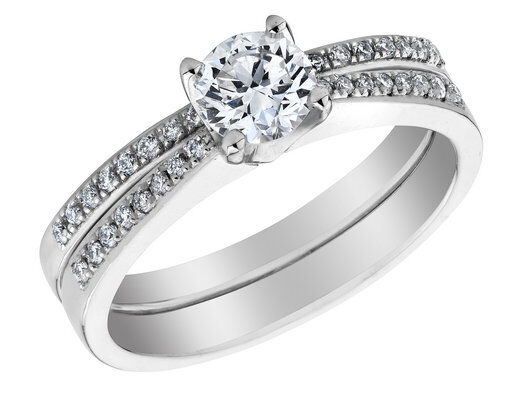 Buying an engagement ring can be one of the most exciting times in an individual's life. This symbol of love and commitment can change lives and deliver value today and well into the future. A particularly elegant choice in engagement rings is a platinum engagement ring. Renowned for its quality and subtle colouring, a platinum ring is the hallmark in many minds of the ultimate, quality engagement ring.
Shopping for one of these rings, however, can be intimidating for those who do not know much about the metal or jewellery in general. Consumers in the market for a platinum engagement ring may want to learn some basic details about platinum rings, including the various components that comprise the ring and how to gauge the quality of the ring. Engagement ring shoppers may also benefit from finding out the best options for finding and purchasing an engagement ring made from platinum, including shopping in traditional jewellery stores and on the online auction site, eBay.
Platinum as a Precious Metal
Platinum is a precious metal commodity that is used in a variety of capacities, including in the manufacturing of scientific equipment. Platinum's place in the world of jewellery is perhaps its best known use. Louis XV, former king of France, is said to have called platinum the only precious metal fit for a king. Platinum is used in a good deal of high-end jewellery and was even used in the creation of the coronation crown of the British Queen Mother in 1937, which made it the first royal crown in Britain to be made from the metal.
Platinum's Characteristics
Platinum is valued for its rarity; in fact, this precious metal is thirty times as rare as gold. It is also a highly hypoallergenic metal and does not aggravate skin irritations the way gold can in some individuals. In terms of aesthetic appeal, platinum is valued for its neutral, silver-white tone that allows it to match well with a wide array of diamonds and jewels of different colours. Platinum is also a very pure precious metal, registering in at 99.9 per cent purity at its finest grade. It does not tarnish and requires less maintenance than many other metals.
Judging the Quality and Provenance of Platinum Jewellery
A platinum ring sold in the U.K. must be marked with certain symbols, called a hallmark, that indicate its provenance and quality. There are also optional symbols that are sometimes included to provide additional information about a piece of platinum jewellery.
Maker's Mark
The maker's mark indicates which entity provided the platinum from which the ring was made. These marks are determined by the maker or sponsor and can feature logos or initials for a company.
Fineness Mark
The fineness mark is a very important mark for consumers to consider. It indicates how pure the platinum in a ring is. A mark of 850 defines a ring as consisting of 85 per cent pure platinum. Following this pattern, 900 translates to 90 per cent, 950 to 95 per cent, and 999 to 99.9 per cent. This number is imprinted within a very specific rectangle and triangle shape that resembles the outline of a house. A ring without this particular shape is not platinum and may be white gold.
Assay Office Mark
The assay office mark tells a buyer which assay office tested the quality of the ring. London has four main assay offices, each of which has a unique symbol. The London office has the face of a mountain lion-like animal in its mark. The Birmingham office has an anchor, the Sheffield office has a floral shield, and the Edinburgh office bears a castle on its logo.
Optional Marks
Sometimes platinum jewellery has some optional, additional marks that are not required by law. A platinum ring that is 95 to 99.9 per cent pure may have an orb set within a pentagon marked on it. Date marks use letters of the alphabet to indicate the year of manufacture starting in 1975. An International Convention mark may also be imprinted on a ring to indicate that a ring is in keeping with the standards of the International Hallmarking Convention.
Style Selections for a Platinum Engagement Ring
Aside from the selection of a stone, there are two main style choices an individual must make when shopping for a platinum engagement ring, the design of the setting and the style of the band.
Setting Designs in Platinum Engagement Rings
The various settings available in platinum engagement rings can drastically change the look and feel of a ring. The following chart lists the most common setting designs and describes the characteristics of each.
Setting

Description

Holds the stone between four prongs

Allows the stone to be seen from all angles

Contour Setting

Holds the stone between prongs with additional reinforcement from raised sections of the band called 'shoulders'

Bezel Setting

Stone is set within a circle of platinum

Tension Setting

Designed to hold the stone lightly between two sections of the band with exact pressure on one another

Channel Setting

Small stones are set within the entire circle of the ring

Bar or Eternity Setting

Small stones are set between small platinum bars around the entire circle of the ring

Pave Setting

Small beads hold small stones in place within a broad section of the band

Creates a shimmering effect

Flush Setting

Small stones are set within small holes and are flush with the surface of the ring
When selecting the setting of a platinum engagement ring, it is important for consumers to consider the personal style of the individual who is going to wear the ring. Subtle choices like channel settings create a very refined look, while something like a cathedral setting can make a very bold statement. Consumers should take some time to consider carefully the taste of the recipient when making this decision and consult with a vendor for advice, if necessary.
Band Choices in Platinum Engagement Rings
Bands for platinum engagement rings can run anywhere from 2 to 6 mm in width, with some running as high as 12 mm. The profile of a band can be either round or flat to create two very different looks. The finish can vary, as well, from a polished finish that is very bright to a matte finish that has a brushed metal look with a lot of texture to a satin finish that is also brushed but is a bit brighter and more delicate than a matte finish.
The band on a platinum engagement ring can also feature different designs around the circle of the band. A milgrain band is comprised of small, beaded detail, and a bevelled edge is an angled edge with contrasting metal finishes. A braid band mimics the look of a weave, and a filigree band is an ornate look with rosette and vine patterns that give the ring an antique look.
Choosing the Right Ring Size
If an individual is surprising someone with an engagement ring, it can be difficult to ensure that the right size is purchased. The following chart provides the standard ring sizes in the U.K., along with the diameter associated with each. If it is possible to obtain an existing ring of the recipient, the purchaser can measure its diameter and use it as a reference when reviewing this chart.
| Ring Size | Diameter (mm) |
| --- | --- |
| A | 37.8 |
| B | 39.1 |
| C | 40.4 |
| D | 41.7 |
| E | 42.9 |
| F | 44.2 |
| G | 45.5 |
| H | 46.8 |
| I | 48.0 |
| J | 48.7 |
| K | 50.0 |
| L | 51.2 |
| M | 52.5 |
| N | 53.8 |
| O | 55.1 |
| P | 56.3 |
| Q | 57.6 |
| R | 58.9 |
| S | 60.2 |
| T | 61.4 |
| U | 62.7 |
| V | 64.0 |
| W | 65.3 |
| X | 66.6 |
| Y | 67.8 |
| Z | 68.5 |
Individuals in the market for an engagement ring should also keep in mind that sizes can vary from country to country. If a vendor is offering a ring created in France, for example, it may be registered under a different size and needs to be converted to a U.K. size for proper reference. The best option when sizing a ring is to consult carefully with the vendor for professional sizing information when possible.
Shopping for Platinum Engagement Rings
Traditional brick and mortar shops and jewellers offer a range of selections in platinum engagement rings. These options, however, are also limited to whatever trend is dominating that year, and this can affect the selection of different settings and band styles. For a more comprehensive catalogue of platinum rings, consumers should consider accessing the expansive resources of the online auction site, eBay.
Buying Platinum Engagement Rings on eBay
The online auction site eBay provides shoppers with a useful search interface that you can leverage to initiate your purchasing process on the site. The search bar is located on every page of the site. You can enter a general search term, such as 'platinum engagement ring', to see the overall range of items that are available. To get more specific listings, use a keyword term such as 'platinum ring cathedral setting'. You should also consider using the Advanced Search option to run an even more specific search.
Vetting the Sellers on eBay
When purchasing any item on eBay, it can be beneficial to you to take a moment to evaluate the sellers of items in which you are particularly interested. Make sure that you look through a seller's past auctions to get an idea of the type of products he or she handles. You may also want to read through feedback submitted by other consumers. This can help you determine whether a vendor has the experience and range of products to provide you with the exact ring you need.
Conclusion
Getting it right when purchasing an item as important as an engagement ring leaves buyers with an incredible feeling. By getting to know the various factors that go into the selection of a platinum wedding ring, individuals who are looking for the right stunning piece to make their engagement special can be sure that they are making informed and skilled choices. Item points such as setting and band all affect the overall effect of a platinum engagement ring and must be considered carefully in relation to the recipient's style.
Once an individual has settled on a type and quality of engagement ring in platinum, he or she can utilise the large catalogue of options on the online auction site eBay to find the right piece of jewellery. With eBay's helpful search interface, consumers can look through ring options almost immediately and quickly find a quality selection to make an engagement the special occasion it is meant to be. Alternatively, new platinum rings can be found in local jewellery shops.