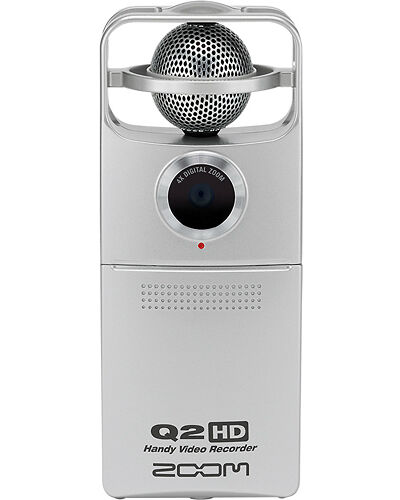 As technology has improved, camcorders have continued to become smaller and less bulky. It is now possible to buy a camcorder that is small enough to actually fit into a pocket. A pocket camcorder has several distinct features which distinguish it from an ordinary camcorder. Obviously, a pocket camcorder is smaller as it can fit into a pocket, and it is also, therefore, much lighter than a standard camcorder. The shape of a pocket camcorder is always rectangular, and the display is built into the body of the camcorder unlike ordinary camcorders, which normally have a flip out display. It is also common for a pocket camcorder to have a touch screen display.
One of the main advantages is that a pocket camcorder may be considerably cheaper than a standard model. A pocket camcorder may not be the best choice for all, so it is worth fully considering the features and thinking about what will be its primary use prior to choosing a model to buy.
Features to consider
Though not exhaustive, below is a list of features to consider when purchasing a pocket camcorder.
Zoom
A pocket camcorder will not have the ability to zoom in on faraway objects. This is because they operate using a digital zoom and not an optical zoom. This means that a pocket camcorder will be able to zoom to some extent but not nearly as much as an ordinary camcorder.
Flash Memory
Videos recorded on a pocket camcorder are saved using flash memory. This is one of the reasons why a pocket camcorder is able to be so compact and light. Some models will have the flash memory built into the camcorder and some will have the additional ability to insert a memory card to boost the memory capacity. It is worth considering the potential amount of recordings that may need to be stored on the pocket camcorder before making the final purchase decision. Consider purchasing one that can have a memory card inserted if the memory capacity will need to be boosted.
Simplicity
The smaller size of a pocket camcorder means that the control features have to be simple and fairly basic. Many controls such as focus and exposure will probably be set automatically with no manual controls. This does mean that the user has little control over the look of the video but the simple controls do make a pocket camcorder quick and easy to use, so it is perfect for capturing quick, spontaneous videos.
Connection
A pocket camcorder will need to be directly connected to a computer in order to download a video. The majority of camcorders will do this by connection through a USB lead. Some pocket camcorders may have a built in USB connection, enabling the camcorder to be placed directly into a USB socket on a computer. Although this is a useful feature, connection can be difficult depending on the size of the body of the pocket camcorder, so a USB lead may still be needed.
Charging
There are a variety of ways in which pocket camcorders can be charged, and it is worth considering which method is the most suitable option prior to choosing which model of pocket camcorder to purchase. Some models will automatically start to recharge once they are connected to a computer. Charging the pocket camcorder through a computer will be a slower process than charging from the mains. Not all pocket camcorders have the capacity to be charged through the mains, so it is worth considering this before purchasing if quick charging is something that will be a requirement. It is also worth checking that the pocket camcorder has a battery life of at least two hours so that it does not run out of power at a vital moment.
There are some models of pocket camcorders available which run on AA batteries. Although this removes the necessity for having to recharge the camcorder, it could prove to be expensive, so it would be worth investing in rechargeable AA batteries when choosing to buy one of these models. This would be a cheaper option and more environmentally friendly.
Software
Unlike the majority of electronic equipment, pocket camcorders do not come with a CD of software which has to be loaded onto a computer. Instead, the software is already preloaded within the pocket camcorder and will automatically start to download to the computer as soon as the camcorder is connected to it. The software will often include the capacity to allow videos to be directly uploaded to YouTube, which makes the process considerably quicker. It is worth checking whether the software will enable videos to be downloaded automatically to existing YouTube and Facebook accounts or whether it will be necessary to create a new account for this function.
Video Quality
Pocket camcorders are available in both standard and high definition. It is worth remembering, though, that a pocket camcorder is simpler in design and features, and even when recording in high definition, the video quality could be diminished in conditions such as poor light compared to a recording on a standard camcorder. The video quality of recordings on a pocket camcorder will generally be good when recording in acceptable conditions, however.
Playback
A pocket camcorder will often come with a lead to connect to the TV so that the videos can be viewed through it. This is, however, not necessarily the best way to view the videos. A HDMI lead will give the best quality playback through a TV, so it is worth checking that the pocket camcorder has an HDMI output before purchasing as this is not standard across all models. It is possible to purchase a HDMI lead separately if this is not included as long as the HDMI output is there.
It is also worth noting that the best quality playback of a video recorded on a pocket camcorder will be achieved when it is viewed through a computer. This is because the majority of pocket camcorders record videos using motion jpeg files. These are designed to give optimal viewing on a computer as a TV uses a different refresh rate, and this may cause a juddering effect, particularly if it is a high definition TV.
Conclusion
The size and weight of a pocket camcorder makes it extremely easy to carry and ideal for trips and holidays. Although a pocket camcorder may be simpler and have fewer features than a standard camcorder, it is the perfect choice for recording straightforward videos without special effects. The simplicity of uploading videos, particularly the ability to upload directly to YouTube, the capacity to be able to increase the memory, and the various methods available to recharge it add to the versatility of a pocket camcorder and make it a useful device to own.