Here is the www.SquirrelPoker.co.uk Guide to the most common poker/playing cards available in the UK
KEM 100% Plastic-Cellulose Acetate
Ebay is starting to get more and more fake KEM cards being sold, please see below the only official KEM designs, if the design you see on Ebay is not the below then they are not official KEM cards.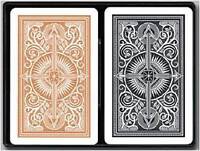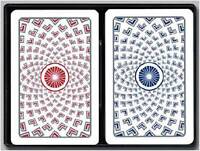 These designs are ARROW, WSOP, WPT, PANTHEON and PAISLEY

KEM Cards are widely regarded as the best of the best and this reputation has been well earnt, you can expect these cards to last up to and over 2 years for standard home play, the cards are made of a unique cellulose acetate and are fully washable and come with a 1 year guarentee! They are manufacturered by the US Playing Card Company. It is worth noting that these cards are only availabel now in twin packs, the price will go from about £20 upwards depending on design, the RRP on these cards is £45! You can search the web for reviews and these cards will always come out adn the number 1 and are still the bench mark that other cards are judged against.

FOURNIER, - Buy Fournier cards here and see teh full range

There is a very high chance that you would not of heard of this company. They are Spanish and hold the official licence to print the European Poker Tour (EPT) cards, they also have the unique poker vision cards, these are very handy as the card value is printed in each corner of the card, very handy to stop those prying eyes round a table. All the cards are 100% Plastic. As a little note, many UK casinos have switched from KEM to Fournier!
COPAG - Buy COPAG Cards Here



For many people COPAG are regarded as the poor mans KEMS as the prices are in general 40% less than KEM, the truth of this is a little different COPAG offer a very high quality card and when looking at internet reviews and after our own testing the truth is that they are very close to KEM in regards to quality, they are slightly thinner but once you start to shuffle and deal this is very quickly un noriceable.

Standard Cards - Bee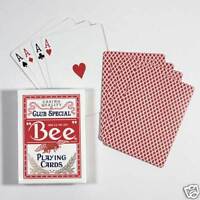 Bee, if you know about Poker and American casinos you will have heard of Bee, they are the leading cards that are used in the majority of the casinos in the USA. If anyone has ever brought you cards back from the USA there is a big chance they will be Bee. If you don't want to shell out for plastic cards then these are the next best thing, they will not let you down and are great value for money.
Official Bee WPT 2008 designs,
Buy official WPT cards here UK stock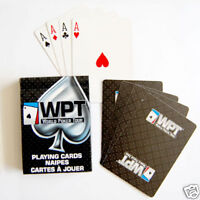 as above but these cards carry the official World Poker Tour (WPT) logo, they come in 4 colours (red, blue, white,black) and are probably the most popular cards that we sell.
There are many other suppliers of cards, but the above are the best of the best in there catagory. If you play cards on a regular basis it must be said that plastic cards are a long term investment and will save you a lot of money in the long term.
Check out our Ebay store for all of the above in UK stock!
www.SquirrelPoker.co.uk Poker Cards, available from UK stock check out our ebay store