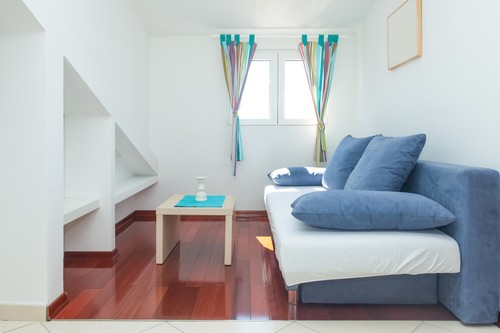 A polyester cushion cover is an important purchase for the home or office. The item can complete the decor in a room and add style to the furniture on which it is placed. Buy a cover that matches the character of the surrounding room and that meets requirements such as size.
About Polyester Cushion Covers
A polyester cushion cover is purchasable with or without padding in it. With padding, the cover's intended use is often as a rest or support. Another use for the cover with cushion is as a decorative accent for a piece of furniture. The natural home for cushion covers is in rooms such as the bedroom, dining room, and sitting room, though that is not to say that they can be artistically situated elsewhere.
What is Polyester and What is its Origin?
A cushion cover is often composed of polyester thread or yarn. Polyester refers to a group of polymers. The material is composed of several esters within the fibres. Esters form from a chemical reaction between an acid and alcohol. At its most basic level, polyester comes from coal, petroleum, air, and water. The origins of the material date back more than fifty years. The first poly fibre appeared in the early 1940s in England, soon after the arrival of nylon. British research chemists took the research of nylon and began to form their own variety. The first poly fibre emerged within the Calico Printers Association, Ltd. laboratories. Today, there are two main types of fibres. They are polyethylene terephthalate (PET) and poly (Polycyclohexylenedimethylene terephthalate; PCT). PET is the most common type and it is the form used for cushion covers. A new form of polyester was released in 1991, called microfibre.
Choosing Polyester Cushion Covers
A polyester cushion cover can have an elaborate or a simple look. There are a variety of options available to choose for the fabric. Select options for the cover that fit with decor of the room in which it will sit.
Polyester Cushion Cover Options
Options for cushion covers include size, colour, and pattern. On eBay, refine the search for each option to find the cover that best suits intended room space and functional needs of the item. The following table lists available options for polyester cushion covers, descriptions of each one, and tips for how to select each option.
| Option | Description | Selection |
| --- | --- | --- |
| Colour | A polyester cushion cover can be one solid colour or a combination of shades or colours. | Match the colour of the cover to the room to create a harmonious style, or pick a complementary colour to provide a pop of colour for a room. |
| Size | Common sizes for square cushion covers range from 16" X 16" to upwards of 24" X 24". | Choose a polyester cushion cover that is in proportion to the size of furniture on which it rests. |
| Shape | Common shapes for the polyester casings are square, round, and rectangle. | Select a polyester cushion cover that enhances the furniture that surrounds it as well as the room decor. |
| Pattern | Common patterns for the polyester covers are floral, striped, and checked. | Select the pattern that best matches the room decor (see next table). |
| Trimmings | Trimmings are frills that attach to the sides of a cushion cover, such as tassels and fringe. Frills are removable from cover after purchase if the look is not desired. | Trimmings are eye-catching and add an original look to a cover. Frills, however, may reduce the durability of a cover as the ornate details can be easily damaged. For this reason, frills are less practical in a child's playroom than in an elegant dining room. |
Select the size and shape for a polyester cushion cover based on the dimensions of the furniture on which it will rest. In addition, match the pattern, colour, and trimmings of the cover to the room style.
Patterns for Polyester Cushion Covers
Common patterns for polyester cushion covers are floral, checked, and striped. Choose a pattern that matches to and enhances the room in which it rests. The following table lists pattern types, description of each one, and the type of room style each one best suits.
| | | |
| --- | --- | --- |
| Floral | Floral is a classic flower pattern. A different number of flowers in various sizes appear on different cushion covers. | A floral pattern adds a feminine touch to a room. The pattern suits many room styles as it is classic rather than trendy. |
| Striped | Striped is a classic pattern for polyester cushion covers. The width and number of stripes vary different covers. | A striped pattern suits both Contemporary and Modern designed rooms. |
| Checked | Checked is a small square pattern that is a classic style rather than trendy. | A Checked design fits well in Contemporary and Modern designed spaces, as well as Vintage rooms. |
| Polka dots | A timeless design, the polka dots pattern features circles of different sizes across the cover. | In bright shades of colour, the polka dots pattern on a polyester cushion cover adds fun to a children's room or to a dining room. The pattern suits both Vintage and Modern decor. |
| Animal Print | Animal print refers to a design that resembles skin or fur of a specific animal. | A trendy pattern, animal print usually fits with a Modern decorated room. |
A polyester cushion cover adds the final addition to a room with a fun print or a splash of colour. The item can bring a room together and complete the decorating process.
Benefits and Concerns of Polyester Cushion Covers
A concern about polyester fabric is that it does not feel as natural as cotton or wool. If softer material is preferred, choose a combination of fibres rather than 100 per cent polyester. Some cushion covers combine polyester fibres with natural ones, such as cotton, to create a blend soft to the touch. There are many benefits to choosing polyester thread or yarn. The fabric is more affordable than genuine silk or leather, which means polyester cushion covers are inexpensive. As well, the material is durable and wrinkle resistant, unlike silk. The strong fibres of polyester retain colour well and polyester cushion covers are easy care. Unlike the chenille cushion cover, a polyester version does not shrink or stretch when removed from the dryer.
How to Find Polyester Cushion Covers on eBay
Begin a search for polyester cushion covers by heading to the eBay homepage. Click the All Categories tab at the left side of the page and then select Home & Garden.. Select Furniture & Living. Under the menu that appears, click Home Decor.. From the categories listed, choose Cushions. Under Type, refine the search to Cushion Cover and select Polyester under the Material option. Browse the search result pages for items that meet style and functionality needs. Filter the search further by selecting options such as Style, Price, and Size. Another way to search for polyester cushion covers on eBay is by using the search box at the top of the homepage. Type into the box a keyword or key-phrase that relates to what is being looked for. Examples of key-phrases to use are cushion cover or striped polyester cushion cover. Narrow the search even more according to preference. When looking for items to buy, check that the seller ships to destination of choice by checking the Location option at the bottom of each search screen. Another consideration is whether to buy a single cover or instead buy a set from one seller. An advantage of buying a set is that there is only one shipping charge, rather than paying multiple shipping charges to buy single covers from different sellers.
Conclusion
A polyester cushion cover is a great way to add new life to a room or to complete room decor. The material is durable and has a variety of customisable options. Choose the size, colour, pattern, and shape of cover that matches the room in which cover will rest. Buy a single cover or invest in a set for home or the office. Find a variety of styles and options for polyester cushion covers on eBay by using the many search features.