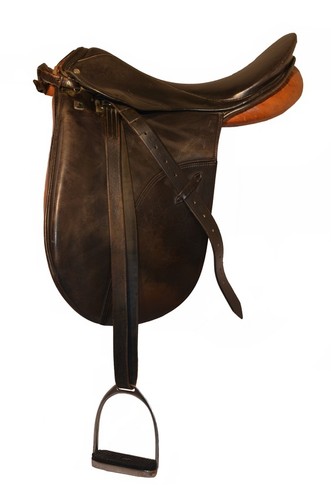 It is important to be careful when buying a saddle as not only the rider's safety and comfort but also that of the pony is at stake. Saddles range widely in style to improve the performance of riders in different equestrian sports and activities, but a saddle is essentially an item of safety equipment, so making sure it fits well is important. When searching for saddles online, including on auction sites like eBay, it is important to make the right decisions about function, style and fit.
Ponies are smaller than horses, standing up to about 14 hands high. As such, ponies are usually ridden by small adults and children. Some saddles are made specifically for children and short adults, featuring shorter stirrups, skirts, seat and flaps or fenders. However, there are as many pony saddle types as there are for regular-sized horses.
Styles of Saddle
The two most widely available styles of saddle are the Western pony saddle and the English pony saddle.
The Western Saddle
The Western Saddle is particularly popular in the USA. This type of saddle has a deep seat and long stirrups, suiting it to long days on the trail.
There are many different types of Western Saddle. Some are designed for rodeo events and showing while others are suited to ranch-work and pleasure trailing. Most have a horn at the front of the saddle for roping cattle and a high cantle at the back to keep the rider's seat in position. They also feature more or less skirting and bigger or smaller fenders (which protect the legs from the pony's sweat) depending on how important it is for the rider to have close contact with the pony.
All-Event Western Saddle
The deep seat, high cantle, horn and strong tree of this type of saddle make it suitable for all-round use including trail-riding, roping and cutting.
Suited to long days, this tough saddle has a padded seat for comfort and a high horn for roping. The skirting on these saddles is cut so that the rider can have good contact with the pony for giving signals.
Often lighter than other saddles and with a padded seat and smaller horn, this saddle is used for general trail-riding or pleasure riding.
Helping the rider keep their balance when the pony is doing fast turns and runs, this saddle has a very deep seat that is often covered in suede to give the rider grip. It has a tall horn to grasp onto and its stirrups hang forward to give the rider greater purchase.
Light and comfortable, this saddle is designed for long rides and endurance competitions, and is popular with pleasure riders. It has no horn, but boasts many anchor points for securing the accessories required for long journeys.
Covered in ornate leatherwork and silver ornamentation, these saddles are designed to impress judges and to keep the rider centrally balanced, encouraging good posture.
Because signaling is important in reigning events, where a pony performs turns, sliding stops and spins, these saddles have a low horn that will not get in the way of the reins. It also has a flat seat and short skirts so the rider's legs stay in close contact with the pony.
These strong saddles are designed to allow maximum movement for the rider. They feature thick horns and a deep suede-covered seat.
Equitation Western Saddle
Equitation, occasionally called 'Western Dressage' requires the rider's body to be well-postured and in close contact with the pony. The saddles are often ornate and feature stirrups that are perpendicular to the pony so that feet are positioned correctly.
In general, Western saddles are well suited for long-distance hacking, trekking or trail-riding. If hoping to jump a pony, it is wiser to buy an English saddle.
English saddles are considerably lighter than Western saddles. They are also smaller and allow the rider have closer contact with the pony's back, which particularly suits these saddles to disciplines like show-jumping and dressage.
English saddles do not feature horns, merely having pommels that rise above the withers to offer the pony freedom of movement and keep the rider in position. The skirting on English saddles is minimal, offer greater contact with the animal. The flaps (called fenders on Western Saddles) have forward, backward or straight orientations depending on the event the saddle is designed for.
As its name suggests, these saddles are suited to dressage, jumping, hacking and trekking. These saddles have a deep seat with flaps orientated between those of dressage and jumping saddles.
With long straight flaps and a very deep seat, the dressage saddle gives the rider a central and upright posture and allows the rider close contact with the pony for signaling.
A shallow seat and forward oriented flaps help the rider to get into the jumping position easily.
With an almost flat pommel and cantle, short flaps and short stirrups, these saddles are lightweight and allow the jockey to ride high and lean forward.
In Polo the rider's freedom of movement is very important. As such, these saddles have a flat seat, straight flaps and padding beneath the leg.
A well-padded saddle, large skirt, anchor points for accessories and stirrups with wide treads make this a comfortable saddle that is suited to long rides or trekking.
Specifically built for skirted riders, these specialist saddles have a wide flat seat, one stirrup leather and two pommels - one of which acts as a leg support.
Saddle Construction
Both Western and English saddles have seats, cantles, pommels, skirts, stirrup leathers, stirrup irons and girths (the band that encircles the pony's ribs to keep the saddle secure). Most saddles of either type are built around a wooden or fibreglass 'tree', which provides the base and foundation of the saddle.
Western Saddle Construction
Western saddles are built around wooden trees that are covered in fiberglass or rawhide. Most trees are covered with leather, but lightweight synthetic saddles are also available. The underside of the saddle is usually lined with sheepskin, wool or acrylic.
English Saddle Construction
Most English saddles are built on a steel-reinforced wooden tree or fibreglass. The saddles are covered with unadorned leather or a leather-look or fabric covering. Most English saddles are stuffed with foam or a mixture of wool and acrylic fibers.
There are also treeless English saddles. Used mainly by endurance riders, treeless saddles can be more comfortable for pony and rider. The tree is inbuilt and completely clears the spine of the pony, avoiding direct pressure. These saddles allow better range of movement for the pony, particularly through the shoulders. They fit a wide range of ponies, adapt to animals with uneven anatomies, allow close contact with the pony and become increasingly comfortable over time. Bear in mind that it is important to also purchase the correct padding when buying a treeless saddle, to protect the pony's back.
Materials
Leather is the traditional material that all saddles, whether Western or English, used to be made from. When buying a saddle, always look for good quality leather and pay attention to the finish, the stitching and the fittings.
Technology allows for the creation of high performance synthetic English and Western saddles that are much lighter than leather saddles. Made of fabric, or more recently of synthetic leather and suede, these saddles are easy to clean and can even come in a variety of vibrant hues.
Finding the Right Size of Saddle
It is crucial that the saddle fits both the pony and the rider in order to be safe and comfortable. If a saddle is too small or large it will chafe the pony's back and the rider's backside, throwing the rider out of position. Finding a saddle that suits both pony and rider need is made much easier if you take measurements.
The Right Size Saddle for the Pony
A saddle of any type should fit snugly, never slipping back and forth or side to side. It is also important that the gullet fits the width of the pony's back. There is a huge range in the width of ponies' backs, with smaller animals not necessarily having narrower rib cages than larger ones. More than the brand of the saddle, it is the breed of pony that you should consider when buying a saddle. If the gullet is too wide it will press on the withers and if it is too narrow it will pinch them.
Western Saddle Sizes
There are two saddle widths for Western pony saddles:
| | |
| --- | --- |
| Narrow | Small horse or pony |
| Quarter Horse Bar | Medium-sized horse |
English Saddle Sizes
Picking the right breadth of gullet will help the saddle to sit correctly on the pony, with the pommel and the cantle level with each other. Once you have the saddle, fit it onto your horse, and from the back, see if you can view daylight from the front to the back of the saddle. You should also be able to fit 3-4 fingers under the pommel. When purchasing saddles online there are some measurements that will indicate whether it will be a good fit for the pony and for you.
There are two standardised saddle sizes suitable for ponies:
| | |
| --- | --- |
| Narrow (N) | Small horses or ponies |
| Narrow-Medium (NM) | Average horse |
The Right Size Saddle for the Rider
An undersized saddle means the rider will hit the pommel or horn as the pony strides, while too big a saddle will mean the rider 'swims' about on the seat. Often, the deeper the seat the smaller the saddle feels, so you might want to consider going up an inch in size if you are buying a deep saddle with a high cantle and pommel.
Western Saddle Seat Sizing
The saddle seat size is measured in inches, from the base of the horn to the top center of the cantle.
| | |
| --- | --- |
| Small children | 12 inches |
| Small adults | 13 – 14 inches |
| Average adults | 15 – 16 inches |
There should be about 4 inches of room in front of your body, while your backside should rest at the base of the cantle.
English Saddle Seat Sizing
The saddle seat size is measured in inches from the saddle nail, found on either side of the pommel, to the top center of the cantle. Here is an approximate sizing guide:
| | |
| --- | --- |
| Very small children | 10 inches |
| Small children | 12 – 14 inches |
| Small adults | 16 inches |
| Average adults | 17 inches |
If the rider can place a hand flat between them and the cantle when seated that is a good indication that the saddle is the correct size. Otherwise, there should be about four inches of room in front of the body and 4 inches to the back.
Saddles for Children
As children often ride ponies, it is important to get the right saddle width to ensure a child's safety. An uncomfortable pony can refuse to cooperate and become dangerous to the child and itself.In general, there is no difference between youth and adult sizes, but some manufacturers do make youth models that may feature shorter flaps.Very young and inexperienced riders may need or benefit from a saddle with hand supports or handles at the front and removable panels to secure them in the seat. If the saddle is for a child, it is likely that an all-purpose Western or English saddle will be the best option. However, if the child is an experienced rider with an interest in specific events, a more specialised pony saddle may be appropriate.
How to Buy Saddles on eBay
If you are buying a saddle on eBay, it is likely that you won't be able to try before buying. To help you judge whether a saddle is the right size for pony and rider, it is helpful to take and request as many measurements as possible.If you buy the saddle and discover that it does not fit the rider or the pony, some saddlers on eBay will adjust the saddle for you if you make a template of your pony's back and provide pictures of the animal.
To search for saddles, type into the search box 'pony saddles', which will bring up results for both Western and English saddles. Some buyers have a good idea of the type of saddle they want to buy, like 'Dressage Saddle 16"' Using the search feature will help you find exactly what you want. When searching through listings, carefully review all the data. Make sure the item matches what you had in mind. Look over the photographs a couple times. Feel free to Ask the Seller a question if you want additional details. Visit the Buying Tips page for more information.Once you're ready to buy, either place a Bid, Buy it Now, or put down your Best Offer. Buying with PayPal will ensure the transaction will go smoothly. eBay users are protected by the Buyer Protection Program.