Poole Pottery, based in the town of Poole in Dorset, was set up in 1873 as Carter and Co. and they started out by mainly making architectural ceramics (tiles and ornamental ceramics used in buildings). By the early twentieth century, however, they began to produce more ornamental pottery for display inside people's homes as well. They have never looked back. Importantly, they have become one of the leading factories producing art pottery alongside their tablewares. This has made them a very collectable factory.
In the early twentieth century the arts and crafts movement was still strong in influencing the design of art pottery in Britain. Back in the 1870s socialists like William Morris and others had written critically about the poor quality of both designs and materials that were being brought about by factory mass-production. They wanted people to return to the craft skills of earlier times and to produce honest, quality, hand-made items and to resist the move to standardization. The decorative arts should bring pleasure and fulfilment, they believed, to producers and consumers alike. This appeal found strong supporters within the pottery industry and as well as a number of small, independent studios being set up to produce hand-made, quality craft objects, a number of established factories also set out to make art pottery alongside their more standard factory ranges (these included Doulton, Minton, Pilkington, Moorcroft and Poole).
Different factories in this art pottery tradition tended to specialise in different things. In some cases it was novel shapes or surface pattern, in others the emphasis was on glaze effects using new types of glaze. In the case of Poole, from its early days to the present the main thing that makes their art pottery distinctive is the use of hand painted decoration in keeping with the fashions of the day.
The ealiest pieces of art pottery that Poole made in the period from 1900-1918 had rich lustre glazes that almost had a metallic sheen to them. In the period immediately after the First world War they came under the influence of the modernist artistic ideas of the Bloomsbury group, with Roger Fry and Vanessa Bell (Virginia Woolf's sister) working in collaboration with Poole to produce pottery designs for their own Omega Workshop. During the 1920s, Poole used these influences to adapt the style of mediterranean peasant pottery for their own modern ornamental wares. Out of this they also began experimenting with pottery that used floral and animal designs (blue-birds, deer, etc). These were very popular and became a hall-mark of Poole Pottery - what has become known as their Traditional Wares. They were in production from the 1920s to the 1960s. They are still very popular today and are sought by collectors.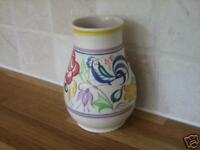 (a Poole vase with a traditional floral design and the signature `blue-bird')
As well as being influenced by outside artists, they also produced some of their own designers who went on to produce innovative and modern designs. Truda Carter, Phoebe Stabler, Ruth Pavely and others working for Poole during the early twentieth century produced a range of designs that are now highly collectable. At a time when the company was trading under the name of Carter, Stabler and Adams, a high-point are the art-deco designs that Poole produced during the 1930s. More subtle in their patterns and colours that Clarice Cliff, Poole's art-deco designs capture the spirit of the jazz-age well. They adapted their floral and animal designs to a more abstract, angular and geometric style that was then all the rage. These wares are now highly sought after by Poole Collectors.
Another high point came in the 1950s. Lucien Myres was appointed director of Poole in this decade and after post-war government-imposed design council restrictions were lifted in 1954 (these related to rationing and austerity measures used to re-build Britain's economy after the war), Poole sought to return to its art-pottery roots and began to develop a new and modern look in ceramics. Alfred Read was hired as chief designer and he produced a range of `freeform' designs that were modern, organic and simple in style and which have come to typify design in the 1950s.
(A Poole Freeform vase from the 1950s)
In this tradition, Poole set up a semi-independent studio within the factory in 1958 to produce studio pottery. Headed by Robert Jefferson and with Tony Morris as a key designer, from 1962 they produced a range of studio pottery that later became a model for the well-known, brightly coloured Delphis range of the 1960s and 1970s. Poole also produced two other noted art pottery ranges in the 1970s: Atlantis and Aegean as well as some limited edition stoneware animal figures.
(A Poole Delphis plate from the late-1960s)
After falling into the design doldrums during the 1980s and early 1990s, Poole decided to return to its art-pottery influences in the late 1990s. It re-established the studio and began producing new ranges and also hired a number of independent artists and designers to produce one-off and limited edition designs for Poole (e.g Sally Tuffin, Janice Tchalenko, Tony Morris (again), Sir Terry Frost, Alan White etc).
Poole is now back where it belongs, not only producing a wide range of useful tablewares but continuing to be at the cutting edge of art-pottery design in Britain. Wares from all periods of Poole's history are highly collectable with prices ranging from a few pounds to several thousand.
Poole Pottery now has its own easy to find website where it shows the current ranges that are in production. It also provides information about a collectors' club that you can join. The factory used to run a small museum display of its earlier ranges at its showrooms in Poole but sadly this has recently been closed.
The Most Collectable Poole Pottery Ranges:
NB. I use the word `expensive' where items from a range all typically sell for £100+ The best items from other ranges can sometimes cost more than this but their starting price for typical items is usually below that figure. `Reasonable' mean typically between £10-100 per item and `cheap' is where most items in that range are under £30. In every case I assume there are no chips, cracks or restoration.
Early lustre wares (rare and expensive)
1920s

Portuguese Stripe wares (reasonably priced)
1930s
Art-deco designs (expensive); ship plates (expensive); Sylvan glazed wares (reasonable)
Traditional wares (1920s-60s) (reasonably priced)
1950s

Freeform designs (reasonable/expensive but have fallen a bit recently); Streamline and twintone tablewares (cheap)

1960s

Studio wares; early Delphis (also reasonable/expensive but have fallen a bit recently). These are more collected that the later 70s Delphis pieces which were produced with a standardised range of colours. Look for the word studio in the mark or a mark in blue rather than black. The quality of the individual design is everything with these and later Delphis. Some are superb and clear (collectors often go for ones with blue in the design), other pieces are a bit smudgy or have unsightly dark glaze patches or are downright ugly - avoid those ones.
1970s

Delphis (reasonable),

Atlantis (expensive and highly sought after),

Aegean (cheap/reasonable and not heavily collected at the moment)

Ionian (rare not often seen, reasonable/expensive)

Calendar plates (reasonable);

Stoneware animal figures and plates (reasonable but the rarest examples are expensive);

Beardsley Collection (quite rare and expensive).

If I were starting out now collecting Poole I'd be looking to collect the Aegean range. These are classic 70s design but are quite cheap still, even for larger pieces. Personally I prefer those in the green or grey colour range rather than the brown ones. Some of the large landscape chargers are also superb.
1990s/2000s

studio limited editions (current shop prices).
Poole has also produced commemoratives (e.g royal events, Festival of Britain, D-day anniversary) numerous styles of tiles over a long period, and nursery wares. These are certainly all collectable too.
The most affordable Poole is the tableware from any period. Made in large volumes, it is very common (especially that made after about 1970) and generally very cheap to buy. Indeed, in addition to new/still-in-production decorative items, most of the Poole items that you will see for sale on eBay are tablewares of little value - good if you want a cheap and stylish set of retro crockery for use. The best and most collectable tableware are probably the `contemporary' designs of the 1950s. Patterns here include: Ripple, Ariadne, Constellation and Feather Drift.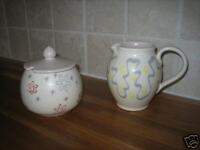 (1950s `contemporary' Poole tablewares - a preserve pot (constellation pattern) and a cream jug (ripple pattern).
Reference:
The best book to read on Poole Pottery is Poole Pottery By Leslie Hayward and Paul Atterbury (there are now 4 editions of this book with the latest documenting wares up to 2011).
If you plan to collect Poole it is well worth getting hold of a copy of this book as it not only offers a well illustrated history of the factory and all its wares (there are far too many ranges for me to mention them all here) and it also has a full list of Poole marks and their dates and paintresses' signature monograms and their dates too - vital for any serious collector.
Poole Pottery fakes are rare but, alas, are not unknown. All the fakes I have seen are where a fake mark has been added to a cheap, unmarked piece of pottery which someone is then trying to pass off as Poole (this happens sometimes with Troika too). Very early 20th Century pieces and early 60s Studio pieces with the TV stamp mark are the ones most often seen. More common is that there is a considerable amount of mis-description by sellers of Poole items on eBay. There are certain things you need to be careful with. People use the words `art deco' with abandon but it should only be applied to items in that jazzy, geometric style from the 1920s and 30s. The word `studio' should only be applied to pieces that were made by the Poole Studio section of the 1960s or the 1990s (ie where the word `studio' appears in the mark on the base), people sometimes try and sell Poole's own modern reproductions of their earlier styles as the original thing (especially art-deco items) and some people get mixed up on ranges - especially confusing the living glaze designs being made in the last decade with Delphis from the 1970s.
So, if you plan to spend more than a few pounds on a Poole item it is important to do your own research as there are a few pitfalls like these out there that could see you waste money. These potential mistakes are easy to avoid once you have familiarised yourself with the ranges you are particularly interested in and their marks.
Some keywords for searches on eBay for Poole:
If you just do a search on the word `poole' you will typically turn up 6000+ items for sale. To limit this add in other words such as dates, styles, names of ranges to limit your search to a more manageable number:
e.g. poole art deco; poole freeform; poole studio; poole delphis; poole atlantis; poole 1920s, 1930s etc.
I bought my first piece of Poole in 1998 though I remember it from the 1970s when we lived in Dorset. My own collecting specialism is the Studio and early Delphis wares of the 1960s.

(first written in 2006)

Happy Collecting!