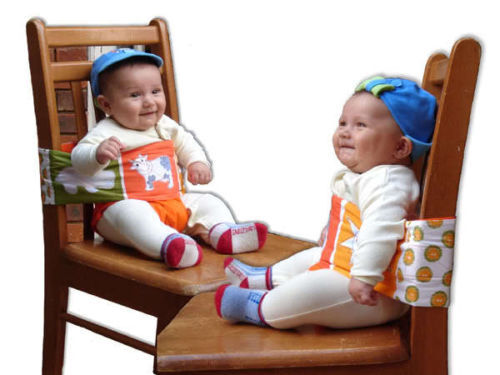 A high chair is a piece of furniture that is used primarily to feed toddlers. Toys can also be placed on high chairs, a practice that is sometimes observed to get a busy baby off the floor and contained for a short amount of time. Generally, the height of a high chair is such that an adult can spoon-feed a child easily while standing in front of the child. For increased stability, the bases of high chairs are often wide, and a tray is attached across the arms of high chairs to hold various food and drink items or possibly toys. The caregiver can either pick up the food to feed the child or allow the child to eat on his or her own. Typical high chairs also have a seat belt to strap around the child, and this can be a high-priority item since most babies are not watched every single second that they are seated in high chairs, especially if they are in the chair to play while mum sweeps the kitchen.
Most high chairs are bulky and designed to be used at home, but it is also possible to find a selection of portable high chairs that can make dining on the go a pleasing experience. All types of high chairs are typically found in baby stores and in some department and discount stores. For even greater variety, buyers may also want to consider searching online at marketplaces like eBay to find a large collection of portable high chairs in a variety of styles.
Types of High Chairs
High chairs are one of the most used and popular baby products. On average, they are used at least once a day for many years. Therefore, understanding the various types of high chairs in order to make a wise purchase is imperative. A buyer should go through various reviews online and ask friends and family about their experiences with different brands and features.
Wooden High Chairs
Wooden high chairs are considered by many people to be one of the most pleasant-looking types of high chairs. On the other hand, they are somewhat harder to clean, heavier, and often do not fold. This generally means they are not portable. In many cases, the seat is very deep, and the footrest is not high enough for a baby. Wooden high chairs also tend to offer fewer extra features.
Metal High Chairs
Metal high chairs are often collapsible, foldable, and easy to store, and they often have quite a few extra features. They are heavier than plastic high chairs, but they are also sturdier. Most models of metal high chairs are quite simple with padded seats and either plastic or metal trays. They are usually made of lightweight, inexpensive metals.
Full-Feature High Chairs
Full-feature high chairs are, by far, one of the most convenient types of high chairs. They have the features of other basic high chair types and several other helpful features, as well. The most popular features include well-padded seats, wheels for rolling the high chair, detachable trays, adjustable height, and recline settings.
Portable High Chairs
In some cases, small, lightweight high chairs could be considered portable, but for the most part, portable high chairs are small seats that attach to traditional furniture items. Portable high chairs are a great option for buyers who do not like the high chairs found in restaurants. Hook-on chairs are also great for tight quarters and can free up a lot of space. All the portable styles generally cost less than standard high chairs. Portable high chairs attach to the seats and backs of traditional chairs with the help of straps. They are especially beneficial when a buyer plans to travel to places that do not have high chairs for babies. Some portable styles are even small enough to fit into a handbag.
Components of a Portable High Chair
A buyer should make sure that the high chair he intends to purchase offers the necessary components to keep a child safe and comfortable. Another important aspect is an assessment of the effort that is required to keep the chair clean and safely stored after use.
Seats
A baby spends a large portion of his or her eating time in a high chair until growing large enough to sit in a regular chair. Parents should pay special attention to a high chair's seat, as it is the main component of the chair. More padding is generally better, and the seat cover should be made from a material that can easily be wiped clean. Ease of cleaning is a key consideration to many people when it comes to choosing a portable high chair.
Some portable high chairs have multiple recline positions, and this can be an important feature when a baby is not yet able to sit upright on his or her own. A crotch post is also a great security add-on, as it prevents the child from slipping out of the chair seat.
Safety Straps
Crotch posts should not be considered a replacement for seat belts. Portable high chairs should preferably have both. Rambunctious babies may try to manoeuvre both of their legs to one side of the crotch post, and this is why a three-point or five-point harness system should also be in place to keep the child from slipping out. The harness also keeps a child from standing up and falling out of the seat. Both offer protection, but a five-point harness system is generally more secure than a three-point system for keeping the baby in the seat.
A buyer should also consider if the safety harness is removable or not. Removable straps are the preferred option because they are easy to wash, especially if they are coated with plastic or made of rubber. Adjustable straps are great because they adjust and grow with growing babies, and they can also be adjusted to fit babies with both thick and thin body types. The buckle on the harness should be too difficult for a wriggling child to open, but easy for a caregiver to open.
Trays
Some portable high chairs have trays, but some hook onto tables and use the table surface as a tray. Models with trays may have detachable trays or permanent trays. Removable trays are often preferred by parents because it adds to the ease of cleaning the chair. Some attached trays swing to the side for easy access to the child. Some trays also have features like specific spots for cups and utensils. Others also offer space for keeping toys, as well. A buyer should base his decision on his or her own specific needs.
Buying Portable High Chairs on eBay
Finding items on the eBay site is relatively easy by simply using keyword searches. To start a search, enter a relevant query in the search bar on the homepage of eBay. For some queries, you might also see some search suggestions from eBay that may help you find the right product. Some of the relevant terms in this case could be 'high chair', 'portable high chair', ' wooden high chair', or 'hook-on chairs'. You can also filter the results based on your own preferences by selecting options for things like brand and new or used condition.
Enter your postcode as a filter if you would like to look for local listings for portable high chairs to save on delivery charges. If there are not any products to your liking in your vicinity, then you can eliminate the filter and search for global listings.
It is a good practice to go through user reviews and seller feedback before making a purchase, as it gives you better insight into a seller. As soon as your purchase is complete, and you have received your item in the promised condition, you can leave some valuable feedback of your own to assist future buyers.
Conclusion
Primarily used to feed toddlers and, in some cases, temporarily get a child off the floor, high chairs are one of the most popular baby products. The various types of standard high chairs include metal, wooden, and full-feature. Portable high chairs are also available with many of the same materials and features, but they are scaled down to travel-friendly sizes for parents who want to take a high chair on the go.
Portable high chairs are sometimes designed like small, compact high chairs, but they are usually legless seats that are designed to attach to standard chairs, tables, or other pieces of furniture. The tray on a portable high chair could be detachable or permanent, or the chair may require the use of the table to serve as a tray. Seat belts and three-point or five-point harness systems are highly recommended features that are essential for the security of children in portable high chairs.
A buyer should base a buying decision on safety elements and the right features that meet his or her needs. Various reviews and price comparisons are available online to assist with the decision-making process. Baby stores are virtually guaranteed to carry a selection of portable high chairs, and some department stores and discount stores with baby departments may also offer some options. When it comes to online shopping, eBay boasts a huge variety of portable and other types of high chairs in a number of style variations.