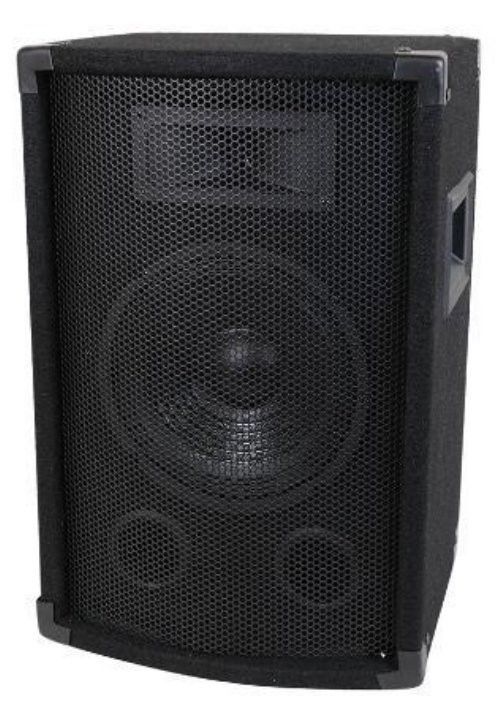 PA systems are increasingly becoming more portable to suit the requirements of musicians and other performers travelling to venues, as well as for other events and applications.
About Portable PA Systems
Portable PA systems are a type of PA system, or public address system. PA systems are made up of various components, including microphones to receive sound signals and convert them to electrical signals; amplifiers to amplify the electrical signals, and loudspeakers to reconvert the electrical signals and project them as sound. In addition, PA systems may include integral audio mixers to modulate sound.
Portable PA systems may combine the different components to save on space. So mixers and loudspeakers may have integral amplifiers instead of separate amplifiers. The smallest portable PA systems are one-unit devices with integral loudspeakers that can be easily carried. They are ideal for use in smaller venues, such as dance classes and parties.
Choosing a Portable PA System
Considerations when it comes to purchasing a portable PA system include where it will be used and what it is to be used for, as well as price and, obviously, portability. Factors such as power and connectivity may be important.
Venue and Function
Portable PA systems are perfect for use in outdoor environments, including open air stages, where standard stereos are not able to project sound effectively. In contrast, PA systems can target and project sound to where it is needed and without it being dispersed. This is achieved with more power and by projecting more mid-range frequencies.
Portable PA systems may also be used indoors, on stages and in halls and studios. They may be used for stage performances, parties, weddings, dance classes, conferences, and similar events.
Check the specification to see the range that clear sound can be projected to. Around 50 to 80 metres is a fairly typical range, though there are models with smaller and greater ranges.
The function will have an influence on which PA system is chosen. Some are more suitable for music, while others are more suitable for speech. The smallest units are simple voice amplifiers, useful for lectures and presentations. Read the product description or products reviews to see if PA system is recommended for the particular purpose.
Power
Typical power outputs of portable PA systems are around 30 watts (W). Some portable PA systems can provide phantom power to microphones.
Connectivity
Many portable PA systems have attachments for connecting devices such as iPods and MP3 players as well as inputs for instruments such as guitars and keyboards. They usually come with a microphone, but additional microphones can also typically be connected. Further loudspeakers, such as sub-woofers, may also be connected giving further versatility and optimised sound quality. Check out the number of channels the PA system includes. Some models also have built-in FM/AM radios.
Wireless Capability
Most portable PA systems are wireless so can be used where there is no access to a power supply. Check out the battery life if this is an important feature. Wireless PA systems have battery lives of around six to 12 hours. Remember that battery life and actual playing time may differ, and that the playing time may vary depending on what the system is used for. Battery level indicators are a useful feature.
Sound Quality
Reading product descriptions and reviews is a good way to compare the stated sound quality of different PA systems. Buying from reputable brands will ensure decent sound quality. The tone of different systems may vary, for example, systems with enhanced bass outputs may have a richer tone.
Audio Mixers
Check the audio mixer has enough inputs for the different sources and the required functions. Portable PA systems may have a number of input channels, though four to six is a fairly standard amount.
Effects
Portable PA systems are designed to be user friendly and may have many useful controls for generating different special effects, such as reverb, chorus, delay and echo, as well as standard volume and equalisation controls.
Loudspeakers
Loudspeakers may either be integral or separate. Size of loudspeakers is an indication of power, with eight- to ten-inch woofers fairly typical. Tweeters are typically smaller, often around three inches.
Microphones
Portable PA systems come with microphones that may or may not be wireless and that have varying ranges. Some systems may also come with headsets as an alternative to hand held microphones, while smaller voice amplifiers designed for conferences and presentations may come with unobtrusive lapel microphones.
Accessories
Portable PA systems may also include microphone stands, which can be useful for bands and giving presentations. Voice amplifiers may include useful accessories such as waist clips. Remote controllers may be included.
Portability
Portability is, it goes without saying, one of the prime considerations when purchasing a portable PA system. Many portable PA systems are designed to be simply transported by hand, although other components such as microphones may need to be carried separately. They can certainly be transported easily in a small car. The weight can vary, with decent multi-functional portable PA systems weighing as little as 10 kilograms or less. Look out for helpful features such as carry cases, carry handles, retractable handles, storage areas and roller wheels. Also look for models with a sturdy construction which features such as protective metal corners which will make them durable and long lasting even with frequent transporting and use.
Price
There are some very well priced PA portable systems available. Price isn't always an indication of quality, but often is. More expensive portable PA systems made by reputable brands typically have better quality components than cheaper systems and will last longer as well as providing better quality sound. Price may also be an indicator of power capacity and functionality. While paying over the odds is never a good idea, it's usually worth paying to get the desired functionality and sound quality. Always look around to find the best models at the lowest prices.
Find a Portable PA System on eBay
There are many listings for portable PA systems on eBay. To find them, simply go to the eBay home page and follow the All Categories tab to the Musical Instruments page. Then select Pro Audio Equipment. Type "portable system" or "portable PA system" into the search field at the top of the page and this will bring up several listings. These can be refined by condition or price using the tabs to the left. They can also be sorted in Auctions only or Buy it now listings using the options at the top of the listings. The Sort by option can sort listings into those ending soonest or most recently listed, those with lowest price or the lowest postage and packaging costs, and those the shortest distance away.
Another way of looking for portable PA systems is to use the same search method, typing in terms such as "portable PA system" into the search field, but conducting this search directly from the home page instead of in the relevant category. This is quicker but not all results may be relevant.
Conclusion
Portable PA systems are useful for small performances, conferences and presentations, fitness and dance classes, parties and similar events. Their portability is a key attraction for those needing a good quality PA system able to project sound effectively that can also be transported easily. Many PA systems incorporate features such as carry handles, retractable handles and roller wheels to aid their transportation. Portable PA systems work in the same basic way as larger PA systems, with microphones to receive and convert audio signals from the speaker or performer, amplifiers to amplify the audio signals and loudspeakers to project the generated and reconverted sound back to the audience. All but the most basic portable PA systems also contain mixers of some type which can modulate the sound and add special effects such as reverb and echo. Factors to consider when purchasing a portable PA system include its projected range and clarity of sound. Check the battery life if the system is to be used without easy access to a power supply. Microphones may or may not be wireless, so check this if it is important. Some systems may include headset microphones or lapel microphones. Loudspeakers may be separate or integral, with integral loudspeakers typically making for a more compact system though separate loudspeakers may result in clearer sound quality. Buying a portable PA system involves weighing up various factors, including price, quality, and functionality to find the product that is most appropriate for the intended purpose. Product descriptions are an excellent source of information and if there are any queries ask the seller for further information.