This guide is intended to offer advice on the Post and Packing side of your eBay business. The topics covered are:
1. eBay buyers expectations of P&P
2. Sending your parcels – the options
3. Pricing your P&P
4. Packaging and supplies hints and tips
5. Packing best practice
The aim is to give you some ideas as to how you might improve your P&P processes to save you both time and money.

1. What do your Buyers Expect?
Put on your "buyer's hat" – What good experiences have you had on eBay – which packages had the 'wow' factor? Incorporate new ideas & stay ahead of the competition!
As a Buyer I expect:
• Securely packed items
• Sensible P&P prices
• Quick delivery
• Clear delivery times – if a seller only posts twice a week that is not a problem - as long as I know before I bid!
Depending on category – there will be others too. Maybe you can offer a gift service? Premium postage services, a PickUp facility? Use ideas that could give you an edge over the rest!
By exceeding buyers' expectations:
• You have fewer queries and damages to deal with – freeing you up to list more, source stock.
eBay is a 'high contact' environment. eBayers expect lots of communication. If your post, pack and despatch systems are efficient, you exceed your customers' expectations – by anticipating them.
.
For example:
A despatch email, containing tracking numbers (if appropriate) and a 'pessimistic guess' on delivery time is good customer care.
It gives a competitive edge and builds trust in you. It stops many of the 'where's my parcel?' emails! You stay in control of the transaction throughout.
• The transaction 'turn' is quicker – i.e. the time between listing and receipt by the customer.
When you first start, cashflow is a hurdle for many small businesses. Streamline your pack process and complete transactions quickly, you can gain the most business benefit from cash and stock!
• You will generate goodwill, referrals and repeat customers. This leads to higher end prices, multiple orders, and more profit for you.
Build trust with your customers and you will quickly find that eBay is *not* about the cheapest widget all the time. It may tempt a customer to buy from you initially, but your despatch and communications process will bring them back to you.
• Your sell through rate is likely to be higher which means that you pay a lower percentage of eBay fees.
Buyers are 'put off' by unfair postal charges. To keep people buying, review your charges, and the service offered regularly. Keeping a high % of items profitably sold versus items listed is critical to your success! – and p&p charges have a useful part to play here. P&P charges ae looked at later in this guide.

2. Sending Parcels – The Options:

This section gives an overview on the delivery methods available.
There are many ways of sending your parcels. The option that works best for your business will depend upon the size and weight of the items and the number of items you sell. The main options for sending parcels are:
• Stamps
• SmartStamp
• PacketPost PPI - with or without Royal Mail collections
• Couriers – one off or account basis
• Franking Machines
• Collection in person
Your need for a more streamlined Posting operation is likely to change as your business grows.
Queuing up at the Post Office to weigh your parcels and buy stamps works for a few parcels a week, but as your business grows there are better options available. These can save you both time and money.
There is a lot of useful information available on the RM website, (RoyalMail.com)
SmartStamp
The next step on from using stamps is SmartStamp which is an on-line Royal Mail service where you can pay and print off your stamps yourself
PacketPost
To qualify for a RM PacketPost account you need to expect to send in excess of 5,000 packets per year from one address. There is a lot more information about this scheme on the RM website. It's worth a phone call to discuss the options with them if you think meet the criteria.
Opening a PPI account and having daily RM collections can bring large savings to a business both in terms of money and time. The average saving on postage costs is over 20%.
The main advantages of PPI PacketPost are:
• Savings are made in the actual price you pay for postage
• Incorporating this with a RM collection is a time saving.
Time = money. RM collections cost from £260 p/a (charges vary according to your collection time) and free when you spend over £15,000 annually.
• Prices are based on smaller increments than standard tariff prices.
• You are charged an average price based on the total weight of the post you are sending and the number of items.
Tip – fishing scales are great for weighing post bags.
• The documentation is straightforward to complete and there is an on-line version available. RM provide all the stationery required, except for labels.
• The account operates on either a 30 day account basis or pay as you go.
• You print your own PPI labels – using a large label can enable you to incorporate return address and logo if required. (The security aspect of advertising needs to be considered).
• The way that the Royal Mail charges for parcels is changing this Summer to Pricing in Proportion. You may find that you need to rethink your packaging or delivery methods. It is worth reviewing this section on the RM website.

Couriers
Couriers vary both in terms of the services they offer, what they carry and their charges. The best advice would be to shop around and get quotes. Courier Rates are negotiable, and dependent on your projected volume.
Several couriers allow 'ad hoc' pick ups – you phone or email when you have a parcel for them, when sending more than around 20 parcels a week, you'll save money by getting a courier contract.
Before signing a courier contract, read the small print and get several quotes!
Things to look out for:
• Insurance exclusions for glass, china or jewellery
• Maximum consignment measurements
• Redelivery charges (important if your deliveries are to private houses!)
• Fuel surcharges
• Minimum quantities for pick up
• Multi consignments (some couriers allow multiple parcels to the same address, for one fee)
• Payment terms
• Access arrangements – pallet pickup / tail lift and other special services
• Evening delivery requests
You'll hear good and bad about every courier company, but satisfy yourself that you have the best company for your business.

Franking Machines
This is an option but often a very expensive one. The equipment can be costly, and PacketPost is usually a better option – but it may work for you if you send lots of one size envelope, for example.
Posting Restrictions to be considered:
Whether using Royal Mail or any of the Courier companies restrictions may apply. Find out about these before you sell or you may get hit with a hefty bill or complicated issues.
As an example. Parcelforce have a comprehensive list of their restrictions on their website (parcelforce.com)
This is not the same as eBay's list of restricted goods: http://pages.ebay.co.uk/help/policies/items-ov.html.

3. Post and Pack Pricing
P&P charges are a 'hot potato' on eBay, with many moans about 'fee avoidance', 'charging more than the stamp' and other buyer issues. As a business you need to be profitable and efficient.
Buyers want a 'fair' deal. A 30p stamp, a reused jiffy bag with no bubbles left and a scrap of sellotape that was charged at £2.75 – the perception is 'cheapskate'. A First class PPI mark, a new jiffy and a printed invoice in a window envelope is likely to be perceived as good– the difference in cost to the seller is likely to be under 10p.
You can legitimately charge for the postage cost (ie the stamp) any packaging materials, and a reasonable handling cost, within your shipping charge – but use your shipping charges cleverly and they become a marketing dream! There are a few ideas further on in this session.
Visibility
Always put your shipping charges on your listing. If you ship to Europe, or worldwide, put those rates in too – state which services you're offering. eBay relies on 'impulse' to a greater or lesser degree – don't spoil those 'impulse' buyers by making them email for a shipping quote – they may not wait for your response and buy elsewhere instead. There's a very useful postage calculator on the Royal Mail website where you simply enter the desination and weight of the parcel and it shows you all the options and relevant prices.

A great way to keep your shipping charges visible is to put them in a table in your listing – as well as in the information box provided by eBay. Here is an example: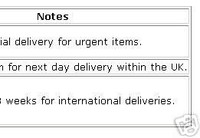 Using Shipping Charges as a Marketing Tool
This is a method that can really crank up your margins, sales and customer satisfaction - with only a little effort from you!
• Before setting your shipping costs, add up the cost of the materials, and your TIME (at a reasonable rate) to box or pack the item.
• Next, research your competition. Concentrate on the ones that you regard as 'best in category' – are they leveraging shipping charges to get maximum sales?
• Armed with this information, make some choices.
Here are some ideas:
FLATRATE shipping has some great benefits. You charge one charge, regardless of order size. Consider going for flat rate shipping if your items are relatively uniform and/or lightweight. Flat rate shipping is easy for buyers to understand, therefore you build trust, and buyers will be eager to 'multi buy' in order to 'get their money's worth'. You recoup any subsidy through additional margin on bigger orders, and make a little more profit from shipping on the single item orders. To calculate your flat rate charge take an average cost each month, plus an amount for packing. If you're on PPI, this is easy as Royal Mail provide the figures you need on your invoice.
CAPPED shipping, is similar to flatrate. It's 'Never pay more than £10 – regardless of the size of your order' – it stops customers worrying about multiple purchases, and again helps them to choose more of your items, rather than buy elsewhere. Capped rate shipping gives you more flexibility if you sell lots of different sizes and weights of items, as you can give the person that bought, a pair of socks, a fair shipping price, along with the person that bought 3 printers!
COMBINING shipping used to be a marketing tool for eBay sellers, it's fair to say that it's now expected by buyers in most categories – by not combining you will lose business, and also goodwill. Find a seller that won't combine, and see their feedback. With very few exceptions the 'doesn't combine shipping' comment will be there. eBay buyers now expect combined shipping – meet their expectations! An example of straightforward combined shipping is '£2 for the first item, plus 40p for each additional item. This can get complicated quickly – especially when coupled with a 'capped shipping' offer! The more complicated your shipping is, the more potential buyers you will put off and use more of your time!
FREE shipping can be a powerful tool – use it wisely, and do your sums first. The anticipated rise in sales (and the possible loss of margin) must be able to support your offer.
Postage and packing charges should strike the correct balance between your profit, and your buyer's expectations. You can charge more if your presentation is good, and a PPI stamp helps! Consider ways of promoting your postage and packing service as a way to acquire more sales, rather than fixating on being 'the cheapest'.
Postal Insurance
It is the sellers responsibility to ensure that the item reaches the buyer, http://pages.ebay.co.uk/help/policies/listing-distance.html, so it's down to you as the seller to decide if you want to insure an item being sent, not a choice for the buyer to make. If it is lost enroute, *you* are responsible for replacing the item, or refunding the buyer.
What cover is needed? This is value related. Items sent through RM are insured up to the value of £32 (ten times the first class stamp rate) by obtaining a proof of posting from the post office. If you have a PacketPost PPI account your docket book serves the same purpose. Zero Cost.
If an item is sent Recorded Delivery, no extra insurance is provided, all this means is that a signature is obtained on delivery. If insurance is required for an item costing more than £32 the better option is Special Delivery for smaller items or insurance offered from a Courier. The prices charged and the cover offered by couriers vary greatly, make sure you know what service you are committing to. For example, jewellery, even costume jewellery, is only covered by Special Delivery! Check before sending.
If an item is not signed for, using an online, trackable service, then you expose yourself to possible PayPal chargebacks. Make a decision based on the needs of your business and your customers, and review it regularly.

4. Packing – Hints and Tips

A look through packaging websites, or through the packaging and postal supplies sellers on eBay shows that there is a VAST choice of packing materials & suppliers available.
This section outlines some of the types of materials available, and the pros and cons.
• NEW or RECYCLED packaging. Many sellers use the 'green' issue as a selling point, particularly if it ties in with their product! Recycled packaging can work well, factor in the 'real' costs of adapting it to suit your item, and also additional postal charges, as it's often heavier than the correct size bubble bag or mailer. A shredder in your office can produce some good shred for 'space filler' though if you're charging a premium p&p charge, your customer perception needs to be high, and this is usually achieved by using new packaging.
• SUPPLIER. Choose a supplier that suits your needs – a good starting point is eBay, as many of the sellers on the site are geared up for start ups. Some will even sell you a mixed size box – you don't have to buy 100s of the same size to start with. Buy a small quantity and test their service, and also the goods! If you can find a supplier to service all your packaging needs, at a good price then you'll have just one shipping charge too. Check local suppliers and websites to get a feel for the average price. If you're buying more than about 5 boxes, packaging suppliers, as with all business supplies, will be open to negotiation.
• OPTIONS. There are as many options for packaging materials as there are places to buy from! Work out the combination that is easiest and quickest for you, and provides maximum protection for your goods, whilst cutting postage charges by being light. For Designer clothes and antiques, you may wish to consider tissue paper and a nice box. The packaging you choose, and how you use it, reflects on your brand and your business. Mail lites and jiffy bags are branded 'bubble envelopes'. They are available in all sizes. Aside from bags and boxes, consider tape, a tape gun, address labels, invoices, window envelopes foam fill, packing peanuts..
• Make your packing process as streamlined as possible – the quicker you can pack your items and despatch them the quicker you can move onto other things to grow your business.
• As your business grows review your process and materials to see where you can save time and costs.

5. Packing – Best Practice

Your packing process will vary considerably depending on what you sell. Antiques and delicate items can take a long time to pack compared with putting tee shirts into mailing bags. This section is to share some 'best practice' with you –
• Have all your materials ready - it's best to arrange a packing table with everything you need to hand
• Print off your invoices, or your pick list before you start packing. If you use PPI, print your PPI impression stamps at the same time. Have a daily 'cut off' point when you print off all invoices together, and then wrap the day's orders..
• Pick small items all together, in a box or bag. I use a big blue Ikea bag which works well! Once you have all the small items 'picked' you can start wrapping.
• For bigger items –wrap in the same room as you store your items - most successful mail order operations minimise handling time by 'picking from the pallet' –apply this mindset to your storage and wrapping process.
• Keep your stockroom tidy. Cut box tops off and 'front' your items (pull them to the edge of the shelf) if you have multiples. Hang small items on a pegboard where possible or use a drawer unit for tiny items.
These packing tips are designed to save you time, make you efficient too!

Summary:

The aim of this guide was to offer some ideas to make the P&P side of your eBay business more efficient. It has covered:
Customers Expectations
Sending your parcels
Pricing
Insurance
Packaging Supplies – hints and tips
Packing Process
The options available for sending your post have been outlined, pricing strategies for p&p to encourage more sales for your business have been looked into in detail as well as taking a brief look at the seller's responsibilities for package delivery and the alternatives available for buying supplies.
There are also some general hints and tips to help you pack and despatch efficiently.
This guide was co-written by world4kidsuk and georgiegirlsgems with editing by shepherds_lodge