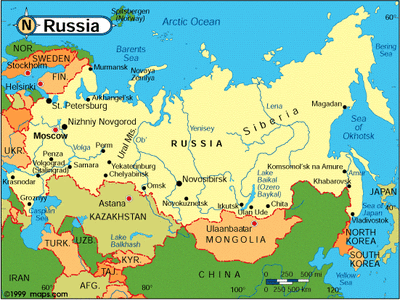 Add a caption
Many parts of Russia have weak postage infrastructure
Russian Federation Postage...Risky Rusky Russia
Think very carefully before posting to customers in Russia. A major problem is that packages and parcels - small and large get delayed or stopped by Russian customs, frequently for a long-time. This can lead to the buyer cancelling orders and claiming charge-backs through Pay-Pal for items not received, a lot of unnecessary problems for the seller.
Russian customs have an ongoing restriction resulting in a delivery delay on items subject to tax being sent to non business customers, the parcels are held and checked closely by customs which can take weeks to resolve. Even after this delay the parcel still has to be delivered which can also take longer than you might think as in many parts of Russia the postage infrastructure is weak and also vulnerable to internal abuse. If your parcel isn't shipped then it might be returned to sender, but you are likely to be charged for the return which can be expensive depending on size and weight.
Posting items to Russia is a real problem which you should be aware of, some postage agents and carriers are currently refusing to accept items for Russia as the losses are unacceptable.
If you do decide to deal with Russian customers then here are a few tips:
Avoid posting anything that is taxable, needs to be declared or is prohibited (check Royal Mail website for lists of prohibited items) is very high risk and likely to cause you problems or loss.
Send all items by recorded delivery, retain the parcel number and upload this to E-bay. You can't send items to Russia at the present time using International Track & Trace service
Insure the item and avoid sending anything with a value of more than £50.00 approximately equivalent to $100.00
Printed matter is subject to very stringent inspection by Russian Customs and is often prohibited, Royal Mail guidance is confusing so it is best not to send any at all.
Make sure all customs forms are completed correctly. Make it clear to the buyer that the item can take on average between 2 and 4 weeks to be delivered and that access to shipping information is minimal from point of postage to point of delivery.
Alternatively, think twice and twice again if you value your E-bay seller ratings or if you are like me add Russia as a destination that you don't ship to! Posting anything to Russia is a risky 'loss' transaction.