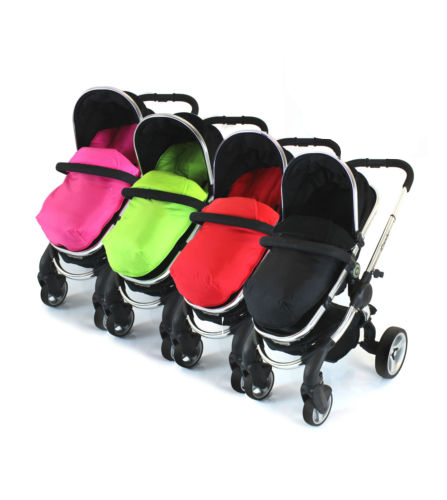 Welcoming a new bundle of joy into the world creates unforgettable memories. After those first few days of surreal bliss, however, comes the beginning of years of never-ending worry that goes hand in hand with raising children. The first several months of a baby's life are crucial times, and preventing sickness and problems with growth development are serious matters. One of the many ways to take care of a baby in the colder months is to use a pram footmuff when leaving the warmth of home. Dressing a newborn in layers can be difficult and irritating. Fortunately, with a footmuff, worrying about whether or not a baby has enough or too little clothing on becomes a thing of the past.
Footmuffs are typically sold in brick and mortar stores that specialise in baby accessories, and many prams come already fitted with footmuffs. However, footmuffs of various sizes and materials are also sold online through marketplaces like eBay, and it is possible the selection is more diverse through these sources. Before purchasing a footmuff, it is important to know how to use one and the different features to look for when shopping.
How to Use Pram Footmuffs
A footmuff is a padded, warm layer that resembles a tiny sleeping bag for babies. A pram is a wheeled buggy where the baby is in a reclined or lying down position. Most prams are intended for use as transportation for babies and young toddlers whose weight do not exceed 9 kg.
Pram footmuffs can be attached to the pram by sliding fastening straps through the pram's liner. This is helpful in soothing the minds of parents who may worry that the baby could roll around and fall out of the pram or not be able to breathe while in the footmuff. Footmuffs also come with either a zipper or a buttoning system to secure the top flap, and this helps keep the baby as warm as needed, depending on the weather.
The Benefits of Pram Footmuffs
Bundling up babies in several layers of clothing can be a major hassle every time the caregivers need to take the babies outdoors. Dressing an infant is difficult enough for parents, and adding more layers of uncomfortable clothing can make the baby unhappy and irritable, as well. Footmuffs make an excellent alternative to heavy layers of clothing. Babies can stay normally dressed and simply be placed inside footmuffs any time parents need to brave the cold weather outside.
Additionally, many pram footmuffs are versatile and can be used on car seats and pushchairs, as well. Parents can feel confident about their baby's safety inside a footmuff, as pram footmuffs attach to a pram's liner using straps, so the baby is safe and secure when riding around in a pram footmuff. More advanced pram footmuff models also offer parents the ability to regulate the footmuff's temperature with electronic technology. It tends to be an expensive feature, but it can be a comforting solution for parents who frequently take their babies out into the cold air.
Footmuffs come in different materials, such as fleece, cotton, faux fur, and wool. Cotton is the most breathable choice out of those options, but the choice of the footmuff is dependent on each family. The outer shell tends to be covered in polyester, nylon, microfleece, or other water-wicking materials to protect the baby from the elements and retain body heat. For heat retention, the stuffing consists of insulation and padding. Some footmuffs have removable padding to regulate warmth for the bundled baby.
Cleaning Pram Footmuffs
A common concern for young parents is cleaning spit-up and other messes made by newborns and young toddlers. Thankfully, pram footmuffs are easy to clean, as the lining is removable and washing machine-friendly. Messy stains and smells can be cleaned in the cold-cycle wash and hung up to dry. The shell exterior can be wiped clean using soap and a terry cloth. For parents with sensitive or allergic babies, other cleaning alternatives include hand washing the footmuffs in baby shampoo instead of soap.
Pram footmuffs should not be put into the dryer, as the dryer damages and shrinks many of the materials that are used in pram footmuffs. Considering how expensive the purchase of a pram footmuff can be, shrinking such an accessory would be detrimental to the parents' budget. Additionally, maintaining the pram footmuff in great condition gives parents the option of reselling it once their baby has outgrown it, thus saving more money in the process.
Shopping Considerations for Pram Footmuffs
There are many options to consider when browsing around for quality pram footmuffs for a baby. A budget should be established for the footmuff, as they can be quite expensive, depending on the brand and features offered. Footmuffs can be as basic or as luxurious as desired, and the available features affect the pricing. That being said, features and quality should be factored into the purchasing decision when shopping for pram footmuffs.
Price
Before shopping for pram footmuffs, it is highly recommended that parents determine which features are non-negotiable and set a reasonable budget based on those features. Features greatly affect the price and affordability of footmuffs. Buying a used footmuff is also an attractive option to consider if the budget for a footmuff is really tight. Many parents resell gently used footmuffs once their children have outgrown them. This can be a great way to get all the desired features at a discounted price. There are several ways to work around a budget, and parents should not have to sacrifice financial stability to keep their baby warm in a pram.
Features
Footmuffs range from basic covers to heat regulating baby equipment. There are all sorts of different materials available for the pram footmuff lining. Options can be as affordable as cotton or as luxurious as faux fur. The baby's skin sensitivity to such materials should be considered, as well. Many footmuffs feature hypoallergenic fabrics.
Versatility
While many prams feature pre-fitted footmuffs that work with that exact pram, parents may prefer a footmuff that can also be used on a car seat or one that can be used on a pushchair after the baby outgrows the pram in several months. Versatile footmuffs are available that can be used on these various pieces of equipment. Confirming that the method of attachment to the pram, pushchair, and car seat is compatible with existing equipment is recommended for parents who prioritise this feature.
Buying Pram Footmuffs on eBay
Because eBay has such a large user database, parents can browse through a wide selection of footmuffs, both new and used, that offer a plethora of features and prices. Parents who wish to view specific footmuffs on eBay can insert select keywords or phrases, such as ' cotton pram footmuff', into the search box on the eBay homepage. To view the largest range of shopping options, use general keywords like ' pram footmuff', and all the available pram footmuffs currently sold on eBay appear in the search results. If the results are too overwhelming, you can use the various filters that are offered to narrow the results.
It is important to research the reputation of sellers on eBay before committing to a purchase, especially when searching for baby items like pram footmuffs. It is important to trust the seller and the quality of his or her items in order to enjoy a positive, successful transaction on the site. Looking at the feedback left by previous customers gives buyers more confidence as they make their purchasing decisions. Leaving feedback of your own when your transaction is complete helps other future buyers.
Conclusion
Worrying about babies as they enter the world is completely normal behaviour for parents. However, parents should not worry any more than is necessary. When going from place to place in the cold months, for instance, parents can be happy and confident about their babies' health and comfort by encasing them in pram footmuffs. Pram footmuffs allow babies to stay warm without the hassle of extra layers of clothing. Some footmuffs are basic covers that are designed for standard warmth, while other more sophisticated models offer heat regulating technology.
Other features that footmuffs offer vary, including the lining material, the waterproof outer shell, and versatility with other transportation equipment like car seats and pushchairs. All these features calculate into the price of the pram footmuff, and a lot of features increases the price. It is important for parents to establish a set budget along with deciding on which features are mandatory before shopping for a pram footmuff.
Alternatively, gently used footmuffs are also available so that parents do not have to sacrifice quality or features for an affordable price. While new pram footmuffs can be found in specialty brick and mortar stores for babies, both new and gently used pram footmuffs are available at the click of a mouse on eBay. With their babies safe and cosy in pram footmuffs, parents can travel comfortably and confidently through the winter air