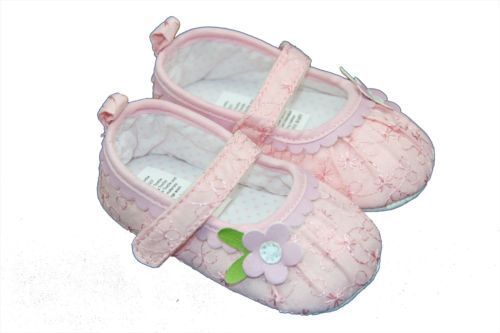 Purchasing pram shoes can be a fun experience for expectant or new parents. They are shoes worn when a newborn cannot yet walk. These shoes are not meant for the ground and are almost purely decorative. They come in a variety of shapes, sizes, styles, and colours so they can be matched to just about any outfit. Pram shoes are generally worn inside of a pram or when the new arrival is receiving visitors. Pram shoes can be purchased in traditional shops as well as online at sites like eBay.
Even though they are a fun accessory, there are a few things that have to be noted before purchasing a pair of pram shoes. Despite being called pram shoes they can be used for a variety of purposes. These purposes include keeping an infant's feet warm while they are out and about. When purchasing new pram shoes, a parent should consider the do's and don'ts of shoes for an infant. There are special considerations that have to be made. The first thing that needs to be considered when purchasing pram shoes is the shoe size and fit, as well as the conditions in which the infant wears them, and whether they complement the child's outfit and personality.
What is a Pram Shoe?
The simplest answer is that a pram shoe is a shoe that is meant to be worn while a child is in a pram. Although this is true, there are other situations in which a pram shoe can be worn. The pram shoe is most often a soft-bottomed shoe that is never meant to touch the ground. They are often soft bottomed and more like slippers that a formal shoe. Pram shoes come in just about every shape and style.
The fit of pram shoes is extremely important. Since a baby develops in the womb, their legs are often bent slightly after birth. A baby straightens his or her legs and stretches the feet by kicking and flexing. It is very important that the pram shoe purchased does not restrict this movement or the growth of the foot and ankle.
A shoe that is too tight hampers growth and flexibility, which can cause poor formation of the feet, ankles, and toes. It is good to allow a baby's feet, ankles, and toes to stretch and form naturally. Restriction at the infancy stage can ultimately damage a child's walking pattern and feet. Many conditions, such as fallen arches, high arches, curled or clubbed toes, and weak or poor ankle support can be caused by an ill-fitting pram shoe. These things are particularly important just after birth and within the first few years of life.
Size of a Pram Shoe
Although it may not seem important since a baby is not walking in pram shoes, but the size of the shoe is very important. They should be big enough to allow natural movement, but not so large that the feet slide in them, causing painful skin conditions. A pram shoe is not difficult to fit to a child's foot.
| | | |
| --- | --- | --- |
| European Size | UK Size | Age (months) |
| 15 | 0 | 0 to 1 |
| 16 | 0 | 0 to 3 |
| 17 | 1 | 3 to 6 |
| 18 | 2 | 6 to 9 |
| 19 | 3 | 9 to 12 |
| 20 | 4 | 12 to 18 |
The chart above provides a general idea of which size of shoe an infant up to 18 months needs. Keep in mind that this is a general guideline; a child's feet may be bigger or smaller than the age recommended size, and different shoe manufacturers have slightly different sizes. Larger sizes than those listed begin to include shoes that are meant for learning to walk on a variety of surfaces, and not those for very young children. A pram shoe, soft shoe, or a bare foot should be used up until the child is walking well with their feet flat.
There are many reasons to wear a pram shoe while a child is learning to walk. Most often, the shoe should allow a child's feet to flex normally and not be restricted. The cartilage and tendons in a baby's foot are still developing, and a hard shoe can negatively influence this process.
Situations Where a Pram Shoe is Needed
Pram shoes are not meant to be worn in every situation. There are times when socks or bare feet are preferred. If a child is going out into the world in a pram or chair walker, then a pram shoe is a good idea. Not only do they keep a baby's feet warm, they can also protect a baby from objects on the ground if they are taken out of the pram. Although parents want a pram shoe to fit well, they also should consider that sometimes their child is out of the pram and on a variety of surfaces.
The pram shoe needs to protect a child's feet without restricting them. They should be warm enough for the climate the child is in as well. Many times, they are soft-bottomed and have a protective lining on the bottom of the shoe to make sure that the bottom of the foot is protected from anything they may encounter. Pram shoes can be worn when visiting, when it is cold, and while out and about in the world.
Style of Pram Shoe
For the many styles of one-piece outfits and clothing that exist for babies, there are as many pram shoe styles to complement them. One serviceable pair of pram shoes should be purchased in a neutral colour and style. These are the pram shoes that can be worn for any occasion. Many parents and guardians purchase a single pair of pram shoes that suit just about any situation and style.
Then, there are the styles of pram shoes that are colourful and made to both amuse infants and adults. Many pram shoes are designed to be both functional and stylish. There are shoes in the shape of animals, characters, and other objects. These shoes are meant to be matched with a wardrobe or outfit. Many adults choose to theme the pram shoes with their little one's clothing and style.
There are pram shoes that are specifically meant for boys, specifically meant for girls , and there are also unisex shoes that are meant for both. Since there is such a wide variety of pram shoes available, it is important to keep in mind that a child's feet, like the rest of the child, grow quickly and shoes need to either grow with the child or be replaced at regular intervals.
Even though most infants are born with perfect feet, there are conditions that can influence a child's walking or stretching and may require special corrective shoes. These shoes are generally discussed with a child's paediatrician. Some children may need a corrective shoe from the onset. It is important to identify these issues quickly, and purchase pram shoes that correct for these conditions.
Although used pram shoes can be purchased easily, a used shoe may be worn to another child's pattern of movement. When purchasing a used pram shoe, make sure that it has an extremely flexible bottom and does not interfere with a child's growth and movement.
Buying Pram Shoes on eBay
One of the places where parents and caretakers can find a broad selection of pram shoes is the popular auction website, eBay. This large online marketplace has many different styles of pram shoes available for purchase. You simply need to enter the search terms "pram shoe" into the search box, and click on search. This brings up a list of the different pram shoes for sale on eBay. Select the listing in which you are interested, and click on it; this brings up the individual listing.
The individual listing has a description of the product, the size, and the seller's policies. After reading the description, if you have any questions, all you need to do is use the "ask the seller a question" feature. Most sellers are more than happy to answer any questions that you may have.
Also listed on the individual product page is the seller's return and shipping policies. It is a good idea to review these to make sure that they are agreeable to you. The seller's feedback can be accessed from this page as well. Each seller has a feedback rating and individual feedback from other buyers. Reading over the feedback can help you understand what to expect.
Conclusion
There are many reasons to purchase pram shoes for your little one. There are also a few things to consider when they are purchased. A good set of pram shoes can be both functional and stylish. Most people use pram shoes to keep a baby's feet warm and safe. The traditional pram shoe should have a soft, flexible bottom that allows the feet to stretch and bend naturally.
Sizing is also important when it comes to the pram shoe. A pram shoe that is an incorrect size can cause a child's feet not to flex properly, and ultimately cause foot problems later. Many of these shoes are specifically designed to give a baby room to stretch, and the baby's foot room to develop naturally. If a paediatrician finds a problem with a child's foot development, they may recommend a specialized pram shoe to correct it.
There are as many different styles of pram shoes as there are styles of baby clothing. It is alright to go a bit wild with them and purchase those that represent different characters or styles as long as they fit properly.