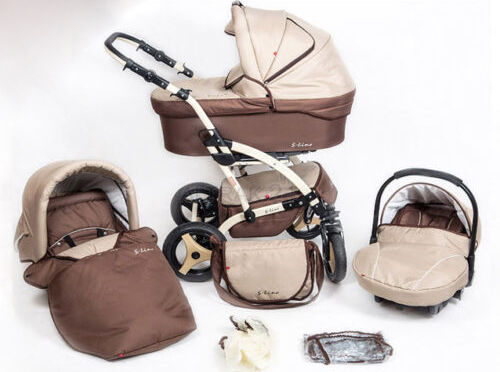 Pram travel systems , sometimes also called pushchairs, allow younger babies to lie down through local trips and brief excursions, which is often the position most comfortable for them. They can also be ideal for fussy older babies, as the unique shape and construction of prams protect them from bright light, louder noises, and uncomfortable temperatures. But unlike normal prams, these travel systems feature car seats which can be placed in buggy structures. These often save parents money compared to separate prams and car seats, and allow babies to be easily moved and transferred from cars without jostling or potentially waking them.
Though pram travel systems are generally cheaper than purchasing separate prams and car seats, many shoppers find that they save substantially on pram travel systems by shopping online at websites such as eBay. However, those shopping for pram travel systems should always consider the size of the stroller, the options their ideal travel system should include, and the age suitability of the system.
Pram Travel System Sizes
Pram travel systems are available in many sizes, which are each meant to accommodate different parents' needs. The most common sizes are lightweight, jogging, heavy, and twin pram travel systems.
Lightweight Pram Travel Systems
Lightweight pram travel systems feature relatively small car seats which connect to small, easily portable carriages. Lightweight pram travel systems are likely to be best suited to smaller babies. They are also likely to be ideal for families with small cars, and relatively little storage space for the carriage itself when not in use.
Jogging Pram Travel Systems
Jogging pram travel systems feature standard-sized car seats, but larger and more sturdily built carriages. Since these carriages are meant to operate on all terrains, they often feature more or larger wheels, and can be difficult to store or to transport in small cars. However, jogging pram travel systems are excellent for those who may want to take their babies anywhere off paved footpaths, as the special wheels and shock systems not only allow the carriages to be pushed over grass, but minimise shock or jostling to the babies. In some cases, the larger wheels of jogging pram travel systems can make manoeuvering difficult. Whenever possible, parents should test travel systems before making purchases.
Heavy Pram Travel Systems
Heavy pram travel systems feature large, comfortably roomy car seats which are likely to accommodate even older babies and sturdy carriages. These are great options for those parents who baulk at the idea of purchasing second pram travel systems for their babies as they outgrow smaller versions. However, as with other large carriages, these can be difficult to store when not in use, and are bulky enough that they may not fit in small vehicles. Parents should measure their vehicles thoroughly before making purchases to ensure they have the space necessary.
Twin Pram Travel Systems
As the moniker implies, twin pram travel systems are manufactured with dual car seats which then fit perfectly into extra-wide carriages. This allows the parents of twins or with two similarly aged babies, to easily transport the pair without the need for two separate carriages. These can also be a wise investment for parents who intend to go to many baby play dates, or who commonly engage in activities with friends who have similarly aged babies.
Pram Travel System Age Suitability
Pram travel systems are generally manufactured and marketed to be used with babies up to certain ages. Age suitability of a particular model determines not just the size of the model, but the amount of weight it is rated for. While some high-end travel systems accommodate babies through several of the age ranges discussed below, they are typically rare and more expensive than other varieties.
From Birth Pram Travel Systems
Often the smallest and most delicate of pram travel systems available, from birth pram travel systems are meant to be used for newborns. As babies grow a great deal during their first two years, it is important for new parents to use pram travel systems rated specifically for newborns for the first few months of life. These tend to have super-soft additional padding for the comfort and protection of the babies, and have smaller, more comfortable straps suited to the far smaller sizes of babies.
From 3 Months Pram Travel Systems
Pram travel systems rated for babies from 3 months old are generally heavier and sturdier than those for newborns. This is to accommodate the heavier weight of older babies, and their increased range of motion and tendency to move. From 3 months pram travel systems are likely to feature larger carriers and wider safety belts. In and after this age range, it is more likely for pram travel systems to be used for a wider range of ages.
From 6 Months Pram Travel Systems
Rated for larger babies and toddlers, from 6 months pram travel systems are the largest and sturdiest available, and generally have tougher fabric linings to accommodate gumming and chewing by infants. These are generally more structured, and may include adjustable seat options to help children capable of supporting their own heads to sit, and better see their surroundings. Shoppers should take care to purchase units which fit comfortably inside their cars, as travel systems for babies at this age and older can put car space at a premium.
Pram Travel System Options
Pram travel systems are available with various additional options which may or may not be included by different manufacturers or brands. When shopping for pram travel systems, buyers should familiarise themselves with the different available options. For a brief overview of the most common options, consider the chart below.
| | |
| --- | --- |
| Option | Description |
| Adjustable Back Rest | Accommodates sitting or lying positions by the baby |
| Adjustable Handles | Located on the side of the car seat to make carrying easier |
| Adjustable Leg Rest | Maximises comfort which can be adjusted for growth |
| Carry Handles | Attached to the car seat, which allow it to be carried basket-style |
| Five-Point Harness | Harness with a lap strap for additional safety compared to a three-point harness |
| | An adjustable fabric hood which pulls over the seat to protect the baby from wind or sunlight |
| Lockable Wheels | Can be locked to prevent accidental sliding or rolling |
| | Detachable and protects the baby from unexpected rain |
| Storage Basket | Formed in the plastic of the car seat for storing necessary essentials |
Not all pram travel systems feature all, or even most of these options, and they are likely to make specific pram travel systems more expensive. When considering the inclusion of options, it is important to bear the likely use of the system in mind. For example, a storage basket may not be necessary for those who take a diaper bag with them, and an adjustable back rest is more likely to be beneficial with an older baby than a newborn.
Buying Pram Travel Systems on eBay
Buying pram travel systems on eBay is quick and easy, even for those who have little experience shopping online. First, go to either the eBay home page or any of eBay's internal pages. Once there, find the search bar and click on it. Begin typing the words or phrase which best describe the type of pram travel system suited to your needs. Some good examples may include " from 3 months pram travel system ", and " hooded pram travel system ". Remember to keep the search query relatively short, as this maximises your possible results. When finished typing, press "enter" to see a list of those items which match the description provided by your search query.
Communicating with a Seller
There are many cases where you may need to communicate with the seller of a product to gain more information. To communicate directly with a seller, simply search the item's listing page until you find the "Ask a question" link, and click it. Then you are able to communicate directly with the item's seller, to ask questions, get more information, or look at additional photos.
Conclusion
When looking for a pram travel system , shoppers should consider some general areas before settling on an item. First, they should determine what size class of pram travel system is appropriate for their situation. For example, lightweight options may be optimum for parents with small cars which are not likely to have the space suitable to store larger varieties. Parents should also consider the age rating of a pram travel system when making a purchase. Though some models are rated for a wider range of ages than others, the vast majority focus on a specific period in a baby's life, and should not be used outside that range due to safety concerns.
Purchasing a pram travel system may represent a cost savings compared to purchasing a car seat and carriage separately, but they are still quite expensive. Many shoppers may find that shopping for them online at websites like eBay is likely to reveal name-brand options at far reduced prices than those offered at retail locations.