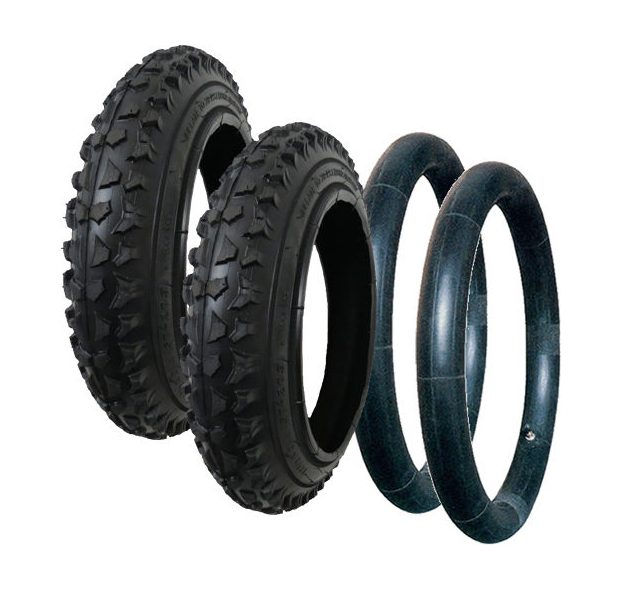 For parents who own a pram or are purchasing a used pram, there may be a situation where the wheels of the pram need to be replaced. Get more mileage out of the pram by replacing the wheels if the remainder of the pram is still in great shape. The best way to replace pram wheels is to ensure that the wheels correspond to the type or even the brand of the existing pram, so they fit properly and work safely.
Pram wheels come in a variety of sizes and types, such as a front wheel or a set of rear wheels. Buyers can purchase the inner tube of the wheel itself if they desire. Separate tools may be needed to attach the spare set of wheels, and other extra items can be purchased as well if those are needed, such as tubes with valves, wheel pumps to inflate flat wheels, wheel axles and bearings, and wheel locks. When it comes to buying pram wheels, it can be confusing, but for buyers who know exactly what they need, finding it should not be a problem due to the many affordable types of pram wheels available on eBay.
Types of Pram Wheels
When it comes to purchasing pram wheels, they are generally divided into a couple of separate categories: types of wheels and brands of wheels. Consumers want to purchase wheels which are compatible with the brand and model of their existing pram; this is a large factor in the purchasing process.
Front Wheels
The front wheels that go on a pram are generally smaller than the back wheels, so they need to be specific to the front of the pram to fit properly. Front pram wheels are either a connected set of wheels that looks like one part, such as the wheels on a jogging buggy, or they are two separate wheels. All wheels have a number on them which correspond to the existing wheels of the pram that the consumers are replacing, so buyers should check the wheel numbers before shopping for additional pram tyres.
Some front wheels come with the inner tubes and some do not. Check the seller's listing to see what comes with the wheels. Some brands of front wheels that buyers come across are Phil & Teds and Quinny.
Rear Wheels
Rear pram wheels are larger than front wheels and are separate. However, they are made the same way and require the same parts. Shoppers should look for new or used rear wheels, but make sure the number matches the wheel size and type that is needed for the existing pram. Some rear wheels have various types of treads, such as smooth tread or a chunkier type of tread, and buyers can select which tread works best for their pram or what type of terrain they plan on using the pram on.
Rear wheels can be purchased in sets of two or simply just one wheel, if that is what the buyers require. Tubing may or may not accompany the wheels. Since all prams are made differently, it is important that the buyers purchase the correct wheels and parts to fit the pram. Some wheels are specifically made for special prams such as jogging prams and may have different tyres than standard prams. Some brands of rear pram wheels that consumers may see are Mamas & Papas and Jane.
Pram Wheel Parts and Extras
Sometimes the wheels are not the only items that consumers need. Other parts and extra items can make using a pram much easier and convenient. Replacing pram wheels does not just require the wheels alone; there may be additional tools or items which are needed to make adjustments, air up tyres, or alleviate the possibility of punctures or holes in the wheels.
Tubes
The inner tubes are the portions of the pram wheels that keep the wheels firm and inflated. Tubes fit inside the wheels. Sometimes buyers do not need replacement tubes and sometimes that is what is necessary. Some wheels come with tubes and some simply come with the wheels alone. Most tubes have a bent valve which allows them to easily air up, similar to the valves on car wheels.
Consumers can purchase pram inner tubes alone if the wheels are not needed. Some brands of types of tubes fit more than one brand of pram wheels, so the buyers should check the listings carefully to make sure they are getting a set of tubes that fit the existing pram wheels or the ones they are purchasing.
Puncture Protection Gel
Consumers may also want to have a bottle of puncture protection gel on hand. This gel is squeezed into the tubes, which offers protection from punctures and holes. It is also called tube sealant, and works with all types of tubes and wheels. A popular brand of tube protectant is called Slime. Puncture repair kits can also be purchased which patch holes in wheels until they are replaced.
Tools and Parts
There are various tools and parts which are oftentimes needed when consumers are changing out pram wheels. Some of the wheels come with needed parts or extra tools, and some do not. These items may include the wheel axles, screws, fittings, pump connector valves, wheel bearings, and a set of tools to help change out the wheels. Some pram owners need these additional parts as well as the wheels, and should search for seller who is offering these items along with wheels, or separately from wheels if that is what is needed.
Pumps
Consumers who are purchasing tubes that are not already inflated need a pump. Pumps are inexpensive and useful, so it is a worthwhile item to purchase. Pumps are generally quite small and come with or without clips. Pram pumps are made specifically to fit into the small valves on the pram tubes for the simplest way to air up pram tubes and wheels. Having an extra pump on hand is also a good idea.
Some pumps are the same brand as the pram, which may makes consumers feel like that specific pump is geared toward their existing pram, but many pumps work with all brands of prams. Miniature pumps are easy to carry on the go and do not take up very much space. They are very lightweight and convenient.
How to Buy Pram Wheels on eBay
Buying pram wheels from the eBay website can be an affordable solution to purchasing replacement wheels, tubes, and other useful items for your existing pram without having to replace the whole pram. Search for wheels and tyres on any of eBay's pages to see all of the available options for buying pram wheels. If you are buying used pram wheels, make sure they are in good condition by checking the images, and asking the seller questions about the wheels by clicking the "Ask a Question" link on the seller's page. This ensures you are getting quality wheels for an affordable price. Read the listings carefully and comparison shop by price, brand, and wheel type and condition.
See if the seller is offering any other items you might need to bundle with your purchase of pram wheels, such as tyre patching gel, extra tubes, a pump, or other tools to help change out the pram wheels. Purchasing more than one item from the same seller sometimes results in a discount on shipping for the additional items. Make sure to go back to the site after you have received your pram wheels and leave feedback for the seller. This is helpful to future buyers as well as the seller when it comes to perfecting the selling process.
Conclusion
For buyers who have a great pram but it just needs some new wheels, there is no reason to purchase a whole new pram. Instead, simply purchase a new set of wheels and tubes to make the pram as good as new. Switching out old wheels for new wheels livens up an old pram, makes it safer, and makes it sturdier for many more years of use. Pram wheels are all different, so the numbers on the wheels should be checked and matched against sellers' listings to make sure the wheels fit the pram properly. Some brands make replacement pram wheels for their most popular models, and this ensures a perfect fit.
Keeping a pump handy makes life with a pram even more convenient. If only the tubes need to be replaced, they need to be aired up. This prevents having to replace entire wheels if the wheels are still in good shape, but buyers do need a pump to easily inflate the tubes to create firm wheel shapes. Pumps and other accessories for pram wheel installation are generally affordable and quite convenient. Alleviate stress and potential punctures by using puncture gel to make the wheels and tyres even more fail proof and lessen the chance of having a flat tyre altogether. Purchase pram wheels for an affordable price on eBay.