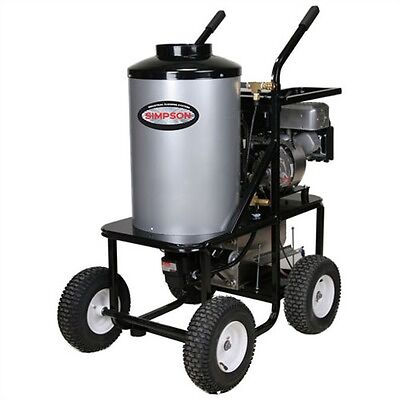 Pressure washers are great tools for maintaining the outside of a home and common items kept around a home, such as cars. They create a high-pressure water stream that blasts through dirt and grime to make various types of materials shine. Whether cleaning the patio of a country home in Yorkshire or a washing a car in a Cambridge driveway, a pressure washer requires proper maintenance if it is to successfully perform maintenance duties of its own.
Keeping pressure washers firing at full capacity is relatively simple if users do their due diligence. They must first understand the key pressure washer components and why they are important to the functioning of pressure washers. Once users know their pressure washers, they must become familiar with the preventative measures that keep them running optimally. Lastly, users should follow a few important pointers for long-term maintenance of their pressure washers. eBay is a good source from which to buy pressure washers and items to maintain them. With good knowledge of pressure washer maintenance and the eBay buying process, consumers can use the site to keep their pressure washers firing at full capacity.
Understand Key Pressure Washer Components
In order to maintain a pressure washer so that it can keep firing at full capacity, users should be familiar with the key pressure washer components. A pressure washer gets its power from its engine and its water pump. Optimal operation of a pressure washer requires that these components function to the best of their capabilities.
The Engine
A pressure washer's engine may either use electricity or petrol to generate water pressure. The latter energy source generally applies to more powerful pressure washers, but it is possible to buy electric-powered pressure washers with over 2000 watts of power. They can generate a powerful water stream. The table below compares the different levels of workload capacities for pressure washers, including how much pressure each workload capacity generates and examples of washing applications.
| Workload | Pressure | Applications |
| --- | --- | --- |
| Light | 100 bar | Patio furniture; bicycles; motorcycles |
| Medium | 100-110 bar | Cars; boats; wood fences; pools; hot tubs |
| Heavy | 110 bar and over | Decks; patios; brick objects; farm machinery |
Pressure washers for light and medium workloads are suitable for most regular applications on a residential property. Pressure washers that create very high pressure are useful for commercial applications.
The Water Pump
Pressure washer water pumps may be either axial or triplex. The former is a pipe with a propeller inside of it that the engine drives. Consumers are likely to find this type of water pump on pressure washers designed for light or medium workloads. A triplex water pump features three engine-driven plungers on it for increased water pressure. Consumers can expect to see these water pumps on commercial-grade pressure washers.
Preventative Measures to Keep Pressure Washers Firing at Full Capacity
Keeping pressure washers running at full capacity requires a few preventative measures before and after using them. These measures help prevent larger problems that are difficult to correct from occurring.
Before Using Pressure Washers
Preventative measures before using pressure washers entail checking the key components of pressure washers. These components include the engine, water pump, tyres, and attachments.
Engine
The engine requires oil to keep it lubricated and running smoothly. Users should check the oil in their pressure washers before every use. If the oil is dark, it is probably time to change it. Fifty hours of use is a good benchmark for oil-change frequency. Users should also make sure there is enough petrol in pressure washers with petrol engines.
It is also important that filters are clean. Users should clean air filters after every four hours of use and change them after 100 hours. It is only possible to clean foam air filters. Users must replace paper air filters. It is possible to clean fuel filters until they become clogged. At that point, users should replace them.
Water Pump
Water pumps have numerous components that users should check before each use of their pressure washers. The first thing they can check is the level of water pump oil. As with engine oil, this type of oil requires replacement after about 50 hours of use. The water inlet and in-line screens should be clear. Users can flush them with clean water if they are not.
Tyres
Although pressure washers can still produce high water pressure with flat tyres, moving them from place to place in this condition can be challenging. Users should therefore check the pressure in the tyres with a tyre gauge before using their pressure washers. Tyre pressure should be 1 to 1.7 bar. If it is beneath 1 bar, users should add air to the tyres.
Attachments
In addition to their core components, pressure washers have numerous attachments that they work with. Users should be sure to check these attachments before every use as well. High-pressure hoses require replacement if they have any leaks. If users must replace these, they should ensure that their new hoses have higher pressure ratings than their pressure washers. Users should also inspect and test their wand assemblies. If the connectors leak, the assemblies need new O-rings. Users should briefly run their garden hoses to clear debris before attaching them to their pressure washers.
After Using Pressure Washers
Pre-use preventative measures are generally more thorough than post-use measures are. Users should still follow a few important steps after using pressure washers. First, they should run clean water through the cleaning detergent injection system for two minutes while the engine is running to flush the system. After turning off the engine, users can relieve pressure in the washer by triggering the spray gun until it releases the remaining water in the line. Finally, users can clear the water pump by pulling the recoil handle a few times.
Long-Term Measures to Keep Pressure Washers Firing at Full Capacity
In addition to preventative measures, there are a few long-term measures that users should take to keep their pressure washers firing at full capacity. These relate to engine and water pump maintenance and storing the pressure washer for extended periods.
Maintaining the Engine
Depending on how much pressure washing they do, users should change the motor oil once per year. Clean motor oil reduces friction and helps the engine perform well consistently over many years. Users should also replace spark plugs once per season to ensure that their pressure washers start reliably. It is also advisable to change the air filter in petrol-engine pressure washers each season. A clean air filter maintains a good air-to-fuel ratio in the engine, resulting in better fuel efficiency.
Maintaining the Water Pump
Water pumps do not need a great deal of maintenance other than pre-washing checks. Users should consider changing the water pump's oil each season. They should also flush the water pump of any contaminants before using it for the first time after a long period of storage. So long as users follow preventative measures for their pressure washers' water pumps, they should not have to spend much time on long-term maintenance of these components.
Storing the Pressure Washer
Many users in Britain store their pressure washers during the cold winter months, and there are a few important things that they should do to prepare their pressure washers for storage. Users should either drain all of the fuel from their petrol-powered pressure washers or add fuel stabiliser to the existing supply to keep it from degrading. It is also important to add a mixture of one part antifreeze and one part water to the water pump to prevent it from freezing and cracking.
In addition to these measures, users should remove all of the attachments that they use with their pressure washers. They can store these, along with their pressure washers, in a cool, dry place until the weather warms, and it is time to for some spring cleaning.
How to Use eBay to Keep a Pressure Washer Firing at Full Capacity
You can buy pressure washers and the items you need to keep them running at full capacity from local and online home improvement shops. eBay is also a good source to buy pressure washers and maintenance items from. It is easy to search the site and to evaluate the sellers you want to buy from.
Searching for Pressure Washers, Parts, and Maintenance Products
You can search from any eBay page with a search bar. Enter a descriptive term for what you are looking for, such as "petrol pressure washer" or "pressure washer pump oil", into the search bar. When eBay returns the results, select the appropriate category to ensure that the listings are relevant to your search.
Evaluating Sellers
It is always important to make sure you are purchasing products from reputable sellers. You can evaluate a seller on eBay by checking his or her feedback. This is a collection of the comments and ratings that other buyers have left for that seller. You can see a seller's feedback by clicking on his or her username on the listing you are looking at. This information helps you determine whether or not the seller is likely to provide the level of customer service you deserve.
Conclusion
Pressure washers are very useful tools for maintaining the outside areas of homes and equipment that many people keep at their homes. Properly maintaining these things, though, requires maintenance of pressure washers themselves.
Users can keep their pressure washers firing at full capacity by taking a handful of preventative measures each time they use their pressure washers. These include steps such as checking motor and water pump oil and making sure filters are clear. Long-term maintenance steps, such as changing motor and water pump oil seasonally, are also important to keeping pressure washers running optimally. Lastly, users should properly store their pressure washers if they are not planning to use them for a long period.
Users can expect to get many years of good use from their pressure washers if they follow these maintenance steps. eBay is a good source from which to buy both pressure washers and the items users need to maintain them. With good knowledge of pressure washer maintenance and the eBay buying process, users should be able to find what they need to keep their pressure washers firing at full capacity for years.