I have set up this guide to help sellers who want to print off all of their order labels in one go.

To date there are no helps or guides anywhere on the internet that will help you do this.

No printer has software that will link to ebay and get the addresses for you, but dont worry about the long guide once your set up printing a hundred labels will take minutes dont worry.

if you are not bothered about wasting time or if carpel tunnel and arthritis dont bother you, then continue to write by hand this guide is not for uneconomical people like you. OK a pen costs 10p and a label costs a few pence each but remember time is money so think about about what you could be doing instead of writing labels by hand every morning.

writing labels by hand or printing them off one by one is EXTREMELY boring and time consuming especially you have a mountain of orders to do.
------------------------------------------------------
1. buy a brother QL-700 thermal label printer and fill it with continuous rolls of 62mm labels. the 3rd party label rolls are really cheap on ebay
2. install firefox browser (it wont work with internet explorer or MS Excel) , install openoffice.org
optional - (install adblocker pro for firefox and delete all visible shortcuts to internet explorer and dont look back)

3. we need to set up the spreadsheet
start openoffice maths (the speadsheet) and on the top bar click on format --> page. then copy these settings. and go to the header and footer tabs and untick them.



now press F11 which will bring up the styles and formatting menu and right click the default and click modify....change the font to arial regular 16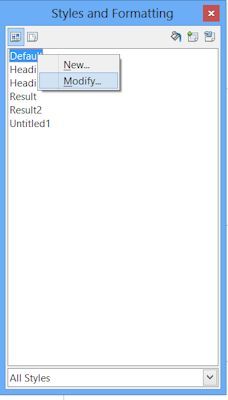 in the borders tab and the alignment tab copy these settings below(untick syncronise to change the spacing to contents values in the border tab). then click ok which will take you to the styles and formatting window now before you close it you have to click the button below the red x to update the style you just modified otherwise your new settings will not be saved.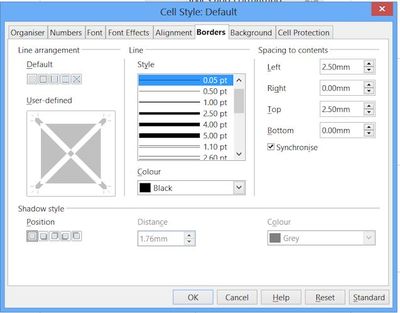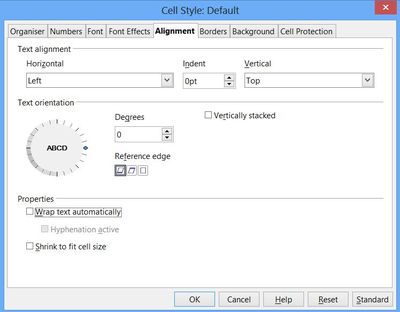 Now we need to make the cells in sheet1 the same as the 'page' size (or label size in our case) ....right click the A at the top of column A and set the column width to 62mm, now set the row height to 43mm. now save the spreadsheet and make a copy of it somewhere for safe keeping.
note: the 'Shrink to fit cell size' only works horizontally not vertically
those settings will give you a nice and tidy 6 row label
your spreadsheet is now set up. the rest is how to print the labels
go to your awaiting postage select all your listings and click on dispatch action and select print postage labels or invoice

Select address label (one per page) then click continue

you should have a big page of addresses select all and copy (press ctrl A then ctrl C)

now go to openoffice and select sheet2 and then paste ( NOT sheet1 which has your 62mm columns)

openoffice will of very nicely put your address into individual cells for you in column C or column D just delete all the column that have data we dont want so you are left with only address you wish to post to

some cells were merged in the paste, now to unmerge them just select all the columns from column B all the way to column lets say AB or CC and delete the whole columns.

press ctrl F

in the search for box type send to: \n and click replace all

in the search for box type united kingdom and click replace all

we need to remove the empty cells between addresses....highlight column A goto the menu bar, Data --> filter --> standard filter. In field name select column A and in value select not empty

highlight column A and move it to sheetA

now make the addresses tidy by putting the county on a new line etc etc (to insert new line hold ctrl tap enter) if you are a search and replace guru then do that instead.

Some people like to put their address in big capitals It might be a good idea to highlight that text and goto Format --> Change Case --> Capitalise each word

highlight your addresses and print (select the 'selected cells' radio button during printing

The labels come flying out at a speed of 2 or 3 per second. I catch them so i keep the printing order as it helps me pack my orders up.

any problems then just message me. i have other templates for CN22 in various prices which i am happy to share
now relax a bit or write listings for those new products you havent had time to list.
Here is the label on a A/000 mail-lite bag