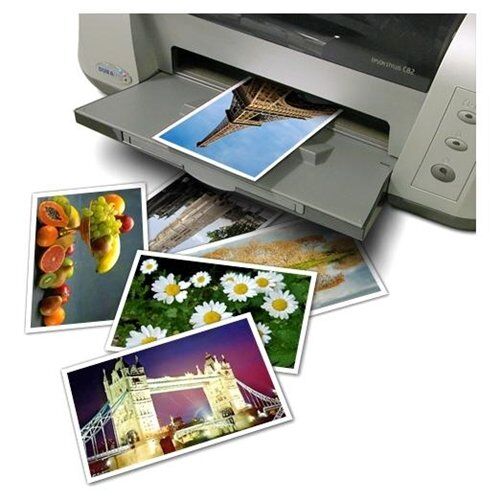 Photographers invest considerable financial resources into their equipment. Digital cameras, tripods, and assorted photo accessories cannot only be expensive to purchase, but the equipment is also costly to maintain. In addition, photographers also need high-quality computer systems that include some type of printer for printing their cinematic masterpieces. Each component in a photographer's production area requires detailed research to ensure stunningly beautiful stills of an English countryside or the perfect Atlantic Ocean sunset. Yet, some photographers do not exert the same diligent effort when it comes to purchasing an overlooked photography component, the component that prints the photograph renditions of an artist's vision.
Choosing the right printer paper for photography is important because the paper becomes the transmitter of the photographer's vision. Printer paper hangs on the wall within picture frames and it sticks to the pages of a scrapbook. Photographers can shop for printer paper at electronics or digital camera shops, although eBay offers photographers the widest range of printer paper that includes every major brand. Before they go on eBay, photographers should learn about the importance of the type of paper finish, as well as the other factors that influence the printer paper purchasing decision.
Types of Finish
The first issue to settle when buying photography printer paper is determining the type of finish. While printer paper finish indicates the level of professionalism, the type chosen can hinge on the purpose of using the finish. Choosing paper surface often boils down to a personal decision based on artistic criteria.
Gloss/Semigloss
Many beginner photographers prefer glossy photo printer paper because the visual presentation appears to possess rich colours. Glossy printer paper presents a stylish look that enhances the shots taken by amateur photographers. However, gloss creates reflections that detract from the printed image. Glossy prints meant for framing make even less sense, since both the gloss and the frame glass produce glare. As a photographer's eye improves, he or she most likely shuns gloss and semigloss finishes for other finishes that do a better job of enhancing printed photographic images.
Matte
More advanced photographers attempt to maximise the contrast of the images in their photographs, especially when it come to shooting outdoor scenes. The same principle applies to printer paper for photography and the matte finish delivers the darker blacks that produce optimal contrast. Matte printer paper also presents finer details than any other type of finish, which is an important consideration for photographers who want rich textured images.
Canvas
Photographers who plan to frame their printed photographs should consider printer paper that possesses a canvas finish. Quality canvas finish printer paper provides the same contrast as matte finish printer paper. In addition, canvas-finished printer paper reduces the glare that emanates from a light source onto the glass that encloses the photograph frame. The only downside of a canvas finish are the bumps that appear along the edges of the printer paper.
Art
Art finish printer paper resembles printer paper finished with the matte-style that includes rich texture to highlight photograph features. Some photographers refer to art-finished printer paper as water colour paper. Art-finished printer paper comes in varied degrees of contrast, which gives photographers more flexibility in presenting their images. Photographs that depict vast landscapes work especially well with an art finish.
Factors to Consider Before Making a Purchasing Decision
Since photographers spend considerable time researching which type of camera and printer to buy, it does not make sense to flippantly decide on the type of printer paper. The temptation for many photographers is to save money on printer paper and utilise the saving for buying other photography accessories. However, photographers of all skill levels should spend as much time researching printer paper options before they reach a decision. The following factors all play a role in making a decision after photographers decide on the printer paper finish. Make sure to rank the factors in terms of importance and personal preference.
Longevity
Direct light on a printed photo fades the print over a short period, even if the paper has the protection of frame glass or photo album plastic. Yet, some types of printer paper fade slower than other types of printer paper. Some of the reasons for the difference in fade rates come from the type of ink printer. The key to preventing the rapid fade of printer paper for photography is finding the right combination of ink dye printers and printer paper. Photographers who understand the value of image longevity carefully read the printer owner manuals to determine which type of printer paper resists fading. Some combination produce images that last over 100 years.
Whiteness
While darker blacks produce professional grade contrast, another factor that determines the level of contrast is the level of a printer paper's whiteness. Some manufacturers achieve enhanced whiteness by adding whitening agents during the production process. While the addition of whitening agents may seem to be an effective way to provide marked contrast, the use of whitening agents can cause printer paper for photography to change colour quickly, typically from white to yellow. The result creates an image that appears dirty. If a printer paper appears whiter on one side, then the paper has most likely received whitening treatment.
Printer Information
Open the print dialogue pop-up menu to learn which type of printer paper for photography works best with the printer. Some printer paper manufacturers include suggestions on which type of printer paper to choose for prominent printer manufacturers, such as Epson, Canon, and Hewlett-Packard. Users who run colour-managed workflows operate special hardware that calibrates colour collaboration between the monitor, printer, and printer paper. Check the vendor's website for printer paper recommendations, but remember that the type of printer paper chosen should also appeal to personal photography styles.
Weight
While the quality of the finish places a significant role on determining printer paper longevity, another factor contributes to how long printer paper for photography lasts in a photo album or within a picture frame. Most printer paper packages carry a weight designation, which describes the thickness of individual sheets of printer paper. Look for printer paper packages labelled "heavyweight". Heavyweight printer paper provides more durability and presents a more professional feel to photographs. Postcards and business cards require the thickest form of printer paper. Expect to pay more for heavyweight printer paper.
Brand
A majority of consumers purchase their favourite products by brand. Name brand printers and printer accessories provide high performance and incomparable durability. However, buying printer paper by brand does not necessarily mean buying the most popular brand. To ensure the best quality prints, consumers should purchase printer paper that manufacturers designate for specific brand names. For instance, photographers who own a Dell printer should purchase printer paper meant only to be used with Dell printers. While handmade and specialty printer papers that artists create can produce stunning visual results, the longevity and quality of the printer paper declines because the paper is not compatible with the printer.
Cost
Printer paper comprises one of the least costly items in a home or office computer system. Nonetheless, cheaper paper delivers inferior quality photographs due to contrast and resolution issues. Avoid printer paper sales, as sales indicate vendors cannot move a particular type of printer paper. The best way to get more for the money is to buy printer paper in bulk. Moreover, some sellers, especially sellers on eBay, bundle printer paper with more expensive printer related projects, such as toner cartridges.
How to Buy Printer Paper for Photography on eBay
Photographers have plenty of printer paper options to choose from when shopping on eBay. The leading auction site provides a powerful search engine that enables you to target printer paper sellers who meet your shopping criteria. You can target sellers by the type of finish or by brand name. However, paper size and weight play pivotal roles in determining which seller to choose. For instance, type "A4 200-250 gramme printer photo paper" into the search engine to reduce the number of search results. Another search engine strategy is to search for printer paper sellers by quantity, such as typing "100-399 printer photo paper sheets".
Once you narrow your eBay search to a few printer paper sellers, you then visit each seller's product page to analyse the enlarged printer paper photograph. You want sellers who offer printer paper for photography in sealed packages that have not been disturbed. Sealed printer paper packages indicate the paper is in mint condition. After analysing the product photograph, review the seller's accepted payment methods and delivery terms. If you need the printer paper in two days, but the seller cannot deliver until a week from Friday, then you must consider another seller option. Before leaving a seller's product page, take time to review the customer feedback that provides insight into a seller's track record on eBay.
Conclusion
The advent of the digital age caused a radical shift in how photographers present their artistic visions. Instead of presenting photographs within picture frames and photo albums, photographers turned to computers that allow them to upload their images to their websites and social media pages. However, the digital age has not rendered the more traditional forms of presenting photographs obsolete. In fact, many photographers believe that printed versions of the work offer a better way to present their art. This means that picture frames and photo albums, as well as the paper that presents the images, still play an important role in photography.
Photographers have many factors to consider before buying printer paper for photography, but no factor is as important as the type of finish. Finish is the effect that can either enhance or detract from a printed photograph. Photographers who shoot photographs for art tend to choose canvas-finished paper, while matte-finished paper works for novices who have not learned how to reduce light glare. Other factors that play a role in determining which printer paper to use include cost, brand name, weight, whiteness, and longevity. Whiteness influences contrast levels and longevity refers to a printer paper's ability to resist fading.