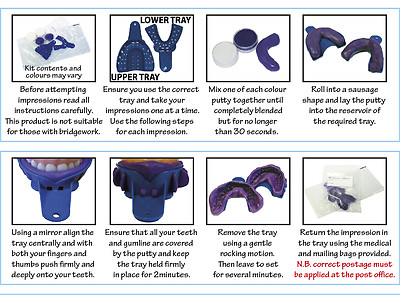 This product is not suitable for those with bridgework or for those who are undergoing fixed orthodontic treatment.

This product is not recommended for those under the age of 16.

Please note we only provide the trays in our teeth whitening products, we do not provide whitening gel.
Before attempting impressions read all instructions carefully.
Ensure you use the correct tray and take your impressions one at a time.Use the following steps for each impression.
Mix one of each colour putty together until completely blended but for no longer than 30 seconds. (Warm temperatures may affect how quickly the putty sets)
Roll into a sausage shape and lay the putty into the reservoir of the required tray.
Using a mirror align the tray centrally and with both your fingers and thumbs push firmly and deeply onto your teeth. Ensure that all your teeth and gum-line are covered by the putty and keep the tray held firmly in place for 2-3 minutes.
Remove the tray using a gentle rocking motion.Then leave to set for several minutes.
Return the impressions in the tray using the medical and mailing bags provided.
N.B. correct postage must be applied at the post office.
Please return all unused items and empty putty pots along with your completed impressions.
A GOOD IMPRESSION: A BAD IMPRESSION:
~ The putty is completely blended to form one colour ~ The putty is soft and not completely blended
~ You can see all of your teeth clearly ~ The teeth impression looks stretched or distorted
~ The bite is deep into the putty ~ The bite is shallow
~ There is an impression of the gum line above the teeth ~ There is no visible gum line
If you wish to check whether or not your impressions are any good you can email us directly, include pictures of your impressions for us to take a look at and we will provide any necessary advice, alternatively, just send them in to us and should they not be suitable, one replacement kit will be provided free of charge along with a letter explaining where the impressions went wrong.
Should any further kits be required after this, there will be an additional charge of £7.50 per kit. If this is necessary we will email you through Ebay to advise with an explanation of why further impressions are needed and provide you with the payment options.
Should you have any further queries or problems please do not hesitate to contact us.