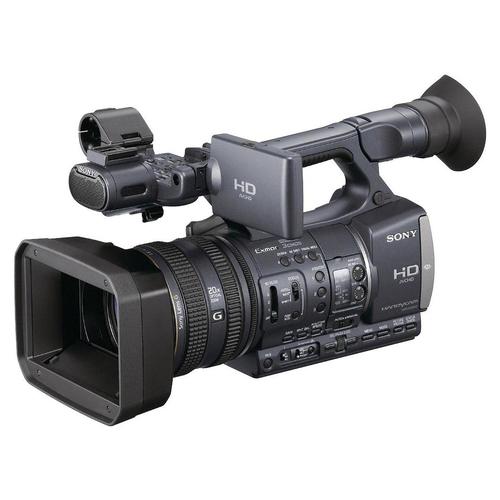 Recordings that need to be made to a professional standard will have to be recorded on equipment which has a very high specification. There are many different models of camcorders currently available which are of a very good quality, but a professional camcorder will possess several features with increased technology which help to raise its performance above that of a standard camcorder.
Features
With many features coming as standard on all types of camcorder, the professional will have significantly different requirements to the amateur film maker.
Optical Lenses
The lens in a standard camcorder is often made from a high-quality plastic and will normally be fairly small in size. This is because plastic is easier to manufacture and will not require any special treatment. A professional camcorder should have lenses which are made from glass and which have been specially coated to limit the chance of scratches. It is the clarity provided by a glass lens which ensures that a sharp and well-defined image is recorded.
The size of the lens is very important. A professional camcorder should have a large lens as this ensures that the maximum amount of light can reach the sensors within the camera. The size of the lens can also have an impact of the quality of recordings which need to use the zoom. As a camcorder zooms in on a close subject, this will cause the lens to retract which reduces the amount of light that can reach inside the camera. A larger lens will allow as much light as is possible to be taken into the camera. It is also worth checking if the camcorder can be fitted with lens adapters as this will enable the recording of a telephoto or wide angle image.
Manual Iris
The iris alters the opening of the camcorder's lens. If the iris is fully opened, then this will let in more light which will increase the exposure of the image that is being recorded and make it brighter. Closing the iris has the opposite effect and will make the recording darker. It is preferable to choose a professional camcorder which has an iris that can be altered manually. This will enable the user to alter the exposure as required and will ensure that the subject of the recording is always lit correctly.
Filter Ring
A professional camcorder needs to have a filter ring, which is basically a screw ring fitted around the outside of the lens. This will enable a filter to be added to the lens. There are specialised filters available which will add particular effects to recordings and a general UV filter will help to protect the lens from being scratched.
Sensors
The sensor in a camcorder acts in a similar way to an eye. It collates information about the image which is being recorded before sorting out details of colour and light. The majority of standard camcorders operate by using one sensor and this may also be the case for some of the lower budget professional camcorders. It is best though to look for a camcorder which has three separate sensors. Each of the three sensors will be designed to deal with a specific colour either blur, red, or green. Each sensor will be able to process all the available light in its specific colour spectrum because it only has to concentrate on one colour. This ensures that there is much more information available for the camcorder to process and this will enable it to be able to correct factors such as poor light. The fact that the professional camcorder has three sensors also means that there is a much larger area for the light to land on.
Audio
The audio capability in a professional camcorder needs to be much stronger than that of a standard camcorder which may only have one small microphone located near to the lens. It is useful to check the specification sheet of a professional camcorder to look for the audio input specifications. A lower budget professional camcorder will normally only list ports which are shown for use with a 1/8 inch connection. Microphones with 1/8 inch plugs are widely available to buy and can be used in these ports. They will improve the quality of the sound recorded, but will still have some limitations.
The best audio will be provided by professional camcorders which show XLR on the specification sheet. An XLR connection has three prongs and the majority of the highest-quality microphones have an XLR plug. It is best to choose a professional camcorder which has two XLR ports. This would enable one port to be used for a shotgun microphone that could be mounted onto the camcorder and kept permanently connected. This microphone would be used to pick up background noise to help provide depth to a recording. The second XLR port could be used for a specialised microphone such as a lapel microphone or a hand microphone. This type of audio setup is commonly used by news cameras.
It is also useful to be able to control the level of sound that is being recorded so that the user can reduce the chance of background noise becoming intrusive so a good professional camcorder will have a manual sound control available.
Manual Controls
In order to achieve a professional standard of recordings, it is essential to have manual control over settings such as exposure. A good professional camera must have manual controls which can be instantly accessed by using external buttons and switches. Automatic settings will still be useful and a good professional camcorder should have the option to switch to auto but the accessible manual controls will ensure that the user is ready to respond quickly to any changes that might damage the quality of the recording such as bad light or changes in audio.
Conclusion
A professional camcorder will need to have higher specifications than a standard camcorder in order to produce recordings which are a significantly higher quality. The most important features to consider are the lenses which ideally need to be made of glass and large in size, the sensors which ideally should number three and the audio capability with XLR ports offering the opportunity to use the highest-quality microphones. It is also important to look for a professional camcorder which has easily accessible manual controls which will give the user the capability to adjust settings quickly if necessary. The cost of a professional camcorder will be higher than that of a standard camcorder. However, this is recognition of the fact that the specification will be higher and a professional camcorder possesses better technology which will result in a better quality of recording.