Taking the best care of your skin means choosing the best skin products for helping you to do so. Learn more about how your skin can benefit from professional make up from Bare Minerals.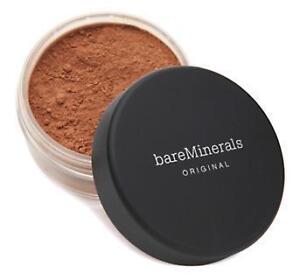 Because of the many cosmetic products available on the market today, you may have a hard time making choices about the best ones. This is especially true for cosmetics you will wear all day long. Choosing natural ingredients can be the option when it comes to skin care. And this is what Bare Minerals is all about.
Get Started Now
Getting started on a regular schedule for skin care, including the application of cosmetics, can have many benefits, one of the greatest being younger looking and healthier skin for longer.
A complete Bare Minerals starter kit that includes everything from brushes to powders can help you start out on the right path to great looking skin. A Bare Minerals kit can include primer samples and brushes appropriate for various cosmetic applications.

Start with the Bare Minerals Foundation
Zinc oxide, iron oxides, mica, titanium dioxide and ultramarines are the ingredients found in Bare Minerals foundation powder:
Ultramarines and iron oxides promote the colour of powders, while zinc oxide works to lighten them and helps to protect skin from harmful UV rays from the sun.

Zinc oxide has been used for many years due to its benefits of combating ultraviolet rays from the sun. Protecting your skin from UV rays is an essential aspect of skin care that Bare Minerals cosmetics can help support.

Titanium dioxide works in synergy with zinc oxide for doubling up the skin's protection against the sun's rays. It also provides skin moisture absorption and helps to lighten colours as well.

Mica is complemented by iron oxides for producing a multitude of colours. Brightness and light reflection are supported by mica.
For women that are tired of cosmetics being too oily or causing caking on the skin, Bare Minerals is a great choice. For skin that can breathe, while looking smooth and beautiful.

It's in the Brush


The powdery Bare Minerals foundation feels creamy and can be applied as a concealer as well. The foundation powder is applied with one of three main brushes, each one being for a part of the face and particular type of coverage.
The Concealer Brush is perfectly designed for covering up dark circles under the eyes or for areas around the nose and lower chin.

The Buki Brush is used for applying full base foundation

And the Flawless Foundation Brush provides final, smooth coverage.

Using the Bare Minerals Primer

Bare Minerals cosmetics contain only natural ingredients, most products coming in a pure powder form. However, you can use a primer lotion as the first step in your cosmetic routine to prepare your skin for powder applications. Primer lotions help to neutralise redness and even out discolouration.
Bare Minerals Eye Primer
Get two for the price of one: the Bare Minerals Eye Primer brightens the skin around your eyes and serves as an eye shadow.
Bare Minerals Eyelid Primer
Soft and silky touch for your eyelids. The Bare Minerals Eyelid primer builds a foundation for additional make up to cover and blend smoothly. Using a primer before applying eyeshadow allows for a more distinctive, exciting colour payoff.

Choices about Skin Colour and Type
No two people have the same skin, even if the colour looks the same. One person with fair skin may need a different shade of mineral foundation powder than another person that has fair skin as well. When using Bare Minerals, you can mix your powders to find the best shade for your particular skin tone.
Bare Minerals Warmth can help you balance the coloration of your skin when used together with foundation. Adding finishing touches with the Bare Minerals Veil gives the final finish of blemish free, younger, brighter skin.
Keep in mind that your skin type, whether oily, normal or dry, can also affect the final results of mineral powder cosmetics. For this reason, making sure you choose the Bare Minerals products best for your skin type is important.

Look Into Your Eyes
The smoky eye look has been popular for years. Your eyes can have a natural smoky appearance and many other looks with Bare Minerals eye kits. Choosing all natural mineral cosmetics for the eye areas is always a good idea. Look out for Bare Minerals eye kits including your colour choices of eye powder and proper application brushes.

Getting What You Pay For
Most women consider price when considering cosmetics. While pricier options may not always be the best choice, you should always remember that many cheaper products contain unwanted chemically enhanced ingredients and do not offer your skin the nurturing it needs and deserves.
---