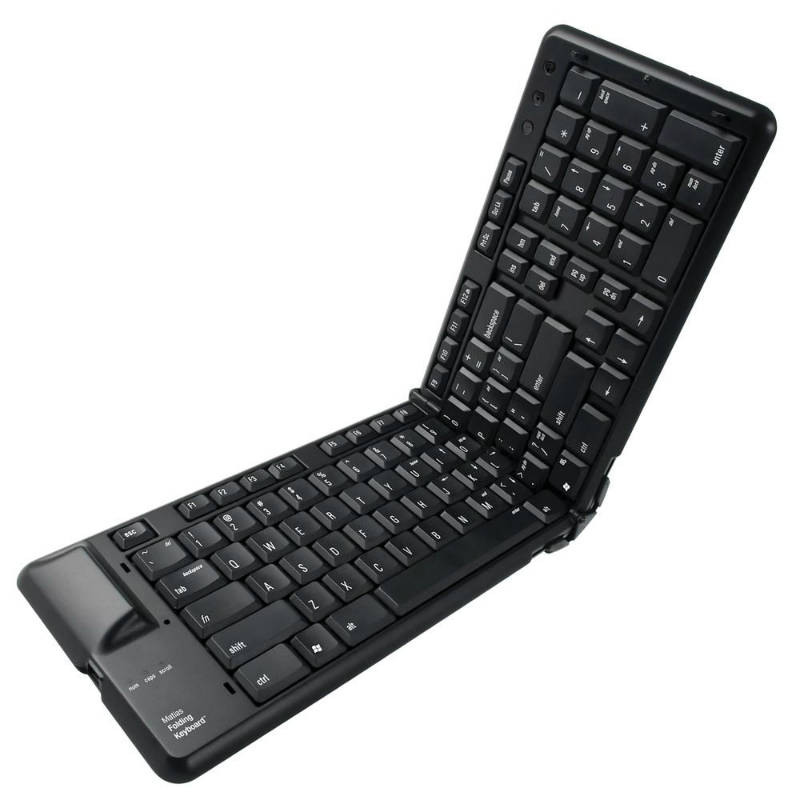 The first laptop computer, called the Osborne 1, was introduced in 1981 as an alternative to stationary desktop computer models. NASA utilised the first line of laptop computers for communicating with astronauts who floated in space thousands of miles away from Earth. After a decade of tinkering with design, manufacturers began to produce commercial-friendly laptops that eventually became standard components in the workplace. However, many corporate customers complain about the lack of portability, which prompted laptop manufacturers to construct models that reduce the size of the keyboards. After years of tinkering, laptop manufacturers designed foldable laptop keyboards to address the portability issue.
Consumers can find laptops that include foldable keyboards at electronics shops and office supply outlets. The best way to shop for foldable laptop keyboards is online at the leading auction site, eBay. Sellers offer a wide variety of laptops that include foldable keyboards from major brand name manufacturers. Before consumers access eBay, they should first learn about the different types of laptop keyboards, as well as the foldable laptop keyboard pros and cons that helps shoppers make sound buying decisions.
Types of Laptop Keyboards
To understand the pros and cons of foldable laptop keyboards, consumers should review the best and worst features of the first three types of laptop keyboards produced. Each of the three types of laptop keyboards possess unique key layouts and spacings, as well as come in different sizes. The size of a laptop keyboard typically depends on the size of the laptop, particularly for brand name laptops, such as Dell and Hewlett Packard. The first three types of laptop keyboards include desktop replacement, standard, and compact. The recently introduced foldable laptop keyboard rounds out the laptop keyboard group.
Desktop Replacement
Desktop replacement keyboards comprise the largest category of laptop keyboards. This type of laptop has the largest screens, which provide manufacturers more room to build the keyboard. The keys resemble desktop computer keyboards in size, and the layout is very similar, including the separate number pad. While desktop replacement keyboards present the best user-friendly interface, the popularity of this type of keyboard has waned because of its poor portability.
Standard
A standard keyboard includes a number pad layouts that users access from a key combination, but activation of the number pad layout disables some of the letter keys. Manufacturers of standard laptop keyboards typically create between 50 and 90 keys in a compact layout. Typing on a standard laptop keyboard is similar to typing on a desktop keyboard, but the keys are a bit smaller in size. The key travel, which is the distance required to push a key down, is smaller than conventional laptop keyboards, which requires users to make typing adjustments.
Compact
The rapid rise in the popularity of netbooks has corresponded with consumer preferences for small laptop computers. This means keyboards have also diminished in size to save space. Manufacturers have put as much functionality into compact laptop keyboards as possible, but detractors believe compact laptops lose enough keyboard functionality to make their ease of portability a moot benefit. Compact laptop keyboards also present nonstandard key layouts and fewer distinct keys, which can confuse users who are not used to accessing keys through multiple keystrokes. Keys are about three-quarters of the size of standard and desktop replacement laptop keyboard keys. Despite the disadvantages of owning a compact laptop, manufacturers continued to tinker with designs until they invented a way to provide compact portability, with a keyboard that presents many of the attributes of larger laptop keyboards.
Foldable
Look at foldable laptop keyboards as the wings of a laptop computer. While the folder laptop appears similar to other types of laptops, the keyboard folds out on each side to provide a larger keyboard surface. Manufacturers vary the way the keyboard folds into the laptop and the differences present some of pros and cons of owning a foldable laptop keyboard. Moreover, the pros and cons depend on whether the laptop is wired or wireless. Foldable keyboards can be mini or full size, as well as possess soft or hard plastic.
The Pros of Foldable Laptop Keyboards
While there is not a universal list of foldable laptop keyboard pros and cons due to myriad production differences, consumers should understand what to look for to maximise the pros and minimise the cons. Foldable laptop keyboards not only vary in style and appearance, they also significantly differ between Mac and Microsoft laptop models. Here are some of the pros of owning a foldable laptop keyboard.
Portability
Laptop computers offer users convenient portability to take on long distance flights and carry from the office to a conference room to work on a large-scale company project. The only factor that diminished laptop carrying convenience were the bulky keyboards that added length and girth to the laptop. Foldable laptop keyboards consolidate space, and thus, provide users with more carrying convenience. The smaller, compact keyboards make it easy to transport a laptop in a case that users carry over their shoulders.
Half Dome Keys
Most laptop keyboards have either desktop-style dome keys or laptop-style scissor keys. Dome keys are larger than typical laptop keys and require users to press further for the keys to register. Thinner scissor keys require less force to travel. Foldable keyboards implement the advantages of both the dome and scissor design by combining dome switches with thinner, shorter travel keys. Half dome keys look like laptop keyboard keys, but they provide desktop key ease of use and dependable functionality.
Convenient Layout
Computer keyboard manufacturers always seem to find ways to create more convenient keyboard layouts. Foldable laptop keyboards include the standard function key layout, with function keys lined from F1 to F15, but the function keys are grouped in four-key pods for easier typing. Since foldable laptop keyboards are considered similar to compact keyboard designs, without the pratfalls of the compact keyboard design, they include the inverted-T group of directional arrows that shift below the right-hand return and shift keys. User reviews praise this feature that most manufacturers include on foldable laptop keyboards.
The Cons of Foldable Laptop Keyboards
The primary objective of providing users with a convenient-to-carry and easy-to-use laptop keyboard makes foldable models the favourite to become the most popular style of laptop keyboards. However, until manufacturers create a uniform production standard, foldable laptop keyboards possess the following flaws.
Durability
Many foldable laptop keyboard models lack a locking mechanism to keep the two folding flaps secure. This is not only a significant flaw in a type of laptop keyboard the manufacturers construct for portability, it also increases the likelihood that one, or both, of the flaps incurs damage. Moreover, soft plastic foldable laptop keyboards are susceptible to scratches and dents. According to user and expert reviews, durability is the biggest issue with foldable laptop keyboards.
Navigation
The goal to produce foldable laptop keyboards that possess easy-to-read alphabetic and numerical keys has forced some manufacturers to eliminate navigational shortcuts, such as the delete, home, end, page up, and page down keys. This design flaws force users to utilise combination keys to perform navigation over the laptop screen. In addition, some models are missing vital punctuation keys.
Open vs. Closed
Some manufacturers have taken care of the durability problem by constructing high-quality locking mechanisms to ensure the folding flaps remain in place. Yet, the same manufacturers neglect to lock the folding flaps when the foldable laptop keyboards are open. This is a serious flaw that prohibits users from working with the laptop on their laps. Not only can the laptop sink through the space between the legs and fall on the floor, the sudden sagging movement causes users to make typing mistakes. The lack of an open locking mechanism also limits portability, since users can only use the laptop on a hard surface, such as a desk or coffee table.
Buying Foldable Laptop Keyboards on eBay
Since buying foldable laptop keyboards require buyer diligence, you should first search for sellers who have experience selling electronics equipment on eBay. First utilise eBay's powerful search engine to find the sellers who offer laptops that include foldable keyboards. The best way to find these sellers is to search by brand name, such as Toshiba and Sony. Another way to find the right seller is to type "foldable laptop keyboard" into the search engine. In either case, eBay returns a list of sellers who match your buying criteria, and this is the point when you vet each seller candidate, which includes determining whether a seller has experience selling electronics equipment on eBay.
Every seller that you consider should have a product page that displays an enlarged photograph of the foldable laptop keyboard. The enhanced visual allows you to detect any imperfections, such as dents or faded lettering on individual keys. You should also review seller accepted payment methods and delivery terms. You may need a foldable laptop replacement ASAP, but the seller cannot deliver one for another week. Finally, review the customer feedback that eBay places on the product page. Only consider sellers who have earned consistent positive reviews over the past year for selling electronics equipment, preferably laptops and laptop accessories.
Conclusion
Ask the person responsible for information technology purchases of any company which item they request most often, and the answer probably comes back to laptop computers. These highly mobile computers provide users with many of the same benefits as desktops, with additional benefits that include portability and ease of storage. For all of the strengths that come with owning a laptop computer, one of the drawbacks are the bulky keyboards found on standard and desktop replacement models. Manufacturers tried to rectify the bulk issue by producing compact laptop keyboards, but other issues, such as lack of user friendliness, negated the enhanced portability.
It was not until some manufacturers began to construct foldable laptop keyboards that users enjoyed both portability and performance advantages. The keyword here is "some", as some foldable laptop keyboards provide the advantages of enhanced portability, keyboard layout convenience, and user-friendly half dome keys. On the other hand, many foldable laptop keyboards are plagued by reliability issues, navigation difficulties, and a keyboard that locks when closed, but does not lock when it sits in a user's lap. The creation of a universal foldable standard, which computer experts expect to happen soon, should enhance the experience of owning a foldable laptop keyboard.