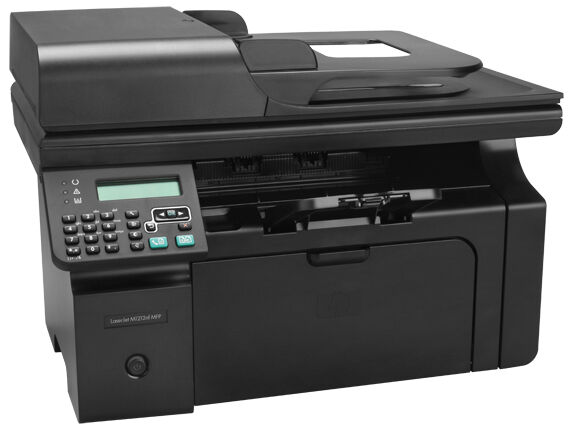 Traditionally copiers, fax machines, scanners, and printers have been standalone devices. However, today the multifunction printer, or MFP, incorporates the best of all these devices into one unit. While this may seem to be the answer to every office manager's prayers, the truth is that there can be benefits and drawbacks to this arrangement.
When looking for a multifunction printer, also known as an all-in-one printer, be sure to investigate all of the pros and cons of multifunction printers before buying one. While multifunction printers are more cost effective and take up less room in an office, some are not easy to upgrade, and with some models the user can only use one function at a time. There are several different models of multifunction printers available, and which to choose should depend upon the needs of the user and the office. Multifunction printers can available from traditional brick and mortar computer stores, as well as some department stores. Shoppers should also check online auction sites. eBay has thousands of listings for multifunction printers to choose from.
The Pros of Multifunction Printers
Multifunction printers, or MFPs, are generally found in two varieties: copier-based, and printer-based. Generally speaking, the printer-based MFP offers more benefits than do copier-based MFPs. It is much less expensive to buy a printer-based model than it is to buy a copier-based models. What follows is a list of the various pros and cons of multifunction, or all-in-one printers.
Convenience
With a multifunction printer, an office can make use of a variety of machines, including a fax, a printer, a document scanner, and copier. With a multifunction printer, all these pieces of office equipment are all combined into one convenient unit. Not only does a multifunction printer save money, but it also saves the user time, too, because one can perform multiple tasks in one location in the office, rather than having to run around to separate locations to fax, copy, scan or print. For satellite offices or a workplace spread out over several floors in the same building, a multifunction printer is a low cost way for a business to meet the individual needs of various departments. There is no need for someone in the accounts department to hop a lift up to marketing to use their document scanner and vice versa.
Space Saving
With a multifunction printer there is no need to find extra space to fit multiple units into the one working space. In order for each team in a company to be independent of the others, the workspace would have to be kitted out with a copier, printer, and fax machine. Scanning can be done on most fax machines, so a separate scanner is not always necessary. Some offices do have separate scanners for high-resolution scans of photographs and for digital archiving tasks. Each machine needs its own area in the office. Accommodating several of these machines takes up valuable space that can be better utilised. Additionally, when there are multiple machines plugged in to separate outlets, there is also a tangle of cords to contend with. Each machine needs its own network cable, Internet connection, and power supply.
With multifunction printers, the number of machine required is kept to a minimum. This reduces the space the machines occupies, with potential savings in rental costs. In addition, the number of cords required is reduced from five to three, and because only a single machine needs to be powered, a multifunction copier helps a business reduce electricity costs.
Cost Effective
For any small business, especially a very small business, costs for running an office are always of great concern. With multifunction printers the initial cost may be higher than the individual price for fax machines or printers, but the savings over the long term are more favourable. Multifunction printers provide the benefits of several pieces of office equipment without the associated cost of buying and maintaining several separate pieces of office equipment.
Energy Savings
Multifunction printers usually only have one power cord. This is important for several reasons. Not only does this reduce the often annoying tangle of multiple cords associated with plugging in several machines, but with a multifunction printer, an office can make significant savings when it comes to electricity usage. Less electricity usage translates directly to savings on the electric bill. Not only that but an energy-saving multifunction printer is good for the environment. Therefore, an environmentally-conscious workplace looking to reduce the office's carbon footprint should consider investing in a multifunction printer.
Speed
Multifunction printers often perform faster than standalone printers. Because of their multifunctional nature, these units have to prioritise jobs coming in and get them out quickly. This can be especially helpful when a large printing project must be completed, or when it is essential to have copies made as quickly as possible
The Cons of Multifunction Printers
There are a few disadvantages associated with using multifunction printers. Although this type of device is clearly more compact, and more cost-effective when used for a variety of office-related tasks, some of the same features that are so beneficial can have their drawbacks, too.
Expensive Repair Costs
The fact that the multifunction printer has several different office machines all rolled into one makes it a definite space-saving device, but if one of the components stops working, the costs to repair a multifunction printer can prove pricey. In addition, because the components share electrical circuitry, if one feature on the machine fails, the machine may stop working entirely until the faulty unit is fixed. In other words, if the fax stops working, both the copier and the printer may go offline, too.
Downtime Costs
As stated previously, if the multifunction printer stops working, until the unit can be repaired not only is faxing feature unavailable, but printing and copying is also unavailable to the office for the duration of the problem. When the cost of using an outside source for all office printing, faxing, and copying is factored into this scenario, the resulting cost can be substantial. Until the unit is fixed, faxes, copies, and any printing need to be paid for at another location or outsourced to another department.
Lack of Features
Although the multifunction printer is convenient, because it incorporates more than one office device into a single unit, the features only offer basic functionality when compared to standalone devices. For instance, standalone fax machines may have more advanced features, such as a duplex faxing option, or a phone that can be used separately from the fax machine. Most standalone printers come with myriad features and options, such as accommodating different sizes of paper and paper weights, as well finishing options like stapling, sorting, and even document collating. Sometimes the multifunction printers lack these kinds of features. For instance, many MFPs cannot provide duplex printing.
Inability to Use Multiple Functions at One Time
When a multifunction printer is required for a busy office, the expectation is that it can perform a whole slew of tasks at the same time. While a multifunction printer can boast a variety of functions, it cannot necessarily perform all these functions at the same time. For instance, if there is a big printing job that is in queue, the copy function cannot be utilised until the printing is finished. This is because both features pull ink or toner from the same toner reservoir. If an item needs to be faxed, it has to wait until the scanning project is complete. This can prove costly to a company as one job may end up holding up another job that is more important.
Lack of Colour Printing Options
Some multifunction printers can only print or copy in black and white. Generally this is because the unit uses the same ink for each of the functions, making it more feasible to have one colour ink for the unit rather than several, as with colour printers. This can be a problem for offices that require coloured printing. Oftentimes, the colour ink option on multifunction printers costs more much more when compared to black and white multifunction printers.
How to Find a Multifunction Printer on eBay
When you are ready to take the plunge and buy a multifunction printer, begin your search on the eBay home page, where you will find a search bar. To begin your search simply type keywords into the search bar that describe what you are looking for. For instance, you can enter, 'all-in-one printers' into the search bar and the local search bar displays all the relevant listings. You can narrow your choices down by using the filters on the results page. You can sort the listings based on the condition of the multifunction printer (new or used). You can also specify a particular manufacturer or a favoured name brand.
Once you have chosen a printer you want to buy, carefully read the listing and note the machine's specifications. If you feel that the description is not detailed enough and you would like to learn more, simply ask the seller some questions. To contact the seller, navigate to the seller's member profile, via the seller's username in the listings, and click on the contact link.
Conclusion
Buying a multifunction printer can be quite costly, as they are generally more expensive than other types of printers. However, the upside of paying more for this type of printer is that there are several functions all rolled into the one machine. Many businesses are always looking for ways to reduce their costs, and when the prices of individual office machines are tallied against the cost of a multifunction printer, the savings can be quite substantial. Multifunction printers have a much smaller energy footprint than other types of printers, which is also a big selling point for businesses going green or want to make savings on their energy bills. In addition, some multifunction printers can perform more than one operation at a time, which can reduce the cost of electricity associated with operating multiple office machines at the same time.
Before buying a multifunction printer it is important to consider not only the benefits bust some of the drawbacks too. Multifunction printers can be found in a variety of locations, such as some department stores, office supply stores, specialty printer shops, and even at online auction sites such as eBay.