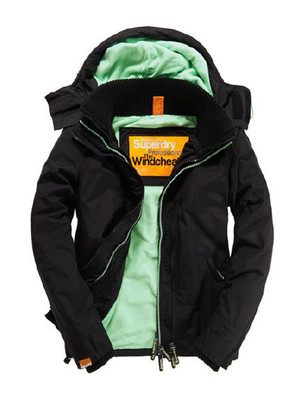 Windcheater
Fantastic buy for cycling........
Well recommended.
Lovely fleece lining.
Keeps the wind away.
Something to consider
This jacket has been a fantastic buy since the weather has changed. I certainly needed it to keep the warmth in whilst cycling to work in the mornings. It has lovely long arms and a thumb hole so the selves cover the hands. This is good for those that like to pull the arms right down. There are three different zips at the front of the coat, this gives you three layers at the front if you wish to have them all done up, or if you are feeling the warmth and want to let in some air then undo one or two of the zips.

The inside is a lovely peppermint green fleece, soft lining to keep you warm and has a great collar and hood to keep the wind out so whilst you are cycling, running, walking it keeps the heat in and prevents the wind catching you.

Also on the jacket is an embroidered Superdry shoulder logo and then there is a Superdry logo tab on the right hand cuff.

I would certainly recommend this jacket to those that suffer from being chilly. It is definitely worth the money.

I have done this review to help in the Bzz Campaign as part of the New ebay guides.