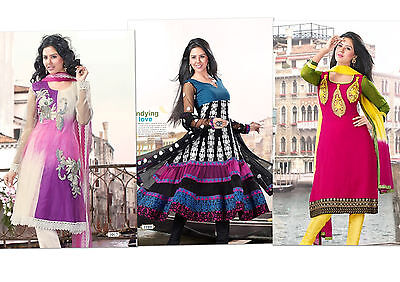 Today sarees and salwar kameez sets a new trend and fashion in market or in bollywood too. The colors and style of beautiful clothes that are worn gives a stunning look and essence of femininity to the women.
Kurtis and tunic top is a great addition when worn with legging, trousers, jeans and Capri. kurtis are comfortable and accentuate the body with ease of movement. They are available in different fabrics according to weather which also suits your body nature. There are so many kurti which are simple but with contrast of pajamis and dupatta will give a great look. It is easy to find kurtis and salwar kameez according to occasion even for day today life. Now a days anarkali suits and chudidar pajama in demands for occasions. Great combination of embroidery and colors allure the beauty of dress and makes you ravishing also available for all ages. Indian Pakistani Designer salwar kameez and Designer Bollywood salwar kammez and suits are in demands and makes you feel like stars.
Sarees have their own identity in the fashion world. Mostly in bollywood actresses wear sarees in movies, event shows and Sari is a versatile garment that suits women of all ages, shapes and sizes. Demand for fashion designer sari by Hollywood and Bollywood actresses for red carpet occasions is an evident that saris have acquired respectability worldwide. Generation to generation sari change its draping style from nivi style, gujarti, marathi, Bengali, oriya style and so on. But today's generation want traditional look of sari but without inconvenience of draping sari.
So designer's come up with innovative ideas with minimum draping fuss. Here come new lehenga cum saree in which u just need a simple drape you don't have to make pleats. Sari's turned into sexy and glamour's avatar .The glamour quotient of saris raises the oomph factor by showing off their curves. The pallus of saris are narrower and show off more cleavage now. Blouses have more daring cuts. In Indian corporate culture, saris are required to be worn in an elegant manner avoiding navel exposure. Today designer put their efforts and creativity not just in style of saree but they also play with new fabrics, prints, embroidery beade or stonework. Use of new shades of colors and some contrast work give saris an exclusive look. Saris mostly wear by every age of women especially in occasions which enhance the femininity. So go ahead and allure others.
Ansaonline is a prevailing online shop where you get all designer Indian and Pakistani suits, bollywood designer saris at reasonable rate. We deliver our designer wear to United Kingdom, Us, and all over world.