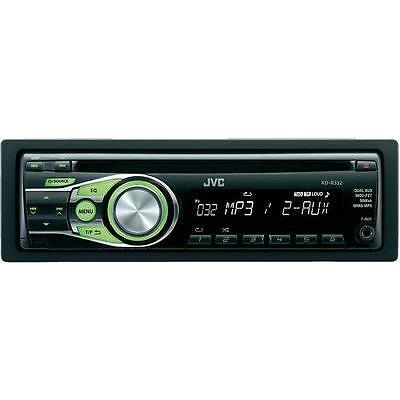 Head units, also know as decks, provide a unified hardware interface for various components of an electronic media system. The head unit is typically located in the centre of the dashboard. Modern head units come with a detachable face, and often times, are subject to theft, therefore many come integrated into a car's alarm system. The original equipment manufacturer now comes with more advanced head units, such as secondary instrumental panels. While the appearance of head units are aesthetically appealing, they also play an important function. Car stereo head units can be purchased at electronics shops, department stores, and the online auction website, eBay. Purchasing the best car stereo head unit can seem like a daunting task, but with the right research it should not be a problem. There are many factors to consider that help during the purchasing process including: features, design, size, and installation of the car stereo head unit. The possible different features encompass: sound, tuner, CD, portable music sources, GPS navigation, and Bluetooth.
Car Stereo Head Unit Features
The features included in a car stereo head unit are up to a buyer's personal preference. For example, cassette players are still included in some car stereo head units, and a buyer may be looking for that particular type. While many people have advanced to purchasing head units with CD players or MP3 players, there are plenty of options for everyone. The head unit is the brains and command centre for a car's audio system. The head unit controls the car's sound, tuner, CD player, portable music sources, and GPS navigation.
Sound
Some people are fine with their original manufacturer stereo, and some are not even aware of the sound quality that they are are missing. With higher-quality car stereo head units, the volume, band, frequency, speaker balance, speaker fade, bass, and treble improve.
Tuner
The tuner refers to the car radio including AM/FM radio, HD radio, and satellite radio. HD radios pick up the same radio stations, but in high definition, providing for a better sound quality. Satellite radio offers subscription services with commercial-free listening. If a buyer is interested in satellite radio, it is important to make certain that this feature is included in the head unit, or else a separate tuner needs to be purchased to play satellite radio. The tuner is part of the head unit and is used to adjust the stations. The antenna is a vital feature for making the radio tuner function. Historically, antennas were long and silver, but now car manufacturers have developed a new shark fin design for a more efficient, aerodynamic design and a more modernised look.
CD
Some people are not ready to give up their CD collection just yet and make the switch to portable music sources, therefore, having a head unit with a CD option is essential. Another option for listening to music is through the CD player.. They are the main non-radio audio source in automobiles. Head units have the ability to control remotely-mounted CD changers. For example, some cars come with a six disc CD changer that is located in the boot, and the head unit has the ability to change the songs and the CDs.
Portable Music Sources
Most car stereo head units have the capability to play portable music sources, such as MP3 players, iPods, and Bluetooths. The head unit has the ability to do this via the aux in jax plug, USB ports, and wirelessly, respectively. For an MP3 player, songs are adjusted on the actual device and only the sound is controlled on the head unit. Also, when using the aux in jax, the MP3 player is not charging. When using a USB to connect, most car stereo head units have the ability to control all of the settings, such as changing the songs and the volume. Another benefit to using the USB is that it charges the music player.
Bluetooth has the ability to wirelessly transmit music files from a compatible device to a car's audio system. The only drawback to the Bluetooth is its limited functionality. The controls are basic to pause, skip, forward, back, and the singer and song names do not appear on the head unit. Another advantage of a Bluetooth-ready head unit is for mobile phone purposes. A buyer can use a mobile phone through the head unit and drive with both hands on the wheel, providing a safer environment.
GPS Navigation
If a buyer selects a head unit that has video capability, then GPS navigation becomes an option. GPS navigation generally requires a disc or hard drive and an antenna that is positioned on the back of the car, in order to track the car's position. A head unit with GPS navigation is generally more expensive than purchasing a handheld navigation system, but the perks and ease of use are well worth it.
Design of the Car Stereo Head Unit
The design portion of the head unit is an important factor because it affects how easily a buyer is able to use the head unit. In one way or another, the head unit has to have a button or a digital screen that lists the features discussed in the section above so that they can be used. Additional features that may come with car stereo head units are a detachable front panel and a remote control. For security purposes, it is recommended to remove the front panel from the head unit when not in the car to defer any thieves from wanting to steal it. The remote control feature gives passengers in the back seat the opportunity to control the head unit.
Installation Specifications
The most important aspect when purchasing a car stereo head unit is that it fits into a buyer's car. When reviewing the head unit specifications, it is important to know the height, width, and depth. DIN is the terminology used to describe the physical size of the radio. Most cars come with one of three sizes including: single DIN, double DIN, and a DIN and a half. The number of pre-outs on the head unit directly affect the sound quality of the stereo, and it is another important consideration. The specifications should also list if the head unit can be controlled by the steering wheel. When it comes to installing the head unit, refer to the manufacturer's instructions because each head unit varies.
How to Buy the Best Car Stereo Head Unit For Your Vehicle on eBay
In the end, a buyer must decide which type of car stereo head unit is the best fit for his or her car. eBay offers thousands of options when it comes to purchasing car stereo head units, from the style of the head unit to the features included. The keyword search is the simplest way to search for car stereo head units. Fortunately, there is a search box on every eBay page. In the search box, a buyer can type in specific keywords, such as "head units&". After clicking search, thousands of selections appear in the search results. If a buyer wants to browse through a smaller product listing, then he or she just has to enter more specific keywords, such as "head unit with MP3 player&", and the targeted list is much smaller.
Feedback allows a buyer to determine the legitimacy of a seller and review his or her past transactions. All of the feedback ratings from buyers within the last 12 months are posted on a seller's eBay history. Feedback is advantageous to a buyer because it provides a buyer with a seller's past interactions, and allows a buyer to make an informed decision before purchasing. Feedback is beneficial for a seller because it allows a seller to improve his service and attract more buyers to his page through positive feedback.
Conclusion
Car stereo head units come with a variety of features including: sound quality, tuners, CD player, portable music sources, and GPS navigation. That being said, the right type of car stereo head unit is ultimately a buyer's own personal preference. Before purchasing a head unit, it is recommended that a buyer complete some research to gain a better understanding of which type of head unit best suits him or her. For example, if a buyer prefers listening to music via an MP3 player or iPod, then maybe a head unit with a CD player is not necessary. Also, a buyer may be interested in having a navigation system and radio all in the same system just because it is neater and easier. Fortunately, eBay provides a wide variety of car stereo head units to meet every buyer's needs.
Two other important considerations include the style of a head unit and the installation specifications. The style of a head unit can include a detachable front panel used for security purposes. Finally, installation specifications are most important when it comes to purchasing a car stereo head unit because, ultimately, they answer questions regarding a head unit's size.