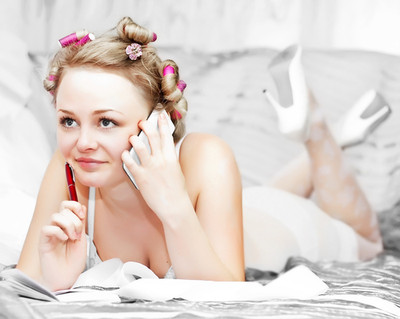 Invitations play an important role – not only do they convey a couple's discerning tastes or laid-back personalities, they are also essential reading for guests. It is advisable to set a budget when planning a wedding and be sure to include wedding stationery in this. Making a list of everything you want to include before settling on a design will ensure you have enough space to print all the details (See Table 1 below). Focus on where and when your marriage is taking place, and the time your ceremony begins. Include RSVP instructions and a preview of your reception plans.
---
Types of Invitation
Printed wedding invitations have timeless appeal, especially in a digital age. They come in all shapes, sizes and styles, and can be embossed on fine stationery, or hand-made around the kitchen table with glue, scissors and love. Your invitations are your first chance to set the scene for your big day, so consider coordinating them with your wedding theme, flowers or venue.
---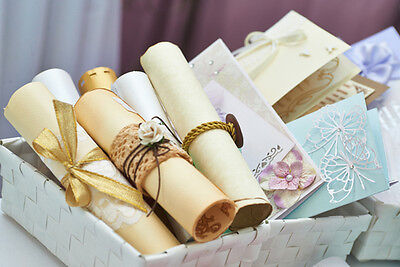 Six Tips for Choosing Wedding Invitations

1. Bring your wedding theme to life
Invites should bring your wedding theme to life, whetting guests' appetites for a unique celebration. Whatever your colour scheme – pretty pastel shades, monochrome or autumnal tones – there's an invitation out there to match. It just might take a little time to find it.

Spend an afternoon browsing products online, from crisp white cards through to personalised invites that reproduce your most romantic photographs. Still torn between folds, frilly fonts or handmade? Factor in some time to review some examples close-up, by visiting a nearby stockist. Or, eBay sellers can provide samples to help you with the decision-making process.

2. Save the date cards
Congratulations if your ceremony and reception venues are already booked. However, if this is yet to be decided, your formal invitations will have to go on hold temporarily, at least until you connect some dots between the evening's entertainment, catering and accommodation. One option is to send out Save the date cards in the meantime.

These simple little messages relieve some of the pressure and let loved ones know which day to keep free for your celebrations. Save the date cards work well when they echo a wedding's overarching theme, but you don't need to be too fussy about them. You can save the decoration and personal touches for your formal invitations.

3. Make savings
Keep your invites light to
make savings
at the post office. Fitting every last detail into a slim invitation can feel daunting, but it's definitely doable and your bank balance will be healthier for it. Try to keep your message short and sweet, by following the time-honoured wording that comes recommended by sellers. Resist irregular-shaped stationery and extra-large envelopes. Saving some of the embellishments for the big day – for the order of service cards, menus, place cards, and so on – may help.
If you are creative and want a truly unique style of invitation, however, consider designing and making your own. Buying the bits and pieces – card, sprinkles and the like – is easy, with huge ranges of
craft materials
found online. The style may be traditional and incorporate cream card and gold lettering, for example, or contemporary – a simple red heart cut from a piece of card with a rustic loop with which to hang it up can both be effective. If the task of making them yourself seems daunting, why not get a group of friends and family around to pitch in and help?
4. Proof-read your invitations
Even if your nearest and dearest prefer their nicknames, many people stick with tradition and address all guests by their full names and salutations. Be sure to use the correct spellings and double-check both names are correct. Cast a careful eye along every name on your list before putting pen or ink to paper.

Spelling mistakes are not the done thing. Triple check you have spelt parents' names, and the name and address of your venue, correctly. Many wedding invitation sellers will email you an electronic proof before starting work on your order. Proof-read your wedding invitation until you are 100 per cent happy. Find a quiet time and place to review the final proof, and for extra back-up why not ask a trusted friend if she or he would mind doing the same.

5. Buy extra wedding invites
It's sensible to bump up your quantities a notch when ordering wedding invites. This way you'll be fully prepared for any additions or amendments to the guest list, and nobody need worry if they misplace their original copies. Buy more invites than you need by rounding up your order by 20 to 25 sets of cards and envelopes. This way you will have bought extra peace of mind, and treated yourself to some wedding keep-sakes.

6. Mail invitations in plenty of time
Word-perfect wedding invitations should be in the mail three to four months in advance of your big day. If you've sent save the date cards, guests will be looking forward to seeing a formal invite. Asking people to RSVP to an email address, by a fixed date – usually a month ahead of your wedding – is common practice these days. Reply cards are the traditional way of accepting or declining a wedding invitation, and may be printed alongside your invitations in a matching design. These days there is no obligation to affix stamps, but the choice is yours.
---
What Next?
You will no doubt have perused the mind-boggling array of
wedding dresses
that twinkle from every bridal shop window and online outlet, but there is still plenty to do. Now that your ceremony venue and party plans are public knowledge, grab your guest list and start ticking off all those replies. If you need to finalise numbers for the caterers, transport or to draw your seating plan, start totting things up straight away. There will no doubt be another hundred things looming on your "To Do" list!
---
Summary
Have fun choosing your invitations
Sending out wedding invitations is a special process, and one that sets the ball rolling for a monumental day shared with family and friends. If you give the process due care and attention it can be an enjoyable and exciting task. The style of invite you chose paints a picture in guests' minds about your celebration. A luxury wedding invitation sets the tone for a chic, traditional affair, and a modern vintage postcard or photo card suggests a more informal gathering. Bear this in mind when shopping for your invites, to make sure you are putting the correct impression across.
Research invitation designs
Browsing the myriad invitation styles online helps you appreciate the ins and outs of typography, paper stock and wedding invite etiquette, and sellers will guide you through the process from design and content to dispatch. There's no end of varieties to pick from. Materials range from silk lined card to pearl coated paper and smooth matt, in gate-folded, postcard or laser cut designs. Get your hands on plenty of samples, until you are certain of your ideal paper weight and finish.
Time factors
Remember to allow anything up to four weeks for speciality cards to be hand-crafted, and rigorously check every last word for mistakes before the printing process begins. Liability for mistakes spotted on the printed cards will be yours, and reprints or reorders can be costly. By keeping an open mind, shopping around and having an eye for detail, your wedding invitations will make you smile and mean the world to the most important people in your life.



Text
Notes

Date

Names of the bride and groom

Ceremony venue

Reception venue

Start time(s) and end time

Personal message


Indicate it is a wedding – eg, Mr and Mrs xx request the pleasure of xx's company at the marriage of their daughter…

RSVP details

Who to reply to, by what date/address/or email address

Include with your invitation

Directions to the venue(s)

A map is helpful, perhaps include GPS coordinates

Wedding gift information

E.g., our gift list can be found at www…/please give to xx charity/and so on

Hotel/accommodation booking details

Indicate if there is a special rate for wedding guests, how many rooms there are, rates, etc.