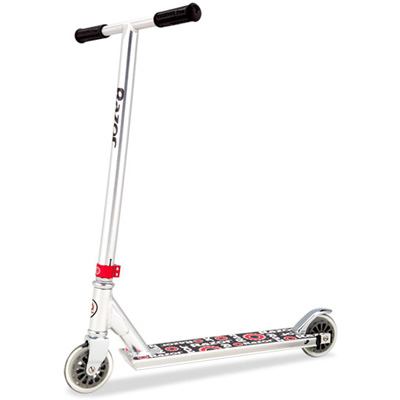 A push scooter, also known as a kick scooter, is a human powered mode of transportation where the rider pushes the vehicle with one leg while resting the other leg on the deck. For motion and manoeuvring, it's similar to a skateboard, but a clear difference is that it has a handle bar for steering and balance. Using a push scooter can be enjoyable as a leisure pursuit, especially for kids, and can be used by professional stunt athletes as well. There are many types of push scooters including ones that can fold up, are semi-electric and have additional wheels. All varieties are available to purchase on eBay, as well as the accessories you can use to personalise and enhance your scooter.
Push scooters can be customised to make the experience of riding more enjoyable and functional depending on the purpose. Riders also enjoy customising their push scooter with aesthetic embellishments. It can be for personal enjoyment or it can be used for team or brand recognition during competitive racing and stunt events. Elements which can be customised include:
It's recommended that safety gear be worn while riding. There are different accessories that can be bought for increased safety. Safety accessories include:
Components of a Push Scooter
Handlebars
Scooter
handlebars
are used for balancing and steering. Until recently they were all made of steel. In new scooters, lightweight handlebars are used for increased speed and more convenient transport. They can be made of aluminium or steel, and are available in different designs and shapes.
Ideally, the scooter handlebar should be strong enough to provide sufficient balance, steering and handling. When bars are individually welded, they provide better strength. Standard bars are between 460 mm to 500 mm.
Many scooter bars are interchangeable with other products, so it is recommended to check exact measurements and making sure it fits with the scooter.
Clamp
Located above the headset, the
clamp
should be strong enough to secure the deck, fork and handlebar together so that they rotate in sync and do not slip apart from each other. There are many different clamps and several styles of clamps available.
Usually a double clamp is required for the attachment onto the scooter deck, though using a single clamp is an option for other models. Additional support and strength for the scooter bar can be incorporated with clamps, compression kits and pegs.
Deck
The scooter deck is the base of push scooter. All other parts of the scooter are attached to it. Decks come in various shapes and sizes, ranging from flat to concave decks, commonly made from aluminium, steel or hard plastic for children.
Advanced riders who want to travel fast and do stunts normally opt for a small and light deck. Depending on the style of riding such as Street or Park, the deck should be carefully selected for the best performance. The trick is to find one that can be easily manoeuvrable, but also sturdy. Those who ride for leisure normally opt for a slightly wider deck, allowing for easy balance.
There are two general styles of decks:
Standard – the head section (headtube) of the deck have two bearing cups pressed in to it.
Integrated - Many freestyle scooter decks have an integrated head section (headtube), which is welded onto the deck. The headtubes and headsets also differ between certain models. Normally no special tools are required for attaching the headtube to the bar. This makes assembly of the scooter a lot easier. They normally cost more than standard decks.
Fork
A scooter fork is used to connect the wheels. Threaded and threadless are the two main types. The forks are used to hold the front wheel in suspension in order for the wheels to easily rotate, with free pivoting and steering. Forks are necessary for the proper functioning of the push scooter, without it steering and manoeuvring will not be very difficult.
It should be easy to attach to the deck. Check that the fork is compatible with the wheel size. Additional nuts and bolts would be needed to attach it to the wheels. Some forks can be fixed with clamps, so careful research on which type is compatible with other scooter parts is important.
Forks come in two types:
Zero Offset - the axle is located in relation to the centre line of the fork. This means that the axle is located right in the middle, whereby the wheel will be in the same location regardless of whether the bars move backwards or forwards.
Regular – normally has around 10mm offset, which allows for a good amount of "trail", meaning better handling and steering of the push scooter.
Wheel
The wheel is another basic accessory for the push scooter. A push scooter has two different kinds of wheels. The front wheel is a single wheel and it is larger in size while the rear wheel is smaller. Many wheels for push scooters are manufactured with polyurethane which gives the required strength to the wheels while absorbing shock from the ground for a smoother ride.
Riders will have their own choice of wheel composition made of different compounds. The choice of wheel will determine the wear, grip and rebound of the wheel. Those made from a lower quality may wear out quickly, exposing the metal core, as well as making the scooter unstable and uncomfortable to ride.
The wheel's inner core is normally made of aluminium or steel. An important feature of the wheel is its low resistance, which is required for better speed. Some riders prefer to have small wheels, which are thin too, as they offer less resistance. The thickness of the wheel is usually 100mm; while you can also find 98mm wheels available.
Wheels are normally sold individually with no additional components. Some brands provide matching bearings for the wheels.
For some push scooter models with the option of three or four wheels, replacement wheels can be purchased.
If wheels are not properly maintained or loose, there are increased chances of an accident due to instable balance. It's advised to have replacement wheels at hand in case they wear down from rough terrain or from extended use.
Handlebar grip
These are sold in a pair to fit both sides of a handlebar. Various material, textures, shapes and sizes are available for better grip of the bar. They should slot in immediately to the bar, though the correct size must be checked first. Besides providing increased control and grip, it absorbs shock from the front wheel so the experience of riding can be more enjoyable. Grip tape can also be purchased for stylish customisation of the grips.
Brake
The brake is attached to the scooter either through a bolt on the top or the side of the deck, or through a real axle via the brake carrier.
There are two types of brakes:
Pivot brake – normally used for beginners, they are designed to pivot around an axle. When it's not in use, it's held away from the wheel with a spring. Eventually, the integrity of the spring could diminish which stops the brake from releasing itself fully from the rear wheel. This kind of brake is prone to damage if over-used in the freestyle environment. But for beginners and those who use push scooters for easy-paced recreation, it should work fine.
Flex brake – normally purchased by intermediate to advanced riders. They are made of once piece of metal that is bolted to the back of the scooter, right in front of the rear wheel. Using the natural flexibility of the metal (normally steel, aluminum or a combination), the brake can be released from contact with the rear wheel. It is lightweight and durable. Depending on the model, it can last long even when the rider performs stunts or rides at a high speed.
Both types of brakes are effective, and should be carefully considered depending on what type of environment it will be used in. It is very important to get brakes that work properly and are not worn out as it is a vital part of safe riding.
How to buy push scooter accessories on eBay
eBay is a great place to find accessories for the push scooter. Whether it is to customise parts of an existing scooter, or whether the buyer wants to create a fully customised version, the various parts will be easy to find on eBay. First, type into the search box 'push scooter '. If the buyer already knows what accessory to purchase, the keyword can be entered in the search box, for example 'push scooter brakes'. eBay makes it easy to refine the search category. There are quick links right under the search bar for some of the most popular models and parts. There are also search categories where a buyer can refine a selection based on condition, price, location of item, brand, seller, and delivery options. Most sellers will have matching components which can be purchased individually.
When searching through listings, carefully review all the data. Make sure the item matches what you had in mind. Look over the photographs a couple times. Feel free to Ask the Seller a question if you want additional details. Visit the Buying Tips page for more information.
Once you're ready to buy, either place a Bid, Buy it Now, or put down your Best Offer. Buying with PayPal will ensure the transaction will go smoothly. eBay users are protected by the Buyer Protection Program.
Conclusion
There are different types of push scooters available on eBay depending on what it where the scooter will be used. Beginners as early as 3 years old can ride a push scooter, normally with a light frame, broad deck and 3-4 wheels for balance. Riders who are more advanced can purchase push scooters that have various functionality, depending on which style of riding it is intended for. For increased control, durability and functionality, the parts of a scooter can be interchangeable with different types of bars, decks, headsets, wheels, brakes and grips.