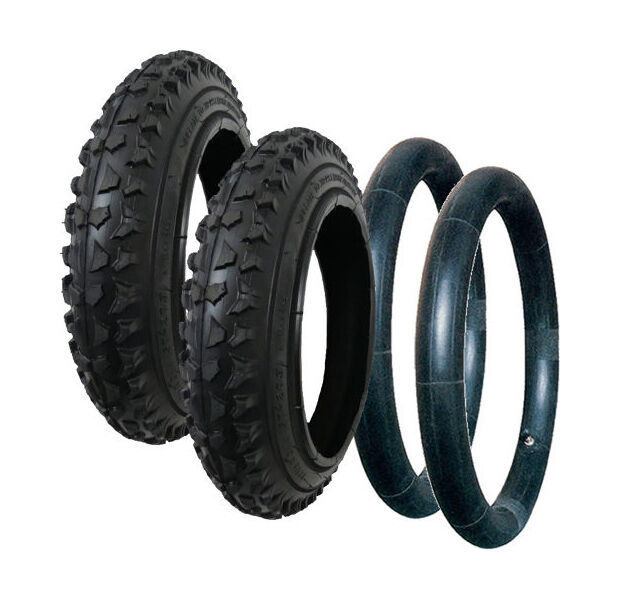 Baby gear expenses can quickly add up both before and after the baby arrives. Pushchairs are one of the most important pieces of gear, and they are also one of the most expensive. This is why it can be a pain when pushchair parts break or wear out. Parents have to decide if they want to repair the pushchair or buy a new one. The cheaper option is to make the repairs. Fortunately, it is relatively simple for parents to find replacement wheels for pushchairs.
Before buying these replacement pushchair wheels, parents need to be sure they know the type and size of wheels they need. Since most pushchair brands use their own pushchair wheels, a set of wheels compatible with one brand of pushchair may not be compatible with another. By researching the different types of wheels, determining which wheels and what parts are needed, parents can bring a worn out pushchair back to life. EBay is an online marketplace where shoppers can find a large selection of pushchair wheels at reasonable prices.
Why Buy Wheels for a Pushchair?
The wheels are the part of the pushchair that experience the most wear and tear. They wear out quicker when they roll across rough terrain and uneven surfaces. As the wheels wear out, the pushchair becomes harder and harder to push and manoeuvre. Just because the wheels are worn out does not mean that the entire pushchair needs to be replaced. Simply replacing the wheels or tyres can restore the pushchair to near new condition.
Types of Pushchair Wheels
There are nearly as many types of wheels for pushchairs as there are models of pushchairs. For the most part, wheels are made from the same basic materials. They differ in their sizes and designs. When shopping for replacement pushchair wheels, parents often have the opportunity to upgrade the wheels or purchase a different type that is better suited for their needs. The two materials that are most commonly used to make pushchair wheels are plastic and rubber.
Plastic
Hard plastic is formed into the shape of a wheel and installed on the pushchair. These types of wheels are lightweight and inexpensive to make. Unfortunately, these types of wheels do not work well on rough or slick surfaces, and they provide no traction. These types of wheels work well on level ground and for short commutes. People who plan to use the pushchair often might find that these wheels do not wear well. If the wheels become locked and drag on the ground, then they can become uneven and harder to push. However, a parent looking for inexpensive replacement wheels for a pushchair that is only used occasionally may find plastic pushchair wheels to be a good choice.
Rubber
Rubber and rubber-like materials are also used to construct tyres and wheels for pushchairs. These wheels are extremely durable, and they can handle many different surfaces and stand up well to frequent use. Some wheels are made from solid rubber, while others have an outer layer made of rubber, with an air-filled inner tube inside. Both types of rubber tyres have their benefits, and both are a better option than plastic wheels for people who use their pushchairs on a regular basis.
Other Pushchair Wheel Parts to Consider
When replacing the wheels on a pushchair, it is important that the shopper purchases all of the needed parts and tools for switching the old pushchair wheels for new. The exact parts that a person needs depends on the brand and type of pushchair. Before making a purchase, shoppers should consult the owner's manual for the pushchair to ensure that they know what parts they need to collect. Oftentimes, shoppers find that all of the required parts are included with the wheels, but it never hurts to be prepared.
Inner Tubes
Inner tubes are commonly seen in bicycle tyres, but they are also found in several models of pushchair. These thin rubber tubes are fitted inside the tyre then filled with air to the proper pressure. When the tyres are properly inflated, the wheels make the pushchair easy to push and navigate. For air-filled tyres, it is not uncommon for the inner tube to be replaced before the tyres themselves. Parents may be able to save a bit of money by checking to make sure that the problem with the wheels is not just a flat inner tube.
Bearings
Bearings or ball bearings are found on the inner part of the wheel and help the wheel to turn. These bearings are several small metal balls that are fitted inside the wheel to reduce friction as the wheels turn. Without these bearings, the wheels would be extremely hard to turn. Shoppers must be sure that the ball bearings are included with the wheels that they purchase. If not, then they need to hold on to the bearings from the old wheels to fit into the new ones. If the bearings on the old wheels are rusted or otherwise damaged, shoppers should replace them at the same time that they replace the wheels.
Screws and Washers
In order to secure the wheels to the pushchair, people need the appropriate screws and washers. These are used to secure the wheels to the pushchair so that they do not fall off while in use. Most new wheels come with this new hardware, but if not, shoppers should be sure to either hold on to the old hardware or purchase new hardware. It is important for shoppers to inspect the old hardware for corrosion or damage before using the screws and washers on the new pushchair wheels.
Choosing the Correct Pushchair Wheels
Not all pushchair wheels are the same, so shoppers need to be sure that the wheels they purchase are designed for the type of pushchair that they own. There are no one-size-fits-all wheels, and each brand uses its own style and size. Unfortunately, most wheels are not interchangeable with other brands and can only be used for certain pushchairs. Additionally, shoppers need to make sure that they have the right number of wheels and do not spend more than they need to.
Brand
Phil and Ted's, Quinny , and Bugaboo are all top brands of pushchairs. They all also have their own proprietary wheels. This means that shoppers cannot use wheels meant for another pushchair even if they are the same size. Shoppers should check the owner's manual or contact the manufacturer to see which size and type of replacement wheels are required. Many manufacturers allow people to order the replacement wheels directly from them.
Quantity
Some pushchairs have three wheels, some have four, and some have as many as eight. While it is not uncommon for some wheels to wear out faster than others on the same set, it is important for shoppers to purchase enough wheels to replace the ones that are damaged. Buying an entire set is ideal, but it is also possible to purchase the wheels individually, as required.
Price
Price is another important factor to consider when purchasing wheels for a pushchair. Parents have to be careful and make sure that they are not spending more money on the wheels than it would cost for a new stroller. Shoppers should also look for complete sets that contain the wheels and all the parts needed to install the replacement wheels. While they may seem like a more expensive investment, the price per piece often ends up being cheaper overall. Shoppers should also keep in mind that ordering parts directly from the manufacturer is often the most expensive route. Parents should not be afraid to shop around for the best prices.
How to Look for Pushchair Wheels on eBay
eBay allows shoppers to connect with other people who are selling pushchair parts so they can obtain the required parts at reasonable prices. You can find name brand and off-brand wheels that are both new and used. Additionally, you can locate complete wheel kits or individual parts. Because the listings are posted by people from all over the UK, you have a good chance of finding the parts that you need. Locating the best deals means that you need to know what you are looking for and how to search the site to find parts for pushchairs.
Searching for Pushchair Wheels
Since you are likely looking for a very specific set of wheels for your pushchair, a keyword search is the best way to get started. Enter 'mamas and papas pushchair wheel ' into the search bar to find wheels that fit that brand. Alternatively, you could start with a generic search for 'pushchair wheel '. and then sort the listings by brand, colour, price, and more. Once you have the list of results narrowed down, start reading item descriptions and comparing prices to find the best deal. Do not forget to look at the photos to check the condition of the wheels. Also, do not be afraid to contact the seller with any questions you may have about the wheels before making a purchase.
Conclusion
Gear and items needed for babies can become quite expensive over time. This is especially true for the larger items such as pushchairs. Parents who frequently use their pushchairs may find that the wheels wear out quickly. Because the rest of the pushchair is still in good condition, it is hard to justify replacing it entirely. Fortunately, parents are able to purchase replacement parts for their pushchairs, including the wheels and all parts needed to install the wheels. However, the process is not as easy as running to the shops to pick up a set of replacement wheels.
Not all pushchairs use the same types of wheels, so shoppers need to do a little bit of research before making a purchase. They have to find wheels that work with the brand of pushchair that they own. Additionally, they need to find the right type and size as well as any additional parts required for the installation. Fortunately, eBay makes it easy to find and compare the replacement parts for a variety of pushchairs.