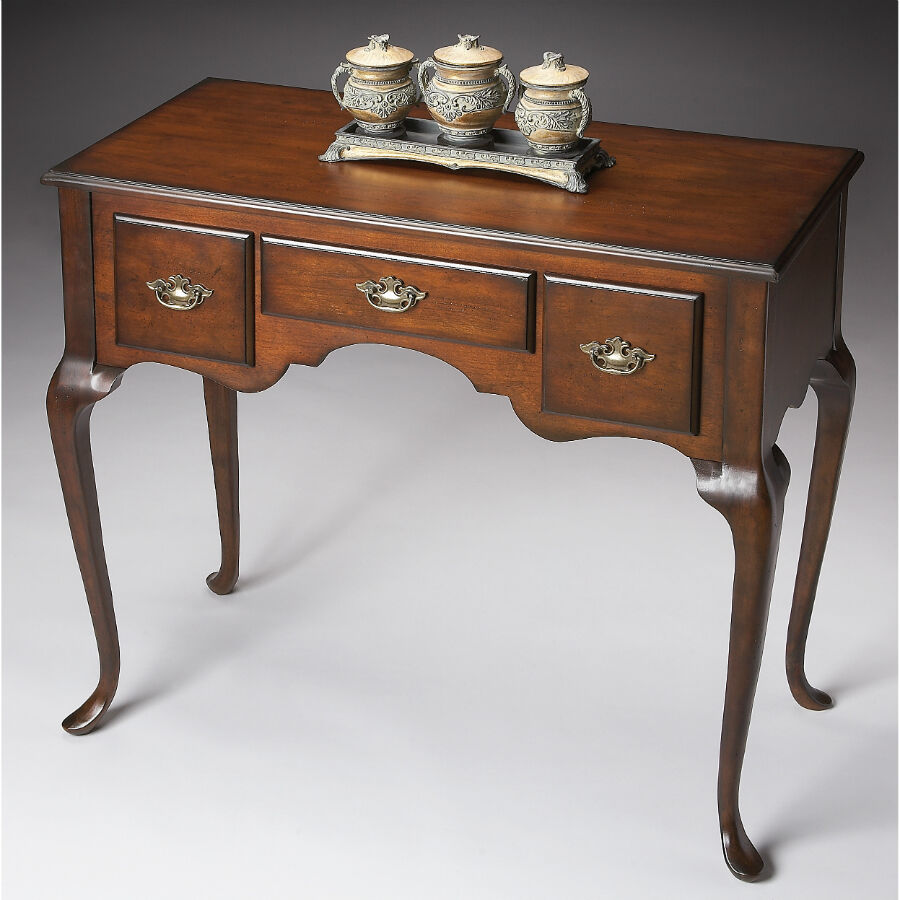 Queen Anne's reign lasted from 1702-1714 and while it was a relatively short period, the development in art, architecture and culture over this period was great. The Queen Anne style of furniture is smaller and lighter than pieces made before, which tended to be heavier and darker. The Queen Anne style is also sometimes referred to as 'late-Baroque' in the United Kingdom.
This guide will provide information about the history of Queen Anne furniture and tables specifically, the parts of a Queen Anne table,, materials used in making one and the factors to consider before making a purchase.
History of the Queen Anne Table
It is believed that English table-makers were influenced by the flourishing Dutch furniture industry and they adopted techniques and styles used by the Dutch. Over time, the English table-makers became skilled at using these techniques and began to develop a style that was their own. This marked the birth of the Queen Anne table.
Queen Anne was the monarch of Britain from 1702 until her death in 1714. But Queen Anne furniture refers to pieces made in that style until 1760, 46 years after the queen died. This period in history was important for many aspects of life, from architecture to literature. Furniture-making in this period is no different. The Queen Anne style of lightness and elegance is still one that is much admired. Its influence on furniture-making can still be seen to this day.
In the previous eras, table-makers had used hard, dark and heavy wood to make tables. They liked hardwood for its durability and sturdiness. During the Queen Anne era, tables were also made using hardwood but they were slimmer and more elegant in design. This meant that the Queen Anne table looked more delicate than its predecessors. That, coupled with the Queen Anne table's customarily elegant design, made it one of the most sought-after pieces of furniture of its time.
Discover a Queen Anne Table
Before the period of the Queen Anne reign, English furniture makers were seen as being a long way behind their European counterparts in terms of design and panache. This was all to change as furniture of the Queen Anne period would become some of the most admired and revered in history.
With its graceful and lighter look, the Queen Anne table was like nothing that the English public had seen before. They were used to hefty pieces that were designed purely for their functionality and durability. The emphasis of the Queen Anne table was as much on elegance and the intricacy of design as it was on practicality.
Parts of a Queen Anne Table
Although it does not have many different parts, the parts that it does have are very important in a Queen Anne table.
| Part | Description |
| --- | --- |
| Legs | The legs of the Queen Anne table were particularly distinctive. Known as cabriole legs, they were curved and often had intricate carvings. They had to be strong to support the top surface and the weight of anything placed on it. |
| Top or surface | Usually smooth, flat and firm. The top surface had to support any objects that may be placed on it. |
Materials Used in a Queen Anne Table
As mentioned previously, table-makers during the Queen Anne period experimented by using materials that had not been used much in English furniture production.
| Material | Description |
| --- | --- |
| Walnut | It is known as a hardwood so it is tough. It can come with a wavy grain that can be very pretty. |
| Cherry | It is also a hardwood. It is sought-after for its rich colouring. |
| Maple | Maple is very durable and decorative. |
| Beech | Beech is light but not very durable or decorative. It is sometimes seen as a cheaper alternative to walnut. |
Types of Queen Anne Tables
Although in historical terms the Queen Anne period is not long, it did produce a lot of distinguished table-makers who made varying styles of table.
| Type | Description | Advantages | Considerations |
| --- | --- | --- | --- |
| Hall table | A small table designed to be put in the hallway near the front door. | · Does not take up too much space. | · Was usually used for storing letters or books. |
| Side table | A small table that would be placed next to a sofa or chair. | · Convenient place to store items next to seated area. | · Was used to store books, letters and other day-to-day items that would be used frequently. |
| Dressing table | A table low in height designed to be pushed against a wall. It was made for women as a place for them to apply their make-up or style their hair. | · Has multiple drawers so is good for storage. | · Usually placed near a mirror for the purposes of dressing and making up. |
| Coffee table | A low table which would be placed in the centre of a living space. | · Large surface top means that lots of books and magazines can be stored on it. | · A favourite type of table in homes across the world. |
| Pembroke table | A medium-sized table used for dining. | · Has extendable leaves which can be extended or tucked away, saving space. | · A popular style of design that has been replicated over the years. |
Factors to Consider When Buying a Queen Anne Table
There are certain things that a buyer should consider before purchasing a Queen Anne table.
Dimensions
Get the exact dimensions of the table. Sometimes it is hard to get a true reflection of the size of a Queen Anne table just from looking at a photograph, which is why asking for the exact dimensions is so important. This also gives the buyer the opportunity to measure up places in their home, with a view to deciding where they want to put the table.
Questions
Ask the seller pertinent questions. In some cases, the description provided may not provide the buyer with enough information to make a decision on a purchase. Asking questions will give the buyer the specific information that they require.
Condition
The condition of the piece is very important. Any mark, crack or blemish on the Queen Anne table may mean that its value is considerably lower than if it were in better condition. The buyer should study the photos provided as closely as possible and ask for more, if required.
How to Care for a Queen Anne Table
By their very nature, antiques are delicate and require a special amount of care and attention.
If the table is being used for functional reasons it is advised that a table cloth is kept on the table as this will protect the table from any spillages or scratches.
If food or drink is being placed on the table, it is advised that placemats and coasters are used. This will ensure that there are no stains on the table.
Wooden tables should be dusted regularly with a soft cloth and polished twice a year with beeswax.
Accessories for a Queen Anne Table
In many cases, a Queen Anne table is of significant value, it is to the benefit of the buyer to consider buying certain accessories.
Chairs – These could complement the table and make a set.
Lamp/ Candle holder – These are useful items that could also enhance the ambience of a room.
Vase – This could work for coffee tables and hall tables.
Table cloth – This will protect the table from spillages and scratches.
Soft cloth – This can be used to wipe way dust and dirt.
Beeswax polish – Polish should be used twice a year on the wood.
Placemats and coasters – These should be used to ensure that the table doesn't get scratched or wet.
Finding a Queen Anne Table on eBay
Once you determine the type of Queen Anne table you want to purchase, visit the Antiques portal< on eBay, click on 'Furniture', then 'Tables' and start searching item listings. The Categories list on the left-hand side of the eBay page helps to narrow the search.
Searching fora Queen Anne Tableon eBay
Search eBay listing titles for specific words when shopping for a Queen Anne table. For example, to find a Queen Anne coffee table, type 'Queen Anne coffee table' into the search box, and then click the Advanced button to customise the results. Also visit eBay'sSearch Tips page for more advice on searching for a Queen Anne table with keywords. If you can't find the exact Queen Anne table you want, try shopping eBay Stores..
Conclusion
Queen Anne tables are known for their style, elegance and delicate lines. A Queen Anne table is a piece of furniture that can add sophistication and style to any home while also giving the buyer a sense of what the golden age of British furniture-making was about. Once you have collected all the information that you need, you can buy a Queen Anne table safely and securely on eBay.