Pencil skirts originate from the hobble skirt of the 1900`s.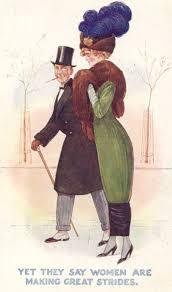 Todays designs are a little different. However, they still have something in common with those of yesteryear .

Designs are still very straight and narrow , ends just above or slightly below the knee and hugs the curves of a woman's body.

The pencil skirt has remained fashionable due to its timeless quality and versatility. They can be worn dressed down with coloured tights in the winter and nude legs in summer. Dressed up and made to look sexy with high stiletto or low Kitten heels.
Before buying a skirt consider where it will be worn. Todays shapes may have a little more versatility as some have splits to the sides or zip to thigh high level , however , their basic function remains that of enhancing the female curves by restricting movement and those below the knee can make it difficult to walk. In essence, the pencil skirt is a great addition to your wardrobe but be sure to buy one that allows you to look smart confident and sexy rather than akward and uncomfotable.