Sending Parcels the Easy way
Everyone buying and selling on ebay uses parcels, parcel delivery is a key part of every ebay sale. Our buide here is some basic informaiton about the parcel systems, the sorting hubs, and the processes that all parcels need to go through. We think it is important that everyone is aware of this because you can then package your item to ensure that the parcel is processed efficiently, promptly and delivered intact.
Why are Parcels so Cheap?
Parcel prices are cheap because they go through a process that is driven by volume. To take a parcel from London the Edinburgh will cost several hundred pounds, to take 100 parcels costs hardly anything extra, and so that's what the parcel carriers do - it's a volume game.
The Sorting Hub
Firstly, think of the processes that your parcel must go through. It is collected from your house, and put on a van. Very rarely will the van be shelved, some of the delivery drivers carry boxes to seperate the larger parcels from the very small ones, but many of them don't . This means that you parcel will be sliding around in the back of the van for around hald a day.
When the van gets to the depot, it is unloaded, usually by a single person taking the parcels out of the van and putting them onto a conveyor belt. Your parcel is now in the sorting hub - think of this in the same light as the Heathrow Baggage Handling system and you won't be far wrong. It's scanned, so that your tracking record shows it up as being delivered to the hub. The sorting hubs are busy places, they have to handle vast quantities of parcels within a very short timeframe.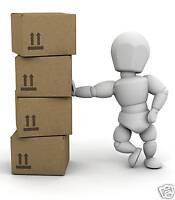 Maximum Parcel Sizes & Weights
Each parcel carrier has different maximum sizes and weights, and this represents the limits that their depots can handle. Around 1.2m x 60cm x 60xm are average dimensions, the normal maximum weight is 30kg.
You have to imagine that the parcel on the conveyor belt following your item is one of the maximum weights and dimensions. You have to pack you parcel to be able to withstand the knocks and bashes that it will inevitably incurr in this process.
Do I have to Box my Item?
Right, now that you've imagined your parcel sliding around in the van, getting unloaded into the sorting hub, goign through the conveyor belts, you've probably answered this yourself.
YES -ALWAYS BOX AN ITEM. Bubble wrap or taped dustbin bags are not sufficient.
Some products come in a case, and senders ask if they still need to box it. My answer would be; would you be upset is the case got scratched or damaged? If the case is part of what you are selling or sending, then yes, you should always still box it.
Some items are just difficult to box, for example car bumpers. However, parcels that are long and thin will get caught up between parcels on the conveyor belts, and in the vans etc, and the boxing protects them.
Again, think back to an Airport Baggage Handling system, dustbin bags, loose coverings, plastic ties etc are all unnecessary objects that will increase the chances of your parcel getting caught, tangled and mangled in the sorting hub process.
So keep it neat, box it well, and leave no bits sticking out.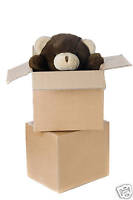 What About Inside the box?
Think about your parcel trundling around the country, it's covering a lot of miles. Travel means movement so to protect the contents of your box you have to ensure that it is only the box itself that moves, not the contents inside it.
Choose your box well. A box that is too small will be weakend by stretching, and if you put your item in a box that is too large it will rattle and break. Fill your box. There are plenty of options, retailers us things like polystyrene chips or moulds, for ordinary people there are lots of cheaper options;
Shredded newspaper, brilliant, flexible and gets into even the smallest of places.

Bubble wrap, recycle your old stuff.

Reuse packaging materials that you've received in your parcels, air bags, polystyrene, anything

Empty boxes, unusual one this, but if you've an odd shaped item in a big square box, then using a smaller empty box to fill the gap works really well

Popcorn (!)
The secret is that the must be no gaps. You want no movement, no rattles. Packing your box fully on the inside makes it stronger on the outside.
Addressing and Labelling your Parcel
Such a simple one this. Check the address details properly before sending. Always make sure that there is a FULL postcode, and you can use postcode lookup sites to check them. All the sorting is done by Postcode, if you put the wrong postcode on a parcel it will either be completley rejected or put on the wrong van.
If your customer/receiver has alternative delivery arrangements you can write this on the box/label too. (eg can be left in the shed at rear of house), this saves the driver taking the parcel back to the depot and having to do an unnecessary redelivery.
If the customer/receiver's location is a little complicated or out of the way, put an extra line onto the label (eg entrance next to ABC carriers).
Getting it Delivered
If your parcel needs a signature then make sure it's expected. Email your customer/receiver and let them know that you've despatched it, and the date that the parcel is due to be delivered. Small steps mean that any delays are quickly identified.
Authors Experience;
And if you're wondering what give the author the experience to give advice on sending parcels, then I used to be a powerseller, seding hundreds of antiques, collectibles, glass, china and furniture all over the world. Many using standard parcel services. Parcel problems cost us money, so we developed the best practises we could to ensure that as many of our parcels arrived intact as possible. (And if you check out our old feedback then you'll see "brilliant packaging" popping up frequently).