Following WW1 and the expansion of the RAf, airmen were employed within the RAF to construct new airfields and installations.
A badge was authorised 20 November 1921 which was worn by the unit until disbandment in 1929.
It consists of a brass badge showing a masons square forming a V shape with the letters W&B with a kings crown eagle facing to the left (as one looks at the badge).
the badge was worn both on the cap and as collar badges....the collars are 1/4 the size of a cap badge.(now not so...see update at bottom of page)
the cap badge is extremely rare and pictures of one dont exist anywhere..even in collector books..it is unknown if the cap badge has loops or a slider....to date an example of a cap badge has never been found.(see below for update to this)
the collar badges, of which 2 examples are shown, have always thought to have been only issued in brass, with both eagles facing left..., again actual photos of badges in collector books are rare....they just dont turn up.
in the picture the top pair shows the front and back of a SILVER issue, made by JR Gaunt, London, and are marked as such..purchased by myself on E Bay, january 2009.
the bottom pair show a regular brass issue, purchased at Didcot militaria fair in about 2006.
This is the only known time a silver pair have been shown to the public..both pairs have eagles facing left...thats how they were issued, however another web site shows a brass pair with both eagles facing inwards towards each other, so there are right facing ones out there. It is not known if specific buttons or shoulder titles were issued..no photos seem to exist showing the actual uniform.
all examples are extremely rare and expensive...both pairs shown have the same slight casting "dinks" on the Masons square, indicating they were struck from the same mold...they are so rare that replicas are none existent, as dealers cannot find them to reproduce...some of the UKs leading RAF militaria dealers have NEVER seen or handled a pair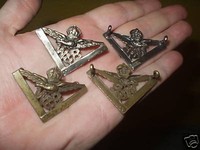 ...in fact when a mate of mine (an RAF collector) listed "Works and Buildings Collar Badges" on his wants list and handed it to his RAF militaria supplier...the supplier didnt know what they were!!!!...what do you pay?..the Didcot pair were one of 2 pairs brought straight off the street by the guy originally issued them, the trader bought both from him (unknown price), put them on his stall, sold one pair (unknown price), leaving only 1 pair..a mate bought this pair for £80-£90....my silver pair were bought by myself from a silver dealer price £191, following stiff competition..they actually only stand me at about £100...as i sold some of my surplus stuff to fund them.
A single brass example was listed on the web as being in Bosleys late January 09 postal auction, listed as a rare cap badge...it never materialised as it wasnt in Bosleys catalog for the sale. UPDATE UPDATE>>>>>these badges as pictured MAY be CAP BADGES....a mate went to Farnham mil fair today 15 Feb and bought an identical silver badge for £85..the dealer told him this size is a CAP BADGE and the collars are much smaller, about quarter size(similar size to a dental Branch collar badge)...but until i see photo proof...who knows!!
UPDATE 16 august 2011...these badges are actually COLLAR BADGES, on 16 august i was the highest bidder on a cap badge, only one i have ever seen commercially available, same size as the collars but chunkier,in brass, and fitted with a blade to the rear at the back of the crown and extending below the bottom V of the masons squares.....i was the highest bidder at £153 but with 1 second to go and with 1 bid it jumped past my max bid of £203 and sold for £208.54..i was sniped.sold by someone in kent, it was listed as "air force badge unknown"..i wonder if this price will bring any more out??? UPDATE on e bayuk on nov 10 2011, a relic dug example of the works and buildings collar badge sold for £105...the price paid for this relic example makes me wonder what the current price for a minty silver one would be!! certainly more than the £191 i paid for two examples back in 2009!!!!.