The Civil Aviation Authority (CAA) and Royal Mail have agreed to updated rules for sending
used
lighters through the post to UK addresses and overseas from the UK.
The Royal Mail will now retain and
destroy
any brand of vintage or used lighters it feels are a risk to the postal system. You will not get any compensation or be allowed to make a claim and you will be warned with a letter that you may have committed a criminal offence.
If you are selling a Zippo or other brand of lighter on ebay,and it is "USED" even if it is empty of fuel and dry with no flint. Then you run the risk of the Royal Mail Destroying the lighter.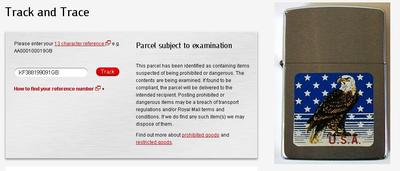 THE ROYAL ROYAL SAYS IT WILL POST (WITHIN THE U.K.) BRAND NEW STILL SEALED LIGHTERS.
I have had seven "BRAND NEW STILL SEALED WITH THE FLINT REMOVED" Zippo lighters sent to be Destroyed so far by the Royal Mail.
It seems the Royal Mail cannot tell the difference at times between a USED lighter and a BRAND NEW lighter.
They are destroying New lighters without any flint or fuel as well as dry used ones. Some of these "Destroyed" lighters are turning up back on ebay and at Auction houses and other sites. The Royal Mail keeps the cost down of "Destroying" items by reselling them.
This has happened to me,and to other collectors i know.
FACTS
ALL ITEMS POSTED FIRST CLASS RECORDED AND SPECIAL NEXT DAY DELIVERY ARE X-RAYED.(they call it screened)
Lighters are being x-rayed without being opened or looked at to see if they are safe and sent to the Royal Mails National Returns Centre in Northern Ireland to be subject to examination.
You will be told
This parcel has been identified as containing items suspected of being prohibited or dangerous. The contents are being examined. If found to be compliant, the parcel will be delivered to the intended recipient. Posting prohibited or dangerous items may be a breach of transport regulations and/or Royal Mail terms and conditions. If we do find any such item(s) we may dispose of them.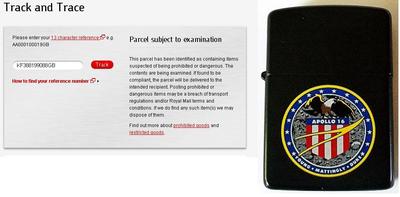 If your BRAND NEW STILL SEALED LIGHTER is to be Destroyed and you wish to do something about it then please write to
Moya Greene
Royal Mail
Chairman and Chief Executive Office
100
Victoria Emb
ankment
LONDON
EC4Y 0HQ
OR