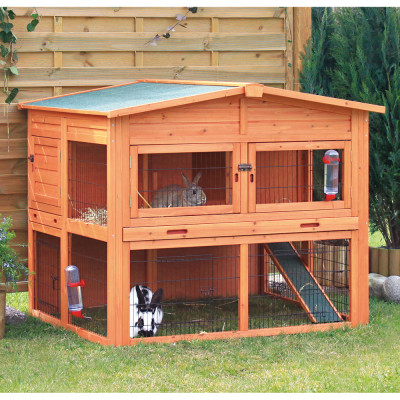 Choosing a rabbit hutch for your chosen rabbits is not a decision to be made lightly. As a rabbit hutch is likely to last throughout the life of the pet, it's important to choose a home that suits the size and needs of the rabbit, or rabbits, as well as taking into account budget, the area it will be kept and the facilities it offers. Rabbits can become a much-loved member of the family and it is important that they are safe, comfortable and clean in their homes. There are plenty of rabbit hutches to choose from on eBay, and plenty to think about before making a purchase.
Rabbit Hutch History
Rabbits have been kept as pets ever since the middle ages, when they were first kept as domesticated farm animals. By the mid-19th century, rabbits were being bred to be showcased, rather than simply for their meat and for sport. They became more common as domesticated pets by the end of the 19th century, after 'Belgian Hares' were imported to the US in 1898. Today, the domesticated rabbit is the third most popular mammalian pet in Britain after dogs and cats. It is becoming increasingly popular for those that want a pet that requires lower maintenance than a dog or a cat, and is particularly good for those that live in areas not suitable for a more active animal like a dog or a cat.
Some retailers offer very small, 'compact' hutches, but these are generally unsuitable for a normal sized rabbit that needs room to run around. Hutches need to be at least 122cm x 45cm, as anything below this floor area falls below the minimum requirement set for laboratory rabbits. The bigger the hutch, the more area the rabbit has to run about and stretch. This is especially important if there will be more than one rabbit in the hutch. Also note that a rabbit hutch should not be used as the only place for a rabbit to reside - they should also have access to a larger area or a pet run to have room to run about in. Many people now keep rabbits as house pets too.
Types of Rabbit Hutch
Shoppers on eBay are spoilt for choice when it comes to rabbit hutches. There are plenty of different styles and shapes available.
Hutch Tiers
| | |
| --- | --- |
| Single Hutch | A single hutch is a single level hutch, usually with two compartments comprising of a dark and covered sleeping section and a section made of open wire for the rabbit to stretch out in. |
| Double Hutch | Double hutches are often two tiered, and can either be used for two rabbits, or have internal ladders to allow the rabbit to travel through the two levels. |
| Triple Hutch | Triple hutches are usually three tiered hutches designed for several rabbits, or to provide a large area to run about in. |
Indoor And Outdoor Hutches
With more and more people keeping rabbits inside the house as indoor pets, demand is rising for indoor hutches.
| | |
| --- | --- |
| | Some hutches are designed specifically to be used indoors. While the majority of hutches are mainly wooden, some varieties of rabbit, like dwarf rabbits, are well suited to indoor cages. In general though, a larger outdoor hutch is better suited to standard and giant rabbits. |
| | Outdoor hutches are the most common style of hutch and, combined with a suitable run or area for the rabbit to run about in, are the ideal solution. |
Rabbit Hutch Materials
The majority of outdoor hutches are made from a mixture of wood, chicken wire or wire mesh and a small amount of metal to screw the hutches together. This is the sturdiest, most weather ready style of hutch. It is also possible to find hutches made of plastic or metal, particularly in the case of indoor hutches.
Considerations When Choosing a Rabbit Hutch
When choosing a rabbit hutch, there are a number of things to take into consideration.
How much room is available? The largest hutch that can fit in the available area is the ideal option, as the more room available to move around in, the happier the rabbit will be.
Where will the hutch be kept? The ideal place is outside, although indoor hutches are appropriate if the rabbit is allowed out of their hutch to a larger space on a daily basis.
How big is the rabbit? Giant rabbits obviously require more room than a standard rabbit.
How many rabbits will need to be accommodated? The more rabbits there are, the more room is needed; potentially over several tiers. Ideally, rabbits should not be kept on their own.
Are the rabbits the same sex? In some situations, it's better to keep male and female rabbits apart. In other situations, it might be desirable to keep them together in order to encourage breeding.
How much is the budget? Buying second hand hutches on eBay is a great way to get a larger hutch on a budget.
How secure is it? It's important to make sure the hutch is completely secure, especially if it's an outdoor hutch, in order to avoid letting animals in or out of the hutch.
Other Things to Consider When Buying a Rabbit Hutch
There are a number of other things needed to purchase when setting up to own a rabbit.
Hutch bedding - plenty of rabbit bedding can be found on eBay. Bedding will need to be cleaned out and refilled on a weekly basis.
Rabbit feeding bowl
A rabbit water feeder
Rabbit food
A run or caged off area for the rabbit or rabbits to run around in.
Rabbit grooming products
Rabbit toys - there are now a huge range of toys available to keep a rabbit's boredom at bay. These are particularly important for rabbits that are kept on their own.
It's worth browsing through the general rabbit listings too, as some sellers' package together a set of rabbit supplies, such as a hutch, bedding, a run and food, which can work out less expensive in the long run. Sometimes it's possible to bulk buy certain things, like rabbit bedding, to save money. Shopping online through eBay is the perfect place to grab a bargain like this.
How to Buy a Rabbit Hutch on eBay
eBay offers a wide variety of rabbit hutches to choose from, in a range of different sizes, shapes and styles, for indoor and outdoor use.
There are many sellers in the eBay marketplace selling this kind of hutch, and choice is available from a variety of different prices and products. eBay's flexible payment options make it even easier to make a quick decision.
To search for a rabbit hutch, go to the home page and then go to the Pet Supplies section. They can also be found in the Home & DIY department.
It is also possible to type in specific searches related to the product. For example, try rabbit hutch or rabbit home for plenty of results If a specific feature is desired, the search function is useful to narrow down results.
If looking for a particular brand or size, try using more specific search terms.
When searching through listings, carefully review all the data to ensure the item matches the desired criteria. In particular, make sure the hutch looks like it is in great condition, and is the right size. If in doubt, look for photographs or request some, to be clear on the condition of the item.
Use the Ask the Seller function to answer any questions related to the item.
As rabbit hutches are large, there's a good chance that second hand sales will be Pick Up Only. If this is the case, search for items near a local postcode so a long journey isn't required or offer to organise a courier pick up if delivery is preferred.
When ready to buy, either place a Bid, Buy it Now, or put down your Best Offer.
Buying with PayPal will ensure the transaction will go smoothly and with higher security.
Conclusion
The important thing when buying a hutch is to assess and research the individual needs of the animal(s) who will inhabit it, and to get as large a hutch as possible with the budget and space available. It's important to get a high quality hutch with enough room for the rabbit or rabbits to run around, and one that is structured enough to keep them warm during the colder months. It may also be worth looking at purchasing an outdoor run to place in the garden. Other important purchases may include rabbit bedding, food, water dispensers and everything you might need to keep the rabbit hutch clean each week. Whichever rabbit hutch you go for, know that by buying through eBay, you're choosing a simple, easy and affordable approach.