Introduced in 1921 as a 'Table Railway', OO gauge has remained the most popular model train type in the UK, despite its hybrid gauge. Over the decades, quality vendors have produced locomotives, coaches, wagons, and speciality rail cars that duplicate the real rolling stock that fuels train fans' passions.
Manufacturers and Stock
Bing introduced the 'Table Railway' in 1921. The equipment featured mechanical operation, which is why the cars were gauged slightly larger than the track and wheelsets. The locomotives had to be larger to include the mechanics. By the time electrical units came out in 1923, the gauge was established. Other manufacturers that produced extensive lines included Meccano, which first released the Hornby Dublo starting in 1938. Lima produced extensive lines of British Rail stock and often released new locomotives within weeks of real-world rollout during the 1980s. Wrenn, Dapol, Heljan, Peco, and ViTrains are other names commonly sought by collectors.
Rare and Prized OO-Gauge Railway Stock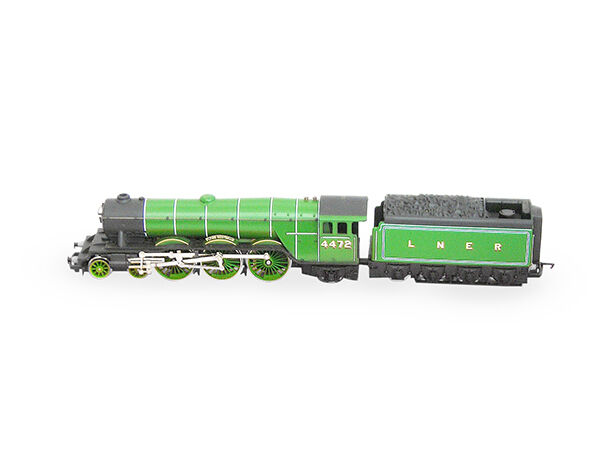 Hornby collectors prize Class A1 and Class A3 Flying Scotsman locomotives. They consider these Hornby steam locomotives representative of one of the world's best-known steam locomotives. Before its acquisition by Dapol, GR Wrenn, Ltd., produced a number of very short run OO-gauge locomotives. These locomotives, with fewer than 500 originally released, are very valuable in excellent condition in the original boxes. OO-gauge wagons are usually more valuable when they bear familiar brand names, such as Cadbury's Chocolate or Johnnie Walker. Interestingly, the Johnnie Walker wagon carried grain and not whisky. Cars with special functions, such as mechanical track cleaners, are also popular.
Condition of Rare OO-Gauge Trains
People who collect rare trains measure their condition against formal standards similar to those used by all collectors. The criteria include the functionality of all the mechanical parts, the amount of wear, and the inclusion of original packaging for new, unused items. Collectors can expect to pay premium prices for OO-gauge railway items that are in mint condition in the original boxes, particularly if the items were safely stored and not exposed to moisture or excessive heat.
Buying a Model Train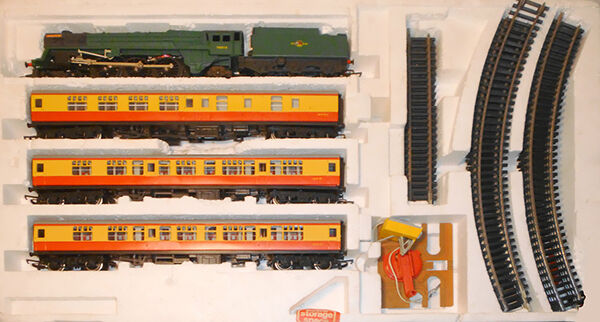 A model train comes as a complete set, or collectors assemble them from pieces. The most important piece is the locomotive, and locomotives represent a range of periods and styles, from OO-gauge steam locomotives to diesel locomotives. After choosing locomotives, collectors generally focus on matching time periods and styles when choosing other pieces in order to create the look of real railroads. Other pieces to acquire include passenger coaches, cargo wagons, and even owners' coaches. Typically, a long train has coaches after the locomotive and wagons to the rear, although some only have passenger coaches or wagons. A full train set must have an OO-gauge layout of track and even some OO-gauge scenery to create an appealing permanent set-up. These features add to the fun of model train ownership.