It seems to work!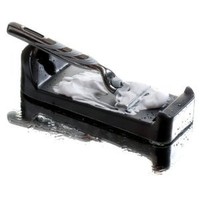 I had seen an advert for these and was scheptical, but curious so I thought I'd give it a go.
I had a (Wilkinson Sword Quattro, with the wire balde guards) razor with a blade that had become really tuggy and verging on painful to use. I decided to shave half my face with the unsharpened blade and half with. The first half as expected was tuggy. Half way through I washed the blade off and used the Razorpit as instructed. For the second half, low and behold it was like a new blade.
I live in quite a hard water area and you can see from looking at old blades etc that there is a buildup of soap scum etc. I assume that this must also build up on the cutting edges making them less sharp. The Razorpit will take these deposits off the blades making them work properly again.