Before buying a Real Hair Wig or Synthetic Hair Wig you need to know what type of wig it is that you may want first. Below are the top four selling wigs available online today:
This is the most common type of wig you'll find today. They have either a skin or lace top at the front of the wig, which gives the wig the natural looking parting. The rest of the wig is machine wefted.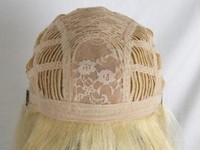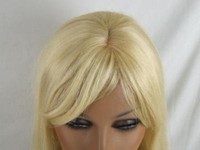 There are normally two adjustable straps at the back of the wig with either velcro tabs or hooks so that you can tighten the wig for security.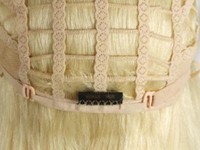 Some, not all wigs, also have small combs either just at the back of the wig or at the back of the wig and at both temples. So if you have hair you can push these combs into your hair under the wig.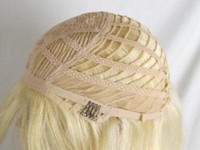 Have lace or a lace type of material at the front of the wig. On both synthetic hair lace front wigs and human hair lace front wigs the hair attached the the lace is indivually hand tied so that you can part the hair anywhere.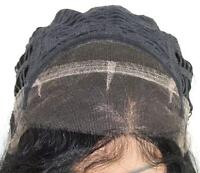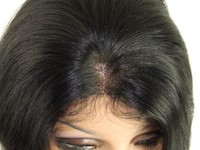 The lace is attached using liquid adhesive or double sided tape and when attached looks as if it is your own hair growing from your scalp.
The rest of the wig is machine wefted with adjustable straps to the back iof the wig. Some, not all, also come with small combs inside of the wig one at the back and 2 at each temple.
Lace Wigs are completely made on a lace base, either French lace or fine swiss lace.There is a piece of stretch material at the crown so that you can put this wig in a high ponytail. All of the hair on the wig is individually hand tied so that you can part it anywhere.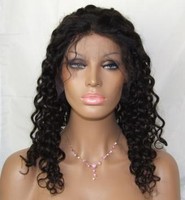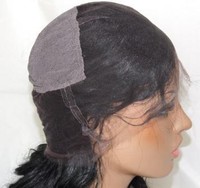 Monofilament Wigs
Monofilament wigs have a transparent material at the front of the wig, where a standard wig would have it's skin or lace top. This is so that your own scalp will show and are suitable to people who suffer from with complete hair loss. These wigs can be worn in the normal way or you can use double sided tape in the tabs provided.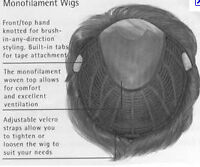 When browsing for the type of wig you want you will be told in the description if the wig is a Lace Front Wig, Lace Wig, Monofilament or a normal wig. If not then you should ask as due to the personal nature of wigs sellers do not accept returns on wigs that have been worn.
So now you know what type of wig you are buying should it be a real, or human hair wig or a synthetic hair wig?
Real Hair wigs, also known as Human Hair Wigs, are made from 100% human hair. These types of wigs can come in many colours, styles and sometimes in great lengths.
Real hair wigs are more expensive than synthetic wigs. By buying wigs online that cuts the down on the costs that would be added to the wig if buying from a traditional shop. The main benefits of buying a human hair wigs are listed below:
1) The wig can last up to 12 months if cared for correctly, if not longer.
2) You can use hair straighteners, curling tongs and other heated tools.
3) You can have a hairdresser style the wig to make it more individual for you or to trim the fringe/bangs.
4) 100% human hair wigs are soft to touch.It looks like a natural looking wig so much so that people will not believe you if you do tell them that it is a wig. You'll still need to spend some time styling the wig i.e with tongs etc. They can also cost more than synthetic wigs.
Synthetic Wigs are great fun as you only need to shake it and put it on. If the synthetic wig has curls the curls will always stay in and be bouncy and you do not need to do anything to this type of wig.
Synthetic wigs are also very cost effective so you can buy several for the same money you would spend on a real hair wig.
1) You can put it on and only give it a comb and you're ready to go.
2) You do not need to re-curl as the curls will stay in.
3) Can buy several for the same amount of one real hair wig.
4) With a good quality synthetic hair wig no one will be able to tell that it isn't a real hair wig.
A synthetic wigs life span is a lot shorter than a human hair wig. Synthetic Hair Wigs do look good and people will not
Synthetic wigs are great if you are just starting out wearing wigs or you like to change your hair style often.
Both wigs have there benefits for different people. The above review is to give you a better understanding of benefits of a Real Hair Wig and Synthetic Hair. If you are unsure start of with a synthetic hair wig, as they cost less, and when you are ready upgrade to a real hair wig.